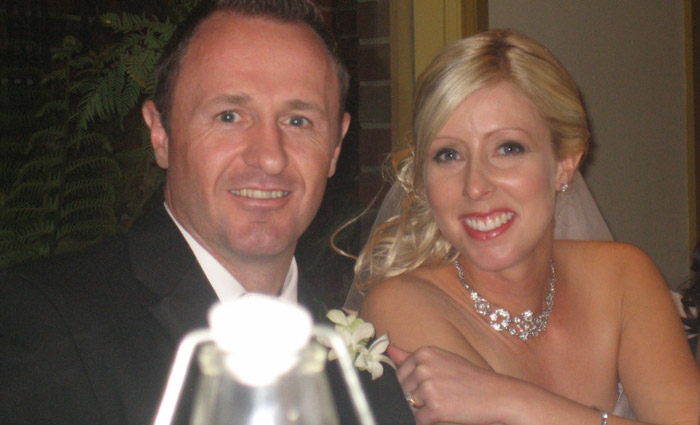 The former Heidelberg account manager broke his neck in April, five months before his first child was due, leaving him with an extreme spinal injury.
Ricky Bannister spent 18 years with Heidelberg and is well known in the Victorian print community.
His brother, Jordan, a former AFL player and current umpire, told sports website Back Page Lead at the time that his "world instantly came crashing down" when he heard the news.
"I haven't cried in my mum's arms since primary school yet seeing her distraught face on my arrival at the hospital broke me," he said.
"Rick's first seven nights after the accident were spent in intensive care on life support. Unable to speak, eat, drink, breathe by himself, he has relied totally on the nursing staff and his family.
"My brothers and I took it in turns staying by his side through the night, rubbing ice-cubes over his face as Rick had come down with a fever.
"We begged the nurses to let us stay overnight because that's what brothers do. We couldn't leave him in there alone. I couldn't have been more tired and exhausted each night. I felt like crying every second in there but had to literally battle to keep the tears in for his sake."
[Donate now: Ricky Bannister appeal]
Jordan was scheduled to officiate in an AFL game five days after the accident.
"Ricky nodded his head when I told him about the game and urged me to umpire," said Jordan.
"Later, I reviewed that Melbourne-GWS game with Rick on my computer. He nodded and shook his head whenever he thought I got a decision right or wrong. He's recovering from an experience that no words can describe yet has the strength and cheek to inform me of my errors."
Ricky has a C4-C5 complete spinal injury that can allow bicep and shoulder movement, said Jordan.
"We are currently looking into stem cell therapies in the USA and India. We won't ever give up on him in any way," he said.
"We are all hopeful he will regain the use of his hands in time to hold his first-born son in September."
Jordan and former AFL star David King will host Ricky's fundraising lunch, which will be held at Sette Bello restaurant in Melbourne on 20 August. RSVP by 29 July to elizabeth.harper@heidelberg.com
The money raised will be used to pay for Ricky's ongoing care and to help purchase a suitable car and make necessary renovations to his home.
[Donate now: Ricky Bannister appeal]
Comment below to have your say on this story.
If you have a news story or tip-off, get in touch at editorial@sprinter.com.au.
Sign up to the Sprinter newsletter