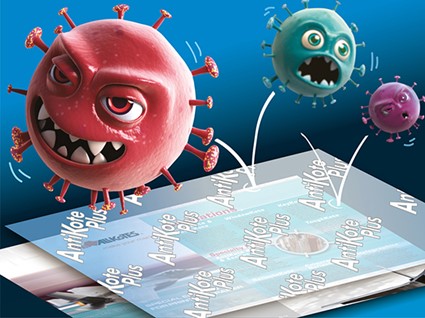 Independent laboratory testing has proven the new version of AllKotes' AntiKote Plus film is 84.15 per cent effective in reducing the viral load of SARS CoV-2 (Corona Virus) when compared to regular films.
This latest version of AntiKote Plus contains an additive not used in the manufacture of the first version of AntiKote Plus which was released in 2020 with a 99 per cent success rate in eliminating bacteria including Staphylococcus and E-Coli.
AllKotes General Manager, Darren Delaney, says the improved AntiKote Plus takes the product to a new level after UK-based laboratory, Industrial Microbiological Services Ltd, found it to be 84.15 per cent successful in eliminating COVID particles, compared to other films.
Delaney says it offers lifetime protection for high-touch products, compared to the 12-month anti-bacterial protection offered by the original AntiKote Plus product.
"In 2016, Allkotes introduced to the market a new antibacterial film called AntiKote Gloss & Matte Film. Then in 2020 an improved version AntiKote Plus was released which contained antibacterial properties which made it 99% effective against known bacteria like Staphylococcus & E-Coli. It also carried positive results against antifungal and anti mould properties, suggesting further testing required to gauge the degree of effectiveness," Delaney said.
"Twelve months on we have received news regarding Antiviral properties carried out on AntiKote Plus. The trial carried out by an independent laboratory, according to ISO 21702 showed a reduction in the viral load of SARS CoV-2 (Corona Virus) of 84.15% when compared to a regular film. So basically, when the Coronavirus SARS CoV-2 was introduced to the surface of AntiKote Plus it was 84.15% effective in the reduction of the viral particles."
Delaney said the new product is well suited for products in high-touch sectors, particularly pharmaceutical, hospitality and health environments.
"Pharmaceutical clients, hospitality clients, wine lists, cocktail lists and menus – it is very useful wherever you have printed matter, or you want to give employees and customers extra protection. It doesn't add that much more to the price at all, it is cheaper than your scuff resistant matte films and your soft touch films, so it is not overpriced or out of reach," he said.
For more information about AntiKote Plus, please visit: https://www.allkotes.com.au/
Comment below to have your say on this story.
If you have a news story or tip-off, get in touch at editorial@sprinter.com.au.
Sign up to the Sprinter newsletter