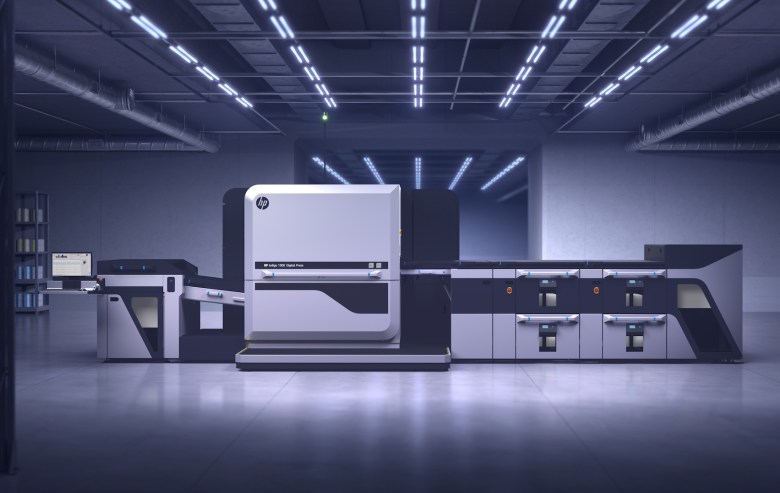 This is an extract about HP from the Profitable Presses Technology Focus written by Peter Kohn and published in the February 2022 issue of ProPrint magazine. To read the full story click here.
Craig Walmsley, HP Industrial Country Manager, Australia & New Zealand says HP offers two print technologies to the commercial market – LEP (liquid electrophotography) and thermal inkjet.
The HP Indigo LEP presses – available in Australia through Currie Group – are mostly sheetfed presses, and include formats from SRA3+ with the HP Indigo 7K Digital Press, to B2 with the HP Indigo 100K Digital Press and the HP Indigo 15K Digital Press.
"The HP Indigo line of presses offers offset matching print quality with the most advanced application versatility in digital print and supports the widest range of media types. It also offers the widest range of digital inks with the portfolio of HP Indigo ElectroInks," Walmsley said.
"Print service providers (PSPs) are using HP Indigo presses to print marketing collateral, photography, publishing and direct mail applications, as well as other high-value applications such as light packaging, heat transfer labels and more. The line-up also includes the most productive sheetfed digital press in the market – the HP Indigo 100K Digital Press, already in use by multiples of leading PSPs worldwide."
Walmsley describes the HP Indigo 7K Digital Press as robust and offering the widest ink range in the industry, including silver and premium white. It also features Easy Release for scratch-off applications and is targeted at the growing stream of short-runs driven by online ordering.
In the inkjet sector, HP's web presses range from 22-inch to 42-inch.
"We've introduced the HP PageWide Web Press T250 HD with HP Brilliant Ink, the new standard for high-volume production inkjet web presses," Walmsley said, adding it's an upgrade to HP's customer-proven T240 HD model," he said.
The new 22-inch press is positioned to capture more commercial print work that has traditionally been run on offset presses.
Walmsley says the new press offers ROI with low comparative running costs per page and delivers on-demand with print speeds of up to 152 metres per minute and monthly duty cycles up to 62 million pages per month.
HP also offers upgrades with every PageWide web press enabling PSPs to serve a variety of market segments and applications, he adds, explaining the new HP Brilliant Ink enables efficiencies and delivers a more vivid colour gamut across a broad range of substrates.
"It sets a new standard for high-volume production inkjet by enabling more applications – commercial, direct mail, publishing, and transactional – by printing directly to uncoated and coated offset media, all in one press. This versatility allows you to meet your customers' demands and it's upgradeable to keep you on track to deliver every new trend for many years to come," Walmsley said.
"We've seen that due to the rise of e-commerce in a COVID world, agile commercial work that requires multiple substrate changes is a growing mode of operation for PSPs and that they're now leaning towards the B2 format instead. This is consistent with B2 being the leading format of units sold worldwide, according to market research firms."
Comment below to have your say on this story.
If you have a news story or tip-off, get in touch at editorial@sprinter.com.au.
Sign up to the Sprinter newsletter