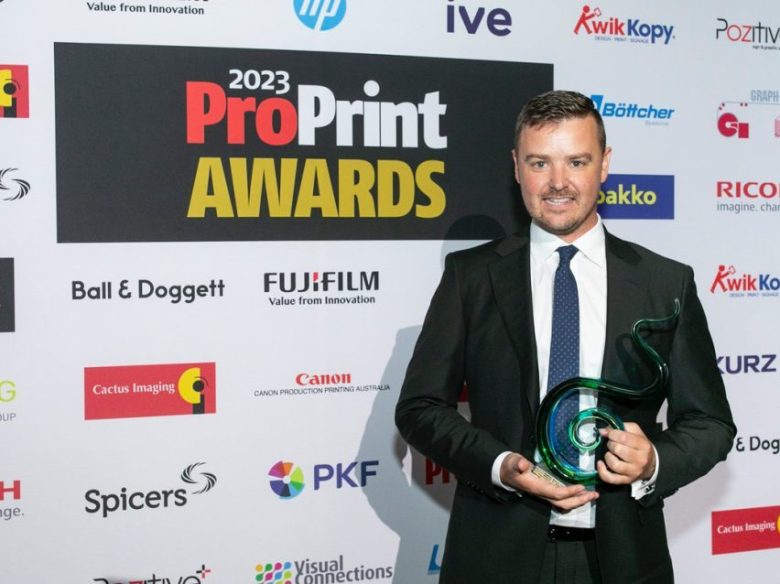 Easy Signs directors Adam Parnell and Andy Fryer have won the Printer 50 category in the 2023 ProPrint Awards, held on 3 November at Shangri-La Sydney with over 350 guests in attendance.
Formerly known as the Power 50, this peer-voted award was run for the first-time last year and recognises senior print leaders. Full details on the criteria for this award can be found here.
MC Sam McCool, who confirmed Parnell and Fryer as winners in the Printer 50, said the duo were recognised for their commitment to efficiency and innovation; and for delivering a repeatable and exceptional experience for their clients.
Printing and signage company Easy Signs was launched in Sydney in 2006 and since adopting an online sales model, has been transformed from a humble start-up into a thriving industry leader. Under their visionary leadership, dedication to quality, and customer-centric approach, the company operates out of an impressive facility in Sydney, and has expanded to the Phillipines and more recently to Pennsylvania, USA, which has celebrated its first year in business.
With a strong technical background, they continually invest in the latest state-of -the-art machinery to ensure that Easy Signs supplies consistent, high-quality products to its customers at the lowest cost. Their aim is to reduce the cost of local manufacturing to return work to Australian shores.
The duo has been recognised outside of print, notably in the Australian Financial Review's Fast100, Smart Company Smart50 and the AFR's Most Innovative Australian Manufacturing Award in 2019.
Adam Parnell accepted the trophy from Durst Oceania managing director Matt Ashman, explaining that business partner Andy Fryer was away at that time.
Winners 2 to 5
All Printer 50 winners were announced by McCool, with those in the two to five winning slots receiving trophies from Ashman. These are:
2. Keith Ferrel, General Manager – Operations, CACTUS IMAGING
3. Matt Aitken, CEO, IVE GROUP
4. Abbie Graham, Designer/Printer, KWIK KOPY NEWCASTLE
5. Andrew Hall, Managing Director, FACTORY ONE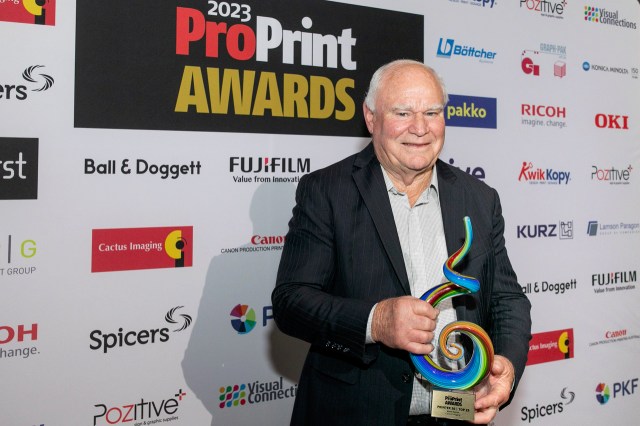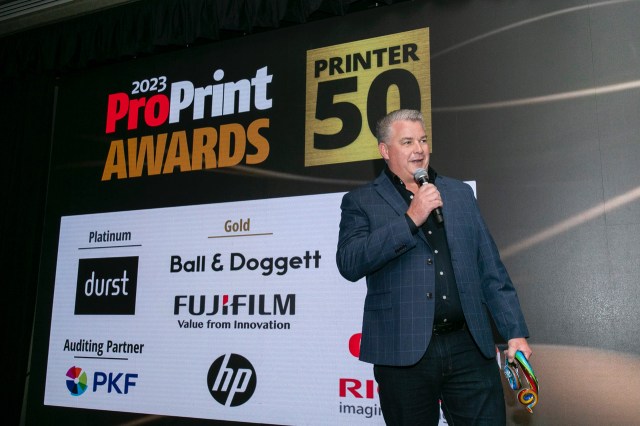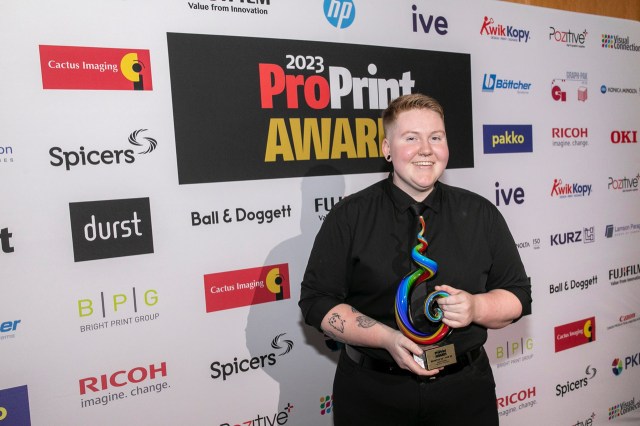 Winners 6 – 25
FUJIFILM Australia division manager, graphics systems Troy Neighbour handed out trophies to the winners of slots six to 15, while winners of slots 16 to 25 received trophies from Ball & Doggett's head of marketing Tony Bertrand.
These are:
6. Aaron Lusch, General Manager, PLATYPUS PRINT PACKAGING
7. Angelo Varnakulasingham, Senior Overseer, CORRECTIVE SERVICES INDUSTRIES
8. Adam Middleton, Director, MINT IMAGING
9. Dayne Nankervis, CEO, CMYKHUB
10. Nigel Spicer, General Manager, CACTUS IMAGING
11. Frank Mezo, Managing Director, MEZOGRAPHIC
12. Andrew Reynolds, Specialist Technical Trainer, NOTE PRINTING AUSTRALIA
13. Baden Kirgan, Managing Director, PLANET PRESS
14. Aleisha Gill, Owner, KWIK KOPY EAGLE FARM
15. Cliff Brigstocke, CEO – Production and Distribution, IVE GROUP
16. Bianca Martin, Commercial Manager, IVE GROUP
17. Jamie & Jason Xuereb, Founders, MEDIAPOINT
18. Nina Nguyen, Founder, PAKKO
19. Rodney Frost, CEO LAMSON GROUP
20. Leon Wilson, Director/Passionate Print Geek, REVOLUTION PRINT
21. Kirsten Taylor, Creative Print Director & Owner, TAYLOR'D PRESS
22. Yianni Moratidis, Director, GENR8 PRINTING
23. Debbie Burgess & John Bright, Joint Managing Directors, BRIGHT PRINT GROUP
24. Kenneth Beck-Pedersen & Peter Musarra, Founders and Directors, CARBON8
25. Romeo Sanuri, Managing Director, NEXT PRINTING
Printer 50 winners (alphabetical order)
These winners received their trophies from HP Large Format Print Australasia's head of marketing Jehan Tabet. These are:
Ben Browning, Managing Director, 1800 FOR PROMO
Ben Carroll & Mandy Oliver, Director & General Manager, VELFLEX AND VICON TRANSFERS
Calli McCool, QLD State Sales Manager, MMT PRINT
Christian Middleton, Managing Director, CLOUDPRINT GROUP
Christopher Dean, Group Training Officer, MULTI-COLOR CORPORATION
Clinton Daley, Managing Director, VALIANT PRESS
Cory Hall, Group CEO, PRECISION GROUP
Dan Bodey, Operations Manager, BOOM STUDIOS
Daniel Edwards, Founder, POSTERBOY PRINTING
Darren Delaney, General Manager, ALLKOTES
Darryl Meyer, CEO, Print Web Offset, IVE GROUP
David Walton, CEO, OMNIGRAPHICS AUSTRALIA AND MMTB
Dean Langford, General Manager – Brand Activations, IVE GROUP
Dominic Borrello, Co-Founder, IMAGEBOX GROUP
Ewen Donaldson, Director, VIVAD
Glenn Moffatt, Production Manager, CACTUS IMAGING
Jason Turvill, Operations Manager, EASY SIGNS
Kirsty & Luke Woodhead, Directors, BREEN PRINTING
Marcus Marchant, CEO, VISTAPRINT
Paul Wilcockson, Production Director, JCDECAUX GROUP
Samantha Bailey-Jensen, Director, BAILEY GROUP
Samantha Faye Rogers, Director and Co-Owner, DRIVE CREATIVE
Simon Carmody, Managing Director, SPOT PRODUCTIONS
Sonia Shwabsky, CEO, KWIK KOPY AUSTRALIA
Stephen Lamont, Managing Director, LAMONT SUSTAINABLE SIGN SOLUTIONS
Congratulations to all the winners!
Note: All category winners will be published in the December 2023 issue of ProPrint.
If you would like more information about the ProPrint Awards, including sponsorship enquiries for 2024, email: carmen@proprint.com.au or call 0410 582 450.
Sponsors
Massive thanks to our sponsors – without them we could not run these awards!
Platinum Sponsor – Durst Oceania
Gold Sponsors – Ball & Doggett, FUJFILM Australia, HP, IVE Group, Kwik Kopy Australia, Pozitive and Visual Connections
Silver Sponsors – Böttcher Systems, Bright Print Group, Cactus Imaging, Canon Production Printing Australia, Graph-Pak, Konica Minolta, KURZ, Lamson Paragon, OKI, PAKKO, Ricoh, and Spicers
Auditing Partner – PFK
Comment below to have your say on this story.
If you have a news story or tip-off, get in touch at editorial@sprinter.com.au.
Sign up to the Sprinter newsletter