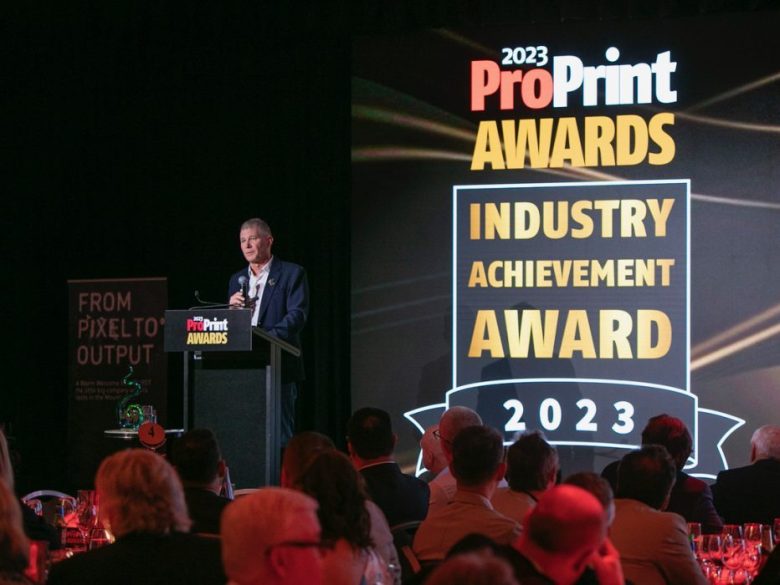 IVE Group chairman Geoff Selig has won the 2023 Industry Achievement Award for his significant contributions to the industry.
Now in its second year, this exclusive award honours someone with over 25 years' experience, who has made a significant contribution to the industry beyond their own business. The winner is judged by the 2022 Printer 50 Top Ten and Platinum Sponsor Durst Oceania.
The 2023 Industry Achievement Award was announced at Shangri-La Sydney on 3 November by MC Sam McCool, citing Selig's biography as follows:
Selig proudly carries on the tradition of his grandfather, Oscar Selig, who started what is now IVE Group in 1921, as he continues to successfully lead Australia's largest diversified marketing and print communications company.
Selig is recognised for his vision in driving IVE's strategy and the way he highlights IVE's value proposition within the industry to both customers and investors, a practice which ensures the company's strong position is maintained.
Selig believes that the investment and diversification over the last 20 years has been, and continues to be, core to IVE's ongoing growth and sustainability.
The last year for IVE has seen the acquisition of primary web offset competitor Ovato in September 2022 following ACCC approval, and the launch of its e-commerce marketplace Lasoo in August of last year, amongst other initiatives including the acquisition of Active Display Group and AFI Branding.
With revenues of just under $1b for the last year and the highest earnings ever, IVE continues to drive hard to grow and diversify the business further in the ever-evolving communications sector.
Currently employing circa 2000 staff, IVE has both doubled in revenue and earnings since listing on the ASX in December 2015, an extraordinary achievement for Selig and the entire IVE team.
2021 marked 100 years since Geoff Selig's grandfather started what is now IVE Group. Selig's strength as a successful business leader was again on display that year with IVE reporting a $100.2m EBITDA in a pandemic year. As a token of appreciation to staff, IVE gifted every employee with 500 shares while also buying back 5.4m shares for $7.4m.
For Selig, whose family has been involved in the business for three generations, this marked a real sense of satisfaction.
Selig has also always combined his outstanding career with his philanthropic interests and involvement with the not- for-profit sector – a powerful combination.
Pozitive managing director Philip Trumble then handed out the trophy to the beaming and surprised Selig.
Gorman Solutions founder Lee Gorman who sadly passed away on 23 July 2023, was also mentioned by McCool. Nominated for the 2023 Industry Achievement Award, Gorman had an outstanding career in the label market segment. He offered 27 years of incredible service, dedication, innovation, and true craftsmanship which saw him become one of the leading lights of the narrow web industry in Australia. Gorman's passion for all things print was unrivalled and his drive to innovate and aspirations to be the best was truly inspirational.
Note: All category winners will be announced at the ProPrint Awards and their names will be published in the December 2023 issue of ProPrint.
If you would like more information about the ProPrint Awards, including sponsorship enquiries for 2024, email: carmen@proprint.com.au or call 0410 582 450.
Sponsors
Big thanks to the following Industry Achievement Award sponsors:
Platinum: Durst Oceania
Gold: Pozitive
Silver: Canon Production Printing; Kurz; Lamson Paragon and Spicers.
Comment below to have your say on this story.
If you have a news story or tip-off, get in touch at editorial@sprinter.com.au.
Sign up to the Sprinter newsletter