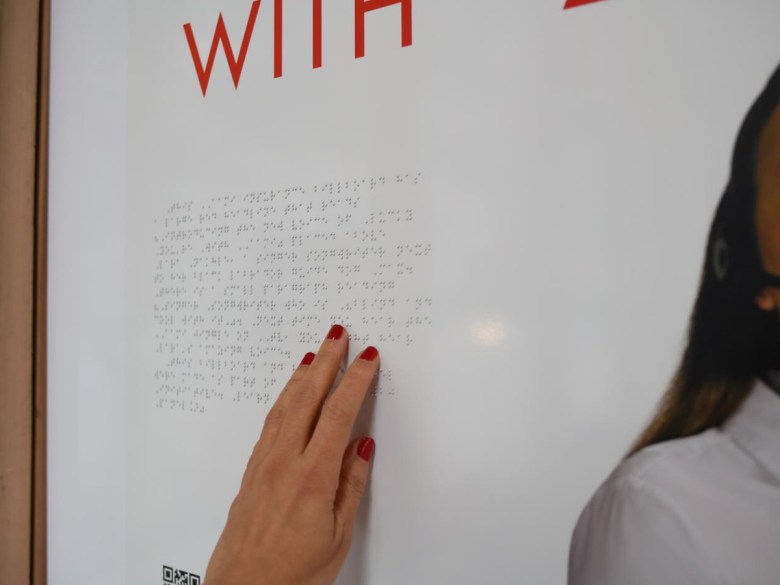 As part of the Shift 20 Initiative, Special, in partnership with JCDecaux, has unveiled an Australian-first Out-of-Home braille campaign for AAMI, designed to empower individuals with low vision or blindness who read braille.
The Shift 20 Initiative is a coalition of leading brands, and the Dylan Alcott Foundation focused on increasing disability representation, inclusion and accessibility in Australian advertising and media.
The initiative aims to help brands create marketing communications with diverse audiences and encourage them to look for opportunities to shift.
Special partnered with JCDecaux on this Out-of-Home campaign concept as part of the Shift 20 launch, collaborating closely to develop this approach.
Special worked with JCDecaux to develop the new production approach – the hope is that more brands will follow suit and look at ways to create more accessible communications.
These Out-of-Home signs units also aim to generate conversation around the issue of accessibility.
The braille inscriptions were written in collaboration with Vision Australia and intended to describe both the visual elements of the creative as well as the copy. To further enhance accessibility, the creative includes a QR code for the Shift 20 website for those who use text readers.
Suncorp Group executive general manager of brand and marketing Mim Haysom said, "As Australia's largest personal insurer, we know how important it is to support diversity and inclusion and represent all Australians in our workforce and through our advertising campaigns.
"Brands have also been evolving the way they represent people in our community, but we can and need to do more to support all aspects of diversity and inclusion. Adapting how we deliver these campaigns to achieve greater accessibility is the next step and we're very proud to be working with Special and JCDeceaux on this Australian-first initiative."
Special creative director Peter Cvetkovski added, "Accessible communication is not only essential for inclusion but also for building connections with your audience, especially given that almost 4.5 million Australians have some form of disability. Furthermore, it's important to note that creating accessible advertising is not just about changing how we communicate, but seamlessly integrating accessibility into our everyday lives."
JCDecaux group manager for creative and digital solutions Lama Perrin commented, "This collaboration between JCDecaux, the Dylan Alcott Foundation's Shift 20 Initiative and Special highlights the path to inclusivity in Australian advertising with the launch of an Australian-first Out-of-Home braille campaign for AAMI. Together, we're not just creating ads; we're creating accessibility and changing the narrative."
Special created units for both the Shift 20 initiative and AAMI rolling out across Melbourne and Sydney.
The braille boards are printed by Grand Print Services on a high-quality composite panel, which can withstand all weather conditions and resist warping in the sun. The braille is created using Relief Printing, which applies hundreds of layers of ink, adding small percentages at a time gradually building up the raised braille dots, which are applied on top of the existing creative.
Comment below to have your say on this story.
If you have a news story or tip-off, get in touch at editorial@sprinter.com.au.
Sign up to the Sprinter newsletter