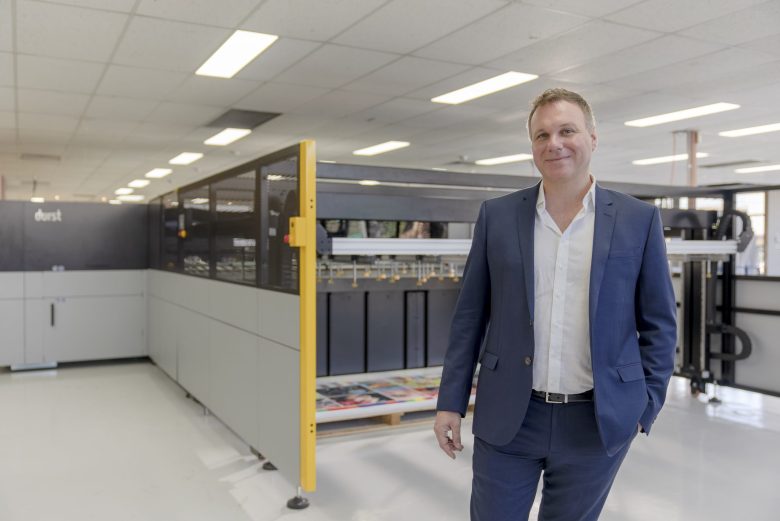 Specialist trade supplier and embellishment company Avon Graphics has installed the first Durst P5 350/HS press in the Southern Hemisphere and is one of the first three companies globally to have it.
Avon Graphics managing director Tate Hone told Sprinter that the company added a P5 350/HS with an automated stacker to its Melbourne premises and is the first worldwide to own that configuration.
"It's the first of its kind in the world with the automated stacker; no one has that configuration so far. It's also nice to be the first in Australia to own a P5 350/HS and in these early stages, that's a big win for our customers," he said.
As a first-time customer of Durst, Hone said he decided on purchasing the press as Avon Graphics has plans to diversify its offering and needed a faster press.
"We've been doing large format printing for about five years and we were in a slower speed market. We've recently changed direction and needed a faster device," he said.
"We've known Durst for quite a long time in our journey in large format trade printing. We've always been impressed with their products on show, so when we started looking for a faster device with higher quality outputs, we got in touch with Durst Oceania managing director Matt Ashman."
As conversations deepened between Hone and Ashman, it became apparent that Avon Graphics was leaving work behind because it needed a faster press in place to deliver on those customer needs.
"Speed to market was definitely a problem and getting the work, at a good quality, back to the customer in a timely manner was holding the department back for a little while," he said.
"Being able to react with speed and efficiency, and also at the right price is what customers were really looking for. So, putting this faster machine in has enabled us to maintain our high-quality outputs, which we're known for in Australia."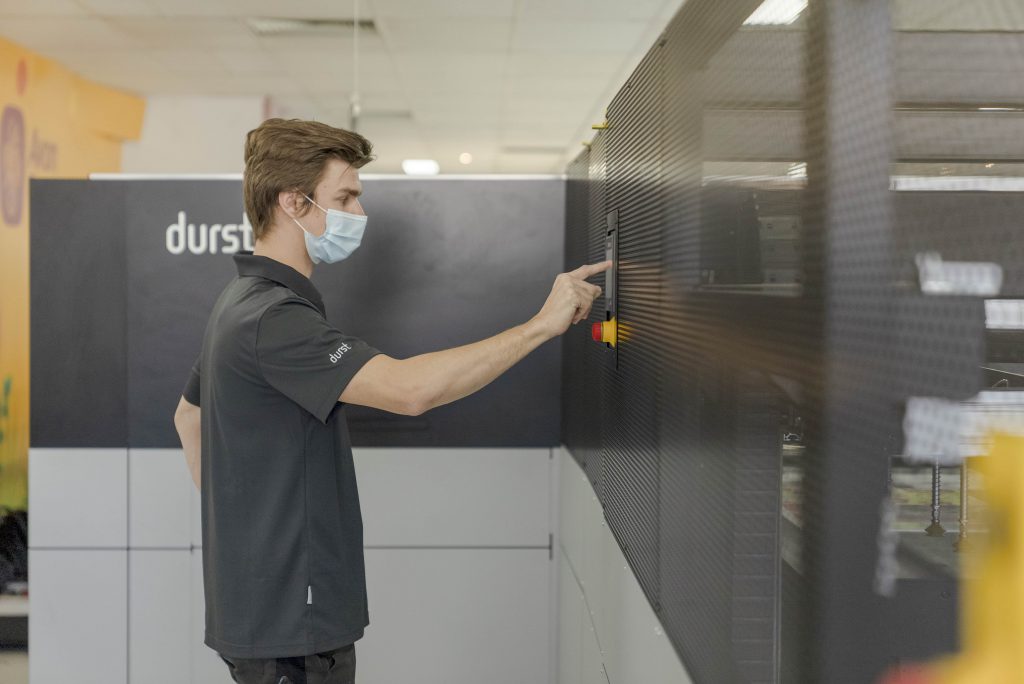 The Durst P5 350/HS is a hybrid solution for roll and board printing of up to 3.5m and reaches productivity levels of up to 650 sqm/h. Fast media change, easy maintenance handling and full safety render the printing process as more efficient.
"It's a true hybrid press – it can run roll-to-roll and it can run dual roll, and it can run those unattended, so hands off, lights out. But it can also run sheet-to-sheet and with Avon Graphics adding the three-quarter automation, it can run sheet-to-stack at speeds that many only dream of," Ashman said.
It also can be configured in up to eight colours, has a seven picolitre dot and 1200 dpi. In addition, its UV technology enables it to print on many diverse medias up to five centimetres thick and 50kg on a sheet and up to 350kg on a roll media.
"You can even print on textiles, acrylics, polymers, paper, and even on corrugated. It truly is a press that appeals to many diverse businesses. That's probably one of the reasons Avon Graphics got the press so quickly because it could see that the press could satisfy its needs today and into the future," Ashman stated.
"The machine has all the best features of a flatbed and all the best features of a dedicated roll-to-roll to give customers versatility for their changing business needs. They can add extra colours, and if it's configured as a roll-to-roll printer and they want it to be a hybrid, we can add the flatbed feature and also add automation. We tried to make this press appeal to as broad an audience as possible."
The installation process
Before COVID, customers would visit Durst's factory in Brixen, Italy to see particular machines being built and sign them off on the factory floor.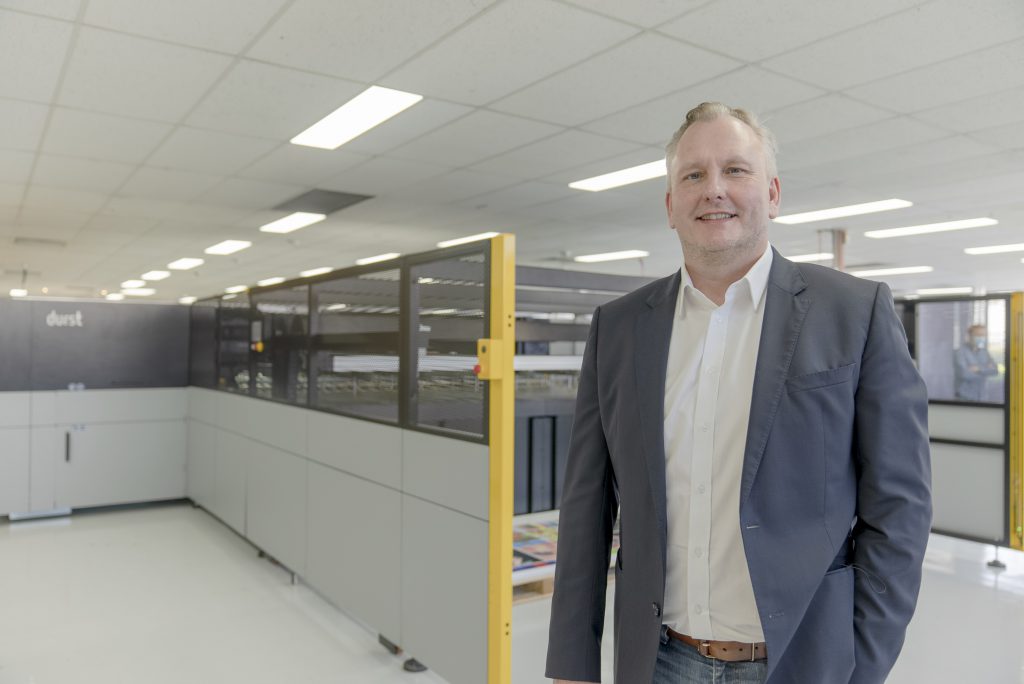 "Obviously, we can't do that now, but we still offer a virtual sign off. Interestingly with Avon Graphics, it never managed to get to the factory, and never actually managed to see a P5 in the flesh. It was all done virtually and Tate put his faith in Durst and placed a significant order for the machine," Ashman said.
With the current COVID situation where delays with transportation and logistics have become common, Durst built a COVID-safe plan whereby it could deliver the machine to Avon Graphics on time.
"We planned well so that we could install it with everybody having the right level of PPE, safety and risk assessment. Durst Oceania has been very busy during the global pandemic, so this our fourth install under very, very strict lockdown measures," Ashman said.
"So, we've had experience in what to do and what to expect, which our team navigated very well. The install went according to schedule and plan. That's a testament to my team, who've worked really hard to deliver exactly what we promise."
With service and support being an integral part to Durst's business, Ashman mentioned that Avon Graphics will have access to the best of support from his team.
"We have a large team back at head office and we have our small team here that is dedicated to the Oceania region. If and when machines break, we will always be there to repair and mend them," he said.
"But also with modern technology, we've been able to do more support remotely and build our machine with more support smarts. The Durst P5 350/HS is actually equipped with the latest technology that monitors the machine inside, enabling us to log in, control individual components and diagnose problems remotely. We have redundancy built into the machine; it really is cutting edge technology."
Future plans
According to Hone, the press' automation and fine detail printing capabilities will help the business deliver on its aims.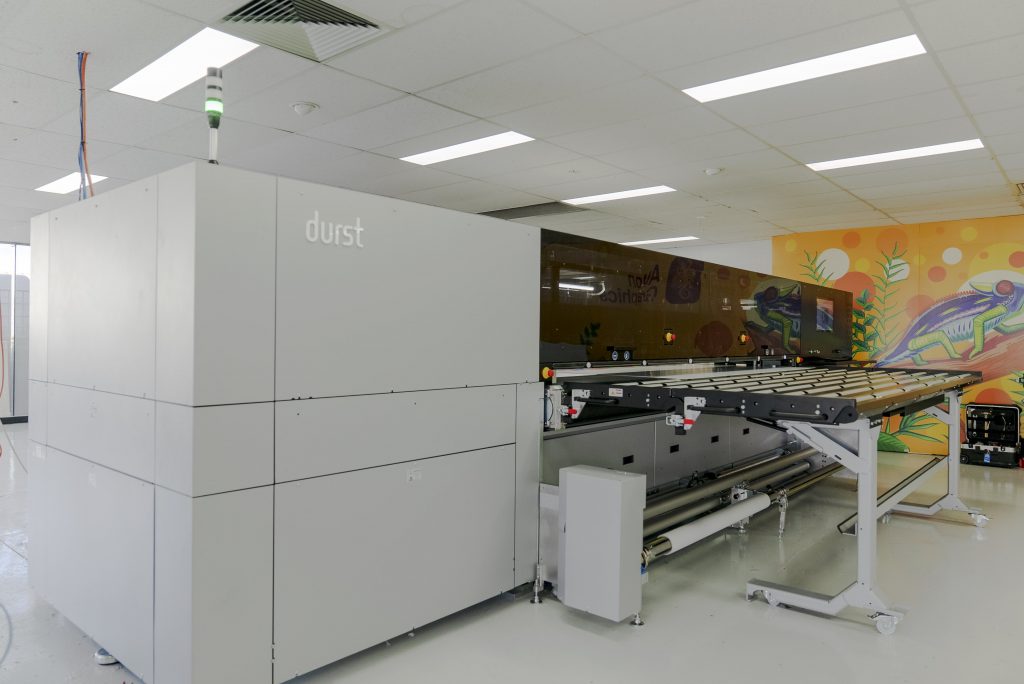 "We definitely haven't taken a backward step in quality – we've improved on it with the fine detail printing and the automation the Durst P5 350/HS comes with. It's quite modular, meaning we can add more automation down the track. We currently have three-quarter automation at the moment," he said.
"We've used the automated delivery and stacker on every job that we've run so far in these early stages. It's been amazing to see the work arrive on a pallet, out at the end of the press and ready to go into finishing and straight out the door.
"We can do in an hour, what we used to be able to do in a day. It's a really big difference."
Hone added that the new press will change the way Avon Graphics does business as it enables it to target new jobs and work with existing customers to help solve more issues that they have.
"This opens up a lot more opportunities for us to grow the trade large format division of our business. It's all about getting a quality product back to the market as quickly as possible and now we can really focus on the bigger work, which we'd never been able to do in the past," he said.
"We love the fact that Durst has good offerings in automation. We see that as a big part of our future because we potentially want to reach lights out operation at some stage. It's early days with the machine, but we know we've partnered with right people when it comes to technology."
Comment below to have your say on this story.
If you have a news story or tip-off, get in touch at editorial@sprinter.com.au.
Sign up to the Sprinter newsletter