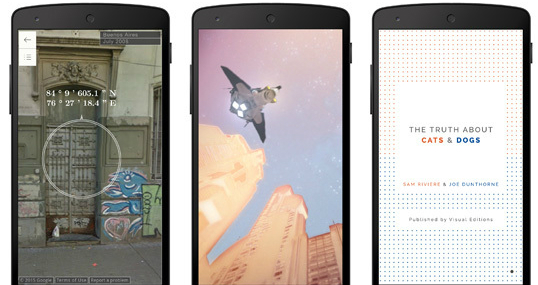 Publishing company Visual Editions has partnered with Google Creative Lab in Sydney to launch a series of interactive books viewable on mobile phones, which could spell bad news for traditional book printers. 'Editions at Play' is a series of 'unprintable' books which the company describes as 'more delightful, more magical' than e-book technology. Each book is designed as its own interactive world and is hosted on an individual website. The company says, "Editions At Play is a website aimed at book lovers, tech geeks and design peeps.
'Editions At Play' has now launched on Google Play Books
"It is a response to the world of digital books, e-books, enhanced e-books, and online PDFs. Because quite frankly we believe readers deserve more. So why not make digital books that are more bookish." Whether the new technology will have any impact on the hardcopy book industry remains to be seen. Figures released early this year from Neilson Bookscan show hardcopy books are holding strong against e-book sales. The data found 571 million more books were sold worldwide in 2015 than in 2014, with e-books accounting for only 25 per cent of total book sales, up slightly from 23 per cent in 2014. Visual Editions launched the series with two titles 'Entrances & Exits' by Reif Larsen and 'The Truth About Cats & Dogs' by Joe Dunthorne and Sam Riviere, both are available now on Google Play Books.
Comment below to have your say on this story.
If you have a news story or tip-off, get in touch at editorial@sprinter.com.au.
Sign up to the Sprinter newsletter