(l-r) Cameron Clarke, Lyle Adams, Steven Wickens, Chandler Westerholm, Peter Schulz and Austin Riddell Front row (l-r) Nicole Jesenko (2022 graduate), Christine Gardiner (2023 graduate) and Megan Conway
Lithographic institute of Australia (LIA) South Australia has named Christine Gardiner from Studio Labels as its 2023 Graduate of the Year (GoTY) winner, selected from eight "deserving" nominees.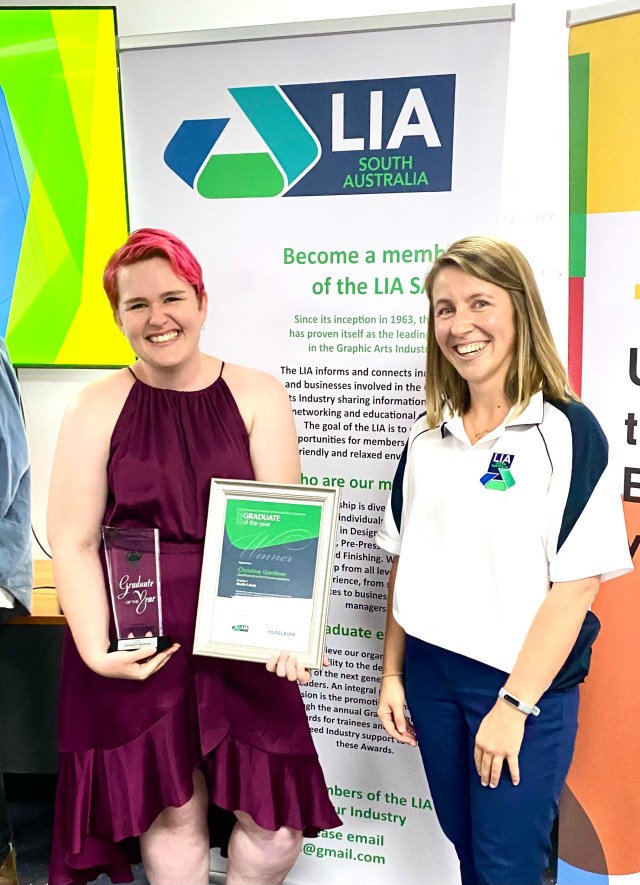 Gardiner received the GoTY award from 2022 Graduate of the Year winner Nicole Jesenko, at MCC Adelaide, where 40 people were in attendance.
Gardiner and Jesenko will now progress to the LIA/Visual Connections Award to be held in May, where the winner will receive a $10,000 scholarship to further their career.
Apart from Gardiner, the other 2023 GoTY nominees were Chandler Westerholm from TAFE SA, Steven Wickens from CCL Labels, Megan Conway from TAFE SA, Lyle Adams from Popes Packaging, Peter Schultz from TAFE SA, Cameron Clarke from Detmold Group and Austin Riddell from TAFE SA.
"We wish Christine and Nicole, and all the other graduates the best of luck," LIA federal vice-president Gordon Wilson said, also thanking the organisers of MCC Adelaide for the use of their training room where the event was held.
LIA National Awards Presentations on 4 May at Visual Impact
LIA Australia is inviting the industry to attend the LIA National Awards Presentations, to be held at Visual Impact on 4 May at Sydney Showground, Sydney Olympic Park.
"It's time to celebrate excellence in our industry by recognising our brightest industry graduates. Congratulate this year's finalists and winners and celebrate the future of our industry over drinks and canapés at the LIA National Awards Presentations," Böttcher Australia managing director Mitch Mulligan said, inviting those interested to attend the Visual Impact show in Sydney from 5pm – 6pm before moving on to the seminar area from 6pm – 7pm for canapés and beverages before the awards presentations.
To confirm your place, click here.
Comment below to have your say on this story.
If you have a news story or tip-off, get in touch at editorial@sprinter.com.au.
Sign up to the Sprinter newsletter