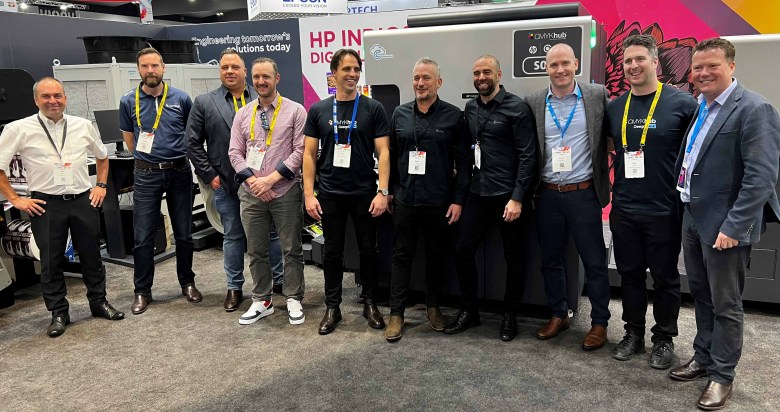 Australian trade printer, CMYKhub, has made its first foray into labels with the investment in a HP Indigo 6K Digital Press, while also beefing up its wide format capabilities with a new hybrid 3.2m wide EFI VUTEk h5 through Currie Group.
Also included in the swag of investments was a ABG Digicon Series 3 label finishing line which will be set up in a near line arrangement to handle the labels output from the HP Indigo 6K Digital Press.
CMYKhub CEO Dayne Nankervis said the HP Indigo 6K Digital Press and the ABG Digicon Series 3 combination is CMYKhub's entry into labels and has come in response to surging customer demand.
"We've supported our customers previously by outsourcing to other label businesses or referring customers on, but this is our first foray inhouse into labels. We are getting a lot of work coming through now, so it is time to have our own capability," Nankervis said.
The addition of the HP Indigo 6K Digital Press, which will run out of CMYKhub's Melbourne site, adds to a growing stable of HP Indigo technology now owned by the printer. The list includes two HP Indigo 100K Digital Presses, two HP Indigo 7r Digital Presses and a HP Indigo 7800 Digital Press which are located across the country.
Nankervis said reliability is critical to CMYKhub's operation and its relationship with Currie Group was integral in each of these significant purchases.
"Uptime and serviceability are critical to us so Currie Group and HP's ability to keep these machines running is a big plus. We have an extensive relationship with HP and Currie Group. Our operational staff also know the HP Indigo machines so it is a lot easier for us to cross train," Nankervis said.
"In terms of the quality of the product, we already have belief in the system that HP runs. The flatness of the print will be suitable for us and then there is the ABG connection. We were really worried about the finishing and ABG's connection to Currie Group and extensive partnership with HP was a selling point for us."
Nankervis said the ABG converting line could connect to the HP Indigo 6K Digital Press but for CMYKhub's purposes it will be kept separate in a near-line formation.
"We will run it near-line and we will always run near line. We will end up with multiple finishing lines for this," he said.
Nankervis added stepping into labels is all about continuing to deliver for CMYKhub customers.
"We have a significant customer base, and our customers request products and labels is something we definitely get requests for. We added wide format as customers were requesting that we add it, so now we are adding labels due to the request of customers," Nankervis said.
Wide format capability expansion
CMYKhub added wide format capabilities nearly seven years ago and another member of the Nankervis family, Alan Nankervis, runs it.
The purchase of the EFI VUTEk h5 hybrid roll-to-roll and flatbed printer is the first piece of EFI kit CMYKhub has invested in with production speed and its hybrid functionality a key attraction.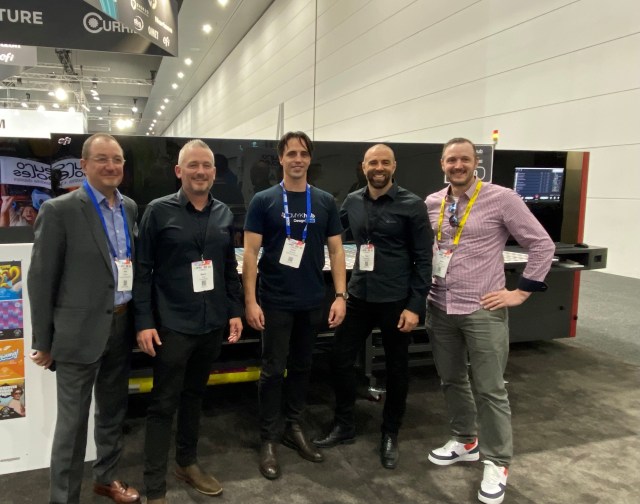 "We've been using largely flatbed printers as a stand-alone, so this is a step up to hybrid for us and a step up in production speed. We hope to keep running our other wide format machines as we will move them around our network. We have five sites so we will move the machines to the right location to keep production to the level we need in those sites," Alan said.
On the hybrid functionality of the EFI VUTEk h5, Nankervis said it is easy to switch between the two modes.
"We will tend to use it for its flatbed capabilities, but it gives us great backup in the roll space as well. This gives us more power to do longer runs unattended. At the moment we have Mimaki's, which are great machines, and we are really happy with them, but this will just give us more speed. Wide format has grown so much, and we are just getting asked for more and more. The orders have grown as our customers have grown so we needed to step up our game to keep up with this," he said.
"We started with Melbourne and Sydney, and we expanded into Brisbane, and we added Cairns and Perth, so it has continued to grow. But it has got to a point where the machines that we have, as great as they are, they just can't keep up with the demand so we are doing lots of hours and hours are expensive so this means we can get the work done quicker."
Comment below to have your say on this story.
If you have a news story or tip-off, get in touch at editorial@sprinter.com.au.
Sign up to the Sprinter newsletter