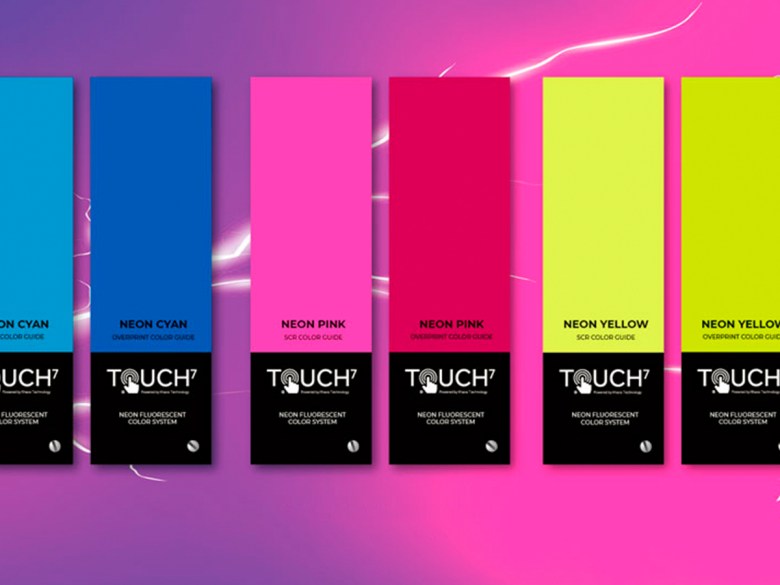 Color-Logic has launched the Touch7 neon colour system, described as a ground-breaking technology set to transform the way designers, printers, and manufacturers create and reproduce neon and pastel colours.
Touch 7 developer Richard Ainge commented: "Neon colours have long been synonymous with vibrant, attention-grabbing designs. However, reproducing these colours accurately and consistently across various media and printing processes has been a challenge for many professionals.
"The new Touch7 neon colour system eliminates these difficulties, providing graphic designers and pre-press personnel with a comprehensive colour system specifically designed for neon effects."
The system consists of two packages: Touch7 Primary where neon and fluorescent inks are printed in combination with the primary press inks (CMY plus neon), and Touch7 Pure, developed only for the neon and fluorescent inks to be printed together (no CMYK inks).
The Touch7 offers an extended colour gamut, enabling graphic designers to access a wide range of neon and pastel colours that were previously unachievable using traditional CMYK printing.
It is designed to work with Adobe Creative Cloud, providing automated one-click colour palettes and plugins that simplify designing files for the fifth colour.
Color-Logic says designers and printers can achieve consistent and accurate colour reproduction across various printing methods, including digital, offset, flexography, and screen printing.
Color-Logic director of sales and marketing Mark Geeves said, "Neon colours are in high demand, but the ability to reproduce them accurately has presented a significant challenge to design and printing professionals.
"With the innovative Touch7 colour system, graphic designers and printers are empowered to unleash their creativity and deliver stunning neon effects in their designs. The Touch7 neon colour system is suitable for various industries, including graphic design, packaging, apparel, signage and more.
"It offers a cost-effective and efficient solution for businesses looking to enhance their visual communication and stand out in a crowded marketplace."
Comment below to have your say on this story.
If you have a news story or tip-off, get in touch at editorial@sprinter.com.au.
Sign up to the Sprinter newsletter