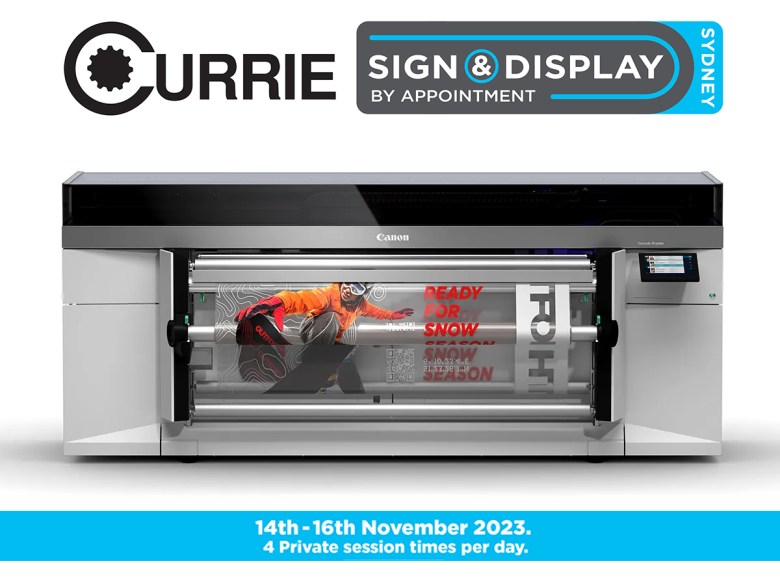 Pictured above: The Canon Colorado M-series large format 1.6m roll-to-roll printer
Currie Group has organised the "Sign & Display… By Appointment" event, providing Sydneysiders with the first opportunity to experience the company's sign and display solutions, including the newly expanded collection of large-format machines, available through a recently announced channel partnership with Canon Production Printing Australia.
The event will provide the opportunity to book private sessions to view end-to-end solutions for the sign and display market, catch up on the latest technical insights from the market leaders in large format, and chat with a team of experts about specific business requirements.
Currie Group business unit manager for sign and display Paul Whitehead is delighted to have the opportunity to showcase the company's sign and display range in Sydney.
"We actually launched the EFI partnership in Melbourne two years ago and included that range on our stand at PacPrint Melbourne in 2022, but with supply chain issues over the past few years, it has been challenging to secure machines for a showroom display in Sydney," Whitehead said.
"Those printers which could be landed in Australia were inevitably already earmarked for print businesses who were keen to have them installed. The customer comes first, but it meant our showroom missed out."
Now that things are settling down on the shipping front, the company can commit to having an EFI and one of the latest Canon Colorado M-Series printers in the Sydney showroom for at least six months.
"We're very excited to be able to bring these products to Sydney, and we are going to make the most of it, kicking off with this customer event," Whitehead said.
The three-day event will run between Tuesday, 14 and Thursday, November 16. It will allow print businesses to make personal appointments to hear about the latest developments across the ranges and see both print engines live in action.
Printers will also be able to discuss their business' unique requirements with the Currie Group team, not only in the sign and display space but also across commercial print, labels and packaging.
Whitehead, together with Ashley Playford-Browne, who recently joined the Currie Group team in Sydney, will lead with presentations on the company's entire sign and display portfolio and the 12-month outlook for the sector. They will be backed by all Sydney service and support team members, who will be on hand to discuss technical and practical aspects of investment.
Whitehead added, "Of course, as well as these presentations, the appointments will also feature live demonstrations of two flagship machines – the EFI Pro 30h hybrid flatbed/roll-fed LED printer, which was launched at PacPrint just over a year ago and is being demonstrated for the very first time in New South Wales, and a brand new, top-of-the-range Canon Colorado M-Series 1.6m roll-to-roll printer.
"We will also be carrying a full suite of samples and prints from the entire EFI and Canon ranges, so customers can not only access personalised advice on the available options but get a tangible feel for what is best for their business and, of course, ask any questions."
As well as showcasing the new channel partnership with Canon Production Printing Australia, the event will demonstrate Currie Group's wider connections, with several leading names participating to enable demonstrations of true, end-to-end production.
Whitehead added, "We operate in a very tactile, applications-focused industry, so seeing these technologies in action and being able to see, touch and feel what is possible by using various printer models is critical to help businesses make sound investment decisions.
"Our experience, certainly, is that those who can experience technologies in person are able to more clearly see the potential for their business and invariably integrate their new equipment very successfully, often becoming long-term customers.
"We are delighted to finally be able to present these outstanding solutions to businesses in Sydney and surrounds and to be hosting our very first open house event since we announced our exciting new partnership with Canon Production Printing. It's an incredibly exciting time for us and our customers, who now have access to solutions for every sign and display application, all in one place."
While the new kit will be on display in the Sydney showroom for some months, the "Sign & Display… By Appointment" event is the best opportunity for those serious about sign and display success to get the jump on the market.
Four timeslots are available each day of the event held at Currie Group's Sydney Demonstration Centre from November 14 to 16. Book your appointment via the dedicated link if you are interested in a live demonstration and personal and uninterrupted access to sign and display experts and the wider Currie Group team.
Location: Currie Group – Sydney Demonstration Centre
Address: Unit 14, 2 Eden Park Drive, Macquarie Park NSW
Booking link: https://www.events.curriegroup.com.au
Comment below to have your say on this story.
If you have a news story or tip-off, get in touch at editorial@sprinter.com.au.
Sign up to the Sprinter newsletter