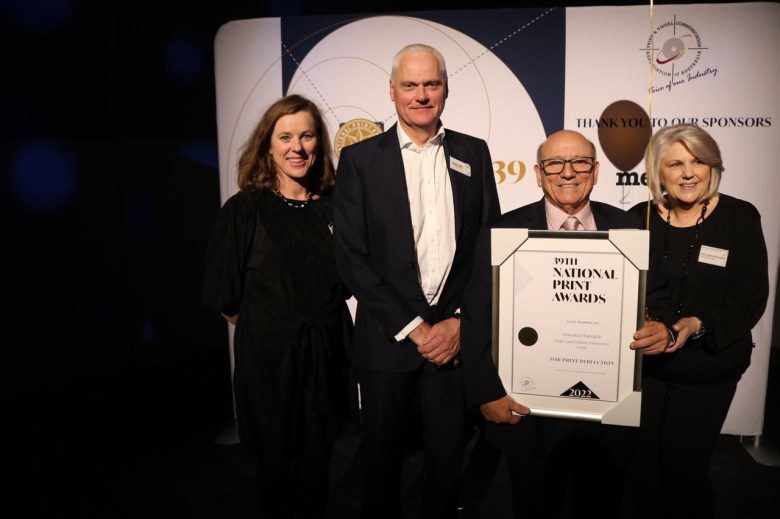 Imagination Graphics owner, Emmanuel Buhagiar, has been recognised for his long and distinguished services to the print industry with a Media Super Lifetime Achievement Award at the National Print Awards in Melbourne.
On accepting his award, Buhagiar declared his passion for the print industry and also acknowledged the integral role his wife, Colleen, has played in the ongoing success of Imagination Graphics.
Known affectionately in the industry as 'Budgie', Buhagiar started out in print almost 50 years ago at Braycol Pty Ltd as a hand and machine compositor. During the earlier phases of his career he also worked at Sun Gravure, Dalley Middleton & Moore and R T Kelley.
In 1983, he founded his own artwork business – The Art Vehicle before transitioning to pre-press and digital printing with Imagination Graphics which was established in 1998.
Since Imagination was launched 24 years ago, it has grown from a prepress and CtP provider to include offset and digital printing, graphic design and signage. It became the first print business in NSW to purchase a Konica Minolta AccurioJet KM 1 B2 printer – a move which proved Budgie's agility and willingness to embrace technology to meet customer needs.
Sharing knowledge and encouraging younger members of the industry is a key concern for Budgie.
In addition to employing an offset printing apprentice in 2018, Budgie also regularly accepts work experience students providing many young people with their first experience in the industry.
Recently, Emmanuel hosted a Technical Visit from the LIA NSW where current and retired industry members enjoyed a detailed insight into the workings of Imagination Graphics at Marrickville.
These leadership qualities and an enthusiasm for involvement have also seen Emmanuel contribute to other community initiatives, in particular Touch Football. He has coached many teams over the years, up to and including the Australian Men's Touch Football team that won the Touch Football World Cup tournaments in South Africa in 2007 and Scotland in 2011, and was Vice President of Touch Football NSW for many years until increasing work commitments led to his resignation from the Board.
While the highlights have been many during Emmanuel's career, there have also been setbacks and challenges which have tested his mettle.
In February 2020, like so many of their neighbours, Imagination Graphics flooded, and all their machinery was lost, including the KM-1. With a steady resolve, and the assistance of insurance, Emmanuel replaced all machinery and then showed similar grit and determination tackling the COVID-19 lockdowns and restrictions.
Through all this, his colleagues say he not only kept the business operating but continued to reinvent the company with an eye to the future.
Judges of the Media Super Lifetime Achievement Award were impressed not only with Buhagiar's persistence, but his determination to respond to consumer demands and embrace evolving technology to keep his business a step ahead of the competition.
"Emmanuel has an extreme passion for the industry which is infectious," says Luke Wooldridge, Chair of the NPA Judging Panel.
"His enthusiasm and effervescent approach rub off on everyone – his staff, his clients, and his industry colleagues – and you only need be in his presence for five minutes to understand just how committed he is to this sector.
"Emmanuel is well respected in the industry for his achievements, his resilience and his commitment to embracing change, and his enthusiasm and unwavering passion for print, which is second to none.
"Emmanuel Buhagiar epitomises the Lifetime Achievement Award with his lifetime of passion for, and commitment to, the industry. We are delighted to name him the 2022 Media Super Lifetime Achievement Award winner and congratulate him most sincerely."
Comment below to have your say on this story.
If you have a news story or tip-off, get in touch at editorial@sprinter.com.au.
Sign up to the Sprinter newsletter