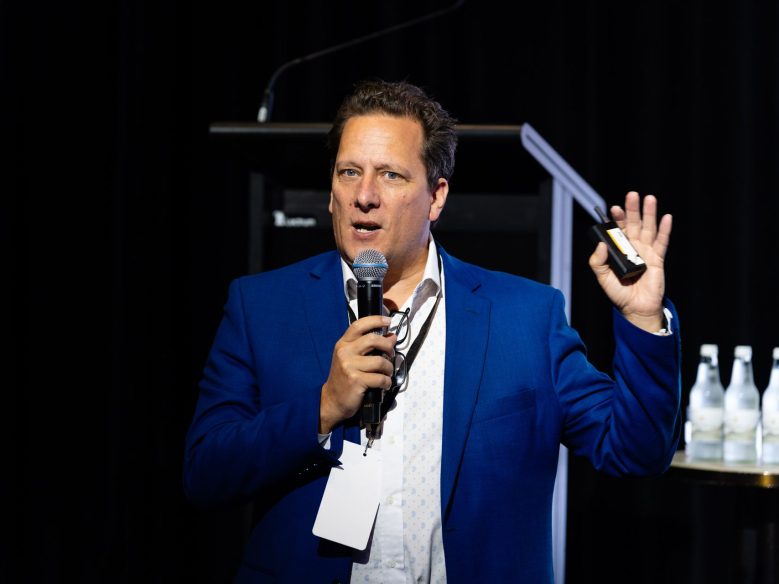 FESPA CEO Neil Felton has shared findings from a global report to show where Australian printers need to invest to grow their business.
Felton's opening address at FESPA Australia's recent People Planet Profit Conference in Sydney featured the findings of the FESPA Global Census related to technology investment, sustainable practises, and trends in customer demand requirements.
Felton, who has worked for FESPA for 12 years, travelled from the UK to discuss the findings of the FESPA Global Census, and touched on his personal views about the market and upcoming trends he foresees.
FESPA Global Census
The FESPA Global Census, that has been running since 2015, was completed this year by 1700 respondents from 121 countries around the world and revealed that:
Respondents defined their business focus as graphics (61%), signage (26%), textile (24%) and industrial (14%).
Overall revenue has increased 6 per cent from 2018 to 2023
Employee numbers are decreasing – printers are employing less people but the businesses are becoming much more efficient
The top three customer demands have not changed since 2018 – faster turnarounds, shorter runs and personalisation
The survey highlighted that print service providers are interested in investing in technology that can streamline production and provide greater application flexibility. For the 201 respondents who own screen printing and wide format equipment, UV-Curable Inkjet (27%), Eco-Solvent Inkjet (18%) and CNC finishing (17%) are the highest priority for their purchasing plans.
Sustainability is a key trend around the world with major brands asking for more sustainable products. 75% of our customers are demanding sustainable products which is down from 82% in 2018 and the reason for this is COVID with some brands remaining cost-conscious
The APAC region has more demand for sustainable products than any other region.
70% of the respondents shared that they could address sustainability demands without raising their prices and a further 22% advised that they already raised pricing without any impact on sales showing that clients are willing to pay more.
The market outlook remains positive in line with the results from 2018, with 71% of respondents stating that they are optimistic about the future of their business, despite the considerable economic challenges of the past five years.
The industry is being shaped by changing customer requirements, including quicker turnaround times, more custom and personalisation options, and shorter print runs.
The FESPA Global Census is the largest worldwide print research project which collates and shares market intelligence and offers a global perspective on the challenges and opportunities facing the industry. The 2023 edition is a 92-page report, available free to all FESPA members.
Views and upcoming trends
Felton then went on to share his personal views on the market, and outlined where he sees the industry is moving towards, which is:
The digital print market is valued at 24.3 Billion Euros and is estimated to grow 6.8% over the next seven years – or 0.9% annually.
The screen-printing market which is much lower in size at 3.5 Billion Euros but has massive potential for growth of 15.6% or 2.2% annually over the next seven years
Custom print market is worth 31 billion Euros and is expected 10.2 per cent in the next seven years or 1.45% annually
Textile Digital print, which is valued at €2.7 billion but has forecast growth of 14.4% over the next seven years or 2% per annum with short runs, apparel, home décor and soft signage as key trends
The car vehicle wrapping market, which has extended to architectural, is valued at €5.9 billion and is forecast to grow 26.1% or 3.7% over the next seven years
Digital signage which is a €24.8 billion industry, and one that Felton recommends printers and imaging professionals should explore alongside their existing businesses. It is forecast to grow by 8% over the next seven years.
In closing, Felton summarised the various offerings and the next two FESPA shows in Dubai and Amsterdam will feature on personalisation, textile printing and vehicle, and encouraged attendees to visit.
"FESPA reinvests every single cent and dollar back into the industry. Since 2015, we've reinvested 7 million Euros and we have 14,400 printer members around the world – if you want to meet a printer you can meet them at FESPA in some shape or form. We have 500,000 around the world that regularly engage with FESPA on an annual basis," he said.
The next FESPA event will be held in Dubai in January and the FESPA Global Print Expo will be held in Amsterdam in 2024.
FESPA Middle East will be held in Dubai from 29-31 January
https://www.fespamiddleeast.com
FESPA Global Print Expo will be held in Amsterdam from 19-22 March

https://www.fespaglobalprintexpo.com
Comment below to have your say on this story.
If you have a news story or tip-off, get in touch at editorial@sprinter.com.au.
Sign up to the Sprinter newsletter