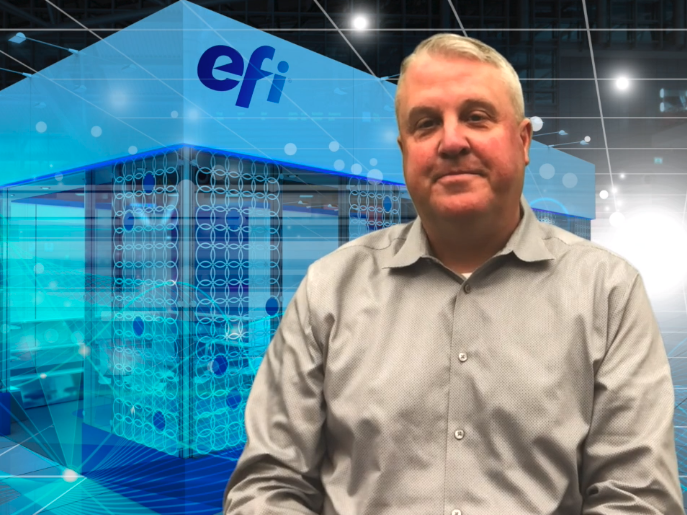 EFI has taken to FESPA Munich to launch its latest next-generation, modular and scalable Nozomi 14000 SD printer.
EFI presented details about this new innovation at its stand in Hall 1, Stand B50.
According to EFI vice-president of sales and marketing Ken Hanulec the Nozomi 14000 SD printer beefs up its award-winning, highly versatile, super-high-speed and high-quality Nozomi single-pass UV LED printing range.
"Last year at FESPA Global, we featured the industry's first single-pass inkjet printer designed for the display graphics market, the EFI Nozomi 18000+ LED printer," he said.
"After learning more about the needs and successes of our customers with the 1.8m printer, we meticulously created this truly innovative, 1.4m-wide version that gives a larger share of the market the ability to fully transform their business with super-high-speed and premium-quality imaging in a lower entry point, single-pass solution."
Available later this year, the modular, base-model and four-colour EFI Nozomi 14000 SD prints paper, synthetic media and board at speeds up to 30 linear metres per minute. At that speed, the company said customers will be able to produce up to 740 1.4m by 2.4m sheets per hour.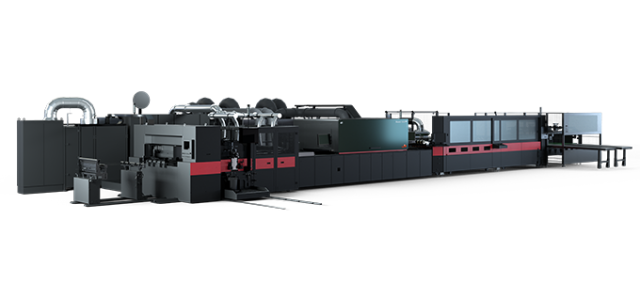 Hanulec mentioned that using this printer, established display graphics shops will gain the capacity and speed to replace multiple scanning-head devices – each requiring one or two operators – with a single Nozomi production line operated by a two-person crew.
As their volume needs grow, users will also be able to add speed and fully automated loading with a vision and inspection system to push productivity up to 70 linear metres per minute or 1845 sheets per hour.
The EFI Nozomi 14000 SD printer's capabilities include:
High image quality with a 720dpi effective resolution, including full gradients and brilliant colours
Consistent and accurate colour with the ability to produce 97 per cent of the Pantone colour gamut, G7 support tools, Fogra PSD certification and more
Capacity of 2 to 5 million square metres of production annually with average ink usage of 4.5 grams per square metre
Compatibility with a wide range of substrates, ranging from polystyrene, foamboard and corrugated to 100# text, folding carton, card stock and canvas.
The EFI Nozomi 14000 SD printer also delivers on sustainability with 45 per cent more efficient production per kW hour compared with analogue printing. It reduces the media waste of overproduction up to 30 per cent compared with analogue printing. Its environmentally friendly LED inks are GreenGuard certified with no odour or VOCs.
The base configuration features an analogue UV or water-based primer station, registration table, printer with LED curing, up to six printing bars and an advanced vision camera, and is available with several ink options, including CMYK, CMYK+W, CMYK+O, CMYK+OV and CMYK+W+O. Finally, an optional post UV or water-based analogue coater can be added for final treatment of the printed output.
Hanulec said this Nozomi 14000 SD printer reflects EFI's continued leadership and innovation in single-pass inkjet technology.
"Overall, EFI has more than 1,500 single-pass engines installed globally in five different vertical markets, including corrugated, sign and display graphics, ceramics, textiles and industrial decoration," he said.
"As we gained more experience with the sign and display graphics applications various Nozomi customers have been producing, we collected customer feedback that has given our engineers the insights needed to create this next highly versatile breakthrough single-pass solution for display graphics."
At FESPA Munich, Hanulec also hinted at an upcoming industrial textile product from the company, which will be unveiled at ITMA 2023 in Milan in June.
"This machine will focus on true sustainability, true productivity and the here and now. We've got a true production offering that is far superior to anything out there. This winning solution doesn't sacrifice on colour, fidelity, productivity, or image quality. You'll hear more about that at ITMA 2023," he added.
Comment below to have your say on this story.
If you have a news story or tip-off, get in touch at editorial@sprinter.com.au.
Sign up to the Sprinter newsletter