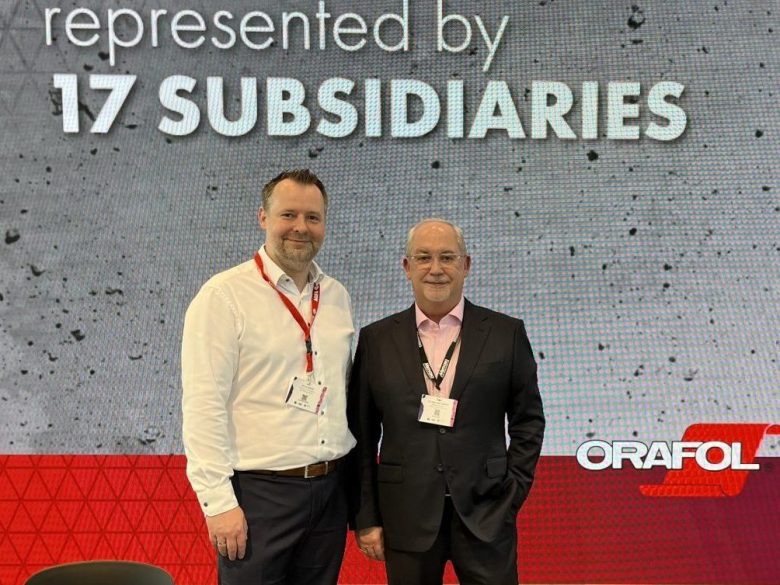 (l-r) ORAFOL Europe executive vice-president Jonas Kolsch with ORAFOL Australia managing director Alex McClelland
A highlight of the ORAFOL stand at FESPA Munich was the launch of the company's PVC-free films and laminates as alternatives to the standard range, specially developed for the high demands in the advertising and automotive sectors.
One PVC-free alternative is the ORAJET 3971RA+ ProSlide cast thermoplastic polyurethane (TPU) film for vehicle wrapping and other long-term applications. It offers very good formability.
According to ORAFOL, the high-gloss, white, PVC-free film offers the best printability on all digital printing platforms. Thanks to the ORAFOL RapidAir and ProSlide technologies, the product can be quickly and easily bonded to complex surfaces with deep recesses and contoured curves. Particularly long-lasting results are achieved when used in combination with the transparent and PVC-free laminate ORAGUARD 279.
ORAFOL Australia managing director Alex McClelland explained that PVC-free PPF is an emerging market in the industry and fast gaining appeal. Although he pointed out that the product is environmentally sound, he is quick to steer away from greenwashing.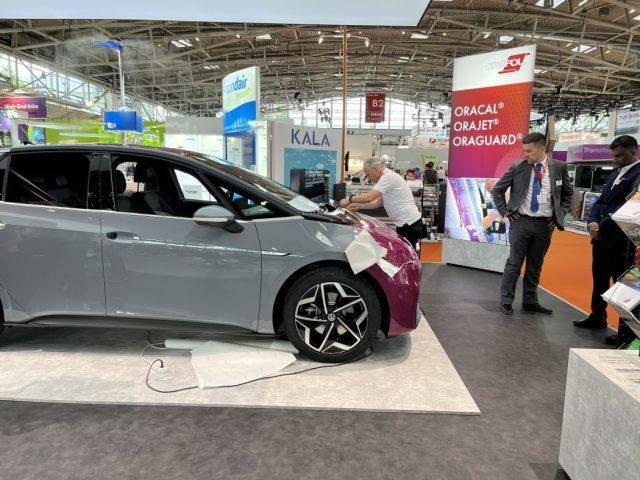 "We manufacture plastics, so we don't want to make environmental claims that are not 100 per cent true. Nevertheless our company is very environmentally conscious," he said.
In fact, ORAFOL's sustainability values extend to many areas of its operation.
It implements an integrated management system that meets all requirements of DIN EN ISO 9001:2015 and DIN EN ISO 14001:2015 – at its headquarters in Oranienburg and, following these systems, also in the US. Each year, an independent certification body carries out audits and provides evidence that the company not only meets the requirements of the underlying standards, but also sets own standards in all areas.

The company strives towards an energy-efficient use of raw materials and energy resources in closed cycles, and continuously invests in environmental technologies. Consequently, the use of regenerative incineration plants at the headquarters leads to a significant reduction of harmful emissions. Energy efficiency in Oranienburg continues to be maximised by recycling usable heat back into the production process as well as into the building heating system.

The concept of sustainability finds reflection in planning and design of the company's sites. At the headquarters in Oranienburg and worldwide, ORAFOL invests in ecological construction measures that create ecological compensation and provide an environment for animals and plants. These are, for example, small ponds, tree plantings or similar green spaces on the production sites.

ORAFOL's "Energy" working group has introduced the necessary steps for converting all process equipment that run on natural gas to also run on liquefied gas, LNG. Upon completion of these expansion projects, ORAFOL will still be able to manufacture its products regardless of any future disruptions to the supply of natural gas.
Back on the subject of the PVC-free PPF range, McClelland explained that it was introduced a few months ago as a soft launch and that ORAFOL is running courses on how to apply it.
The PVC-free PPF range took from 12 to 18 months to develop he said, admitting that it has been a worthwhile exercise as the products provide an important niche in the marketplace.
Comment below to have your say on this story.
If you have a news story or tip-off, get in touch at editorial@sprinter.com.au.
Sign up to the Sprinter newsletter