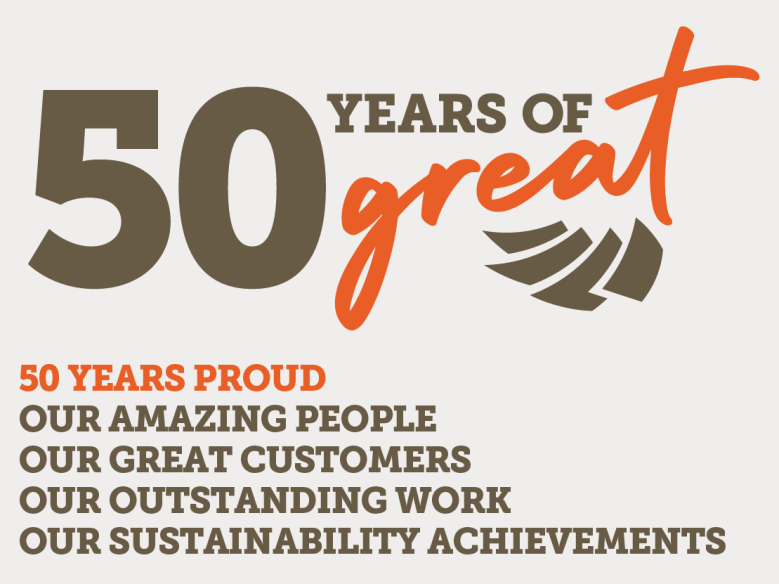 Finsbury Green, one of Australia's leading print, managed services and logistics companies, is proudly celebrating its 50th anniversary.
Founded in 1973 by Doug Cleland, Ernie and Olga Orel, the company rapidly grew to become a national leader in sustainable printing and broadened its offering to encompass a wide range of marketing and communications services.
Over the past five decades, the business has experienced significant success: it has grown from 2 to 195 staff; from $30,000 to nearly $100 million in annual turnover; and expanded its physical presence from a modest operation in what was Finsbury Park – to five sites across Victoria, South Australia, and New South Wales.
Finsbury Green has been at the forefront of sustainability, pioneering green practices and advocating for environmental responsibility and prides itself on delivering superior quality and value to customers. Throughout this journey, the company has invested in new technologies and processes, from digital printing to eco-friendly inks and papers, and remained committed to reducing its environmental impact.
"We're incredibly proud of our history and our commitment to sustainability," said Peter Orel, owner and executive chairman of Finsbury Green (pictured above).
"Over the past 50 years, we've been privileged to work with some amazing customers, and we look forward to continuing to provide innovative solutions that help them achieve their goals while reducing their impact on the planet."
"In recent years, we've also invested considerable resources to drive diversity and inclusion – both internally and across our supplier base. Our goal is to deliver greater social impact and empower our customers to do the same. We're honoured to carry on the legacy of our founders, and we are committed to continuing building a company that they would be proud of," added Orel.
Today, Finsbury Green is an industry leader in sustainability, with zero waste sent to landfill, carbon-neutral operations across all its manufacturing sites, and highly responsible energy consumption. The company has earned numerous awards and certifications for its environmental initiatives, including ISO standards 9001 for Quality Management and 14001 for Environmental Management and FSC certification.
"It's exciting to celebrate this milestone with our team, customers, and supply partners," said Luke Tindale, Finsbury Green's CEO. "We couldn't have reached this landmark without their support and collaboration. We're excited about the future and the opportunities that lie ahead as we continue to innovate and push the boundaries of what's possible in our industry."
As part of its 50th-anniversary celebrations, Finsbury Green will be hosting a series of events and initiatives, including the launch of the new social and environmental ratings for its sourcing marketplace.
Comment below to have your say on this story.
If you have a news story or tip-off, get in touch at editorial@sprinter.com.au.
Sign up to the Sprinter newsletter