Frame Today use its Epson SureColor P5070 photo printers daily in all of its 14 stores, and with the launch of its own Print Studio brand has also successfully created a one stop shop for printing and framing in house.
The company was founded by Michael and Lucy Tarrant in 2005 with a vision to help its customers capture the important moments in their lives. Since then, it has helped thousands of people produce stunning wall decor through inspirational picture framing design and quality workmanship.
After a comprehensive evaluation process, Frame Today decided its main photo printer of choice would be the Epson SureColor P5070.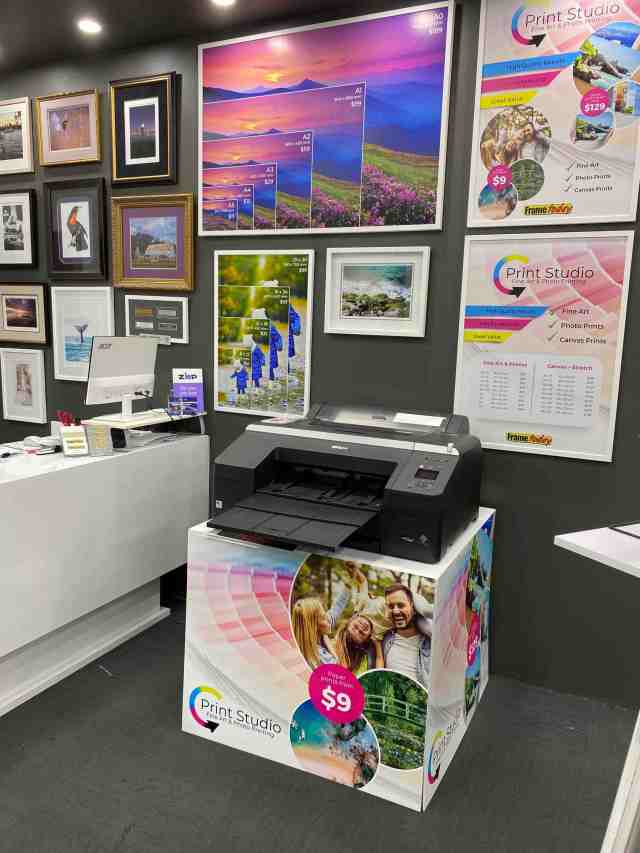 "We have 14 stores across NSW and QLD, each with qualified picture framing consultants and each with an Epson SureColor P5070 photo printer. All work is done in-store with staff providing the expertise to guide your framing choice that enhances your valued photo, artwork, or object. Our framers undertake our framing training program and are also members of the Picture Framers Association. Thus, with these standards the photo printer we use is absolutely critical to our success and levels of service and quality," Lucy Tarrant explained.
With one of the largest ranges of picture frame finishes, colours and timber materials to choose from, Frame Today's professional picture framers are trained to help customers select the best framing option to suit their work and hanging location.
Tarrant continued, "At Frame Today we have strived to be the number one choice for custom framing. As a customer forward business we are always looking for ways to innovate and be a complete solution for our customers. We were on the lookout for a printer than can deliver the quality and output of the best large format printers but be compact enough that we could have them in every store. Ease of use was a must as we wanted all our staff for be able to use the printers without any issues. After considering all available options, our choice had to be the Epson SureColor P5070 photo printer."
Frame Today are so confident in their quality of service, materials and craftsmanship that they provide every customer with a lifetime guarantee.
"The Epson SureColor P5070 photo printer has fulfilled all our requirements allowing us to print on various media, fine art and photo paper so we can offer our customers a range of options. We're able to print up to a decent size and due to the performance of the Epson, we can offer this service to our customers with a very quick turnaround," she said.
According to Tarrant, Frame Today's staff and customers are often giving them positive feedback about the results achieved with the Epson printers.
"Ease of use and the high quality of prints have been the most reported feedback, even during the rollout phase. Our staff picked up the operation very quickly as you don't need to be tech savvy to operate these printers and we still get the amazing quality output you would want from a large format high performance printer.
"We offer high quality photo and fine art printing paper finishes ensuring only the best quality prints for our customers. This way there is no need to go anywhere else as, with Print Studio and Frame Today, you can have it all, print and frame all under one roof with exceptional results guaranteed," she added.
Customers can come in person or email a copy of their images with the size requirements to their chosen Frame Today store. A staff member sets the images up and makes them print ready, then the Epson SureColor P5070 photo printer and paper are checked, and the image is then sent to print. If the image is bring framed it will undergo an additional curing process and then it will be custom framed.
"We are still relatively new to the printing game, but so far, we have been very impressed with the ease of use of and quality of output from the Epson SureColor P5070 photo printers and these clever printers now allow us to set the standard for the print and frame industry. We aspired to the be industry leaders and having professional high-quality printing in every store has given us a competitive edge.
"When you enter any of our stores you know that the person serving you is the same person trained in printing your photo or artwork and the one custom framing it. We deliver on every expectation because your cherished memories are not changing through multiple hands. We take our jobs very seriously and the Epson SureColor P5070 photo printers are a critical part of our service and success," concluded Tarrant.
Comment below to have your say on this story.
If you have a news story or tip-off, get in touch at editorial@sprinter.com.au.
Sign up to the Sprinter newsletter