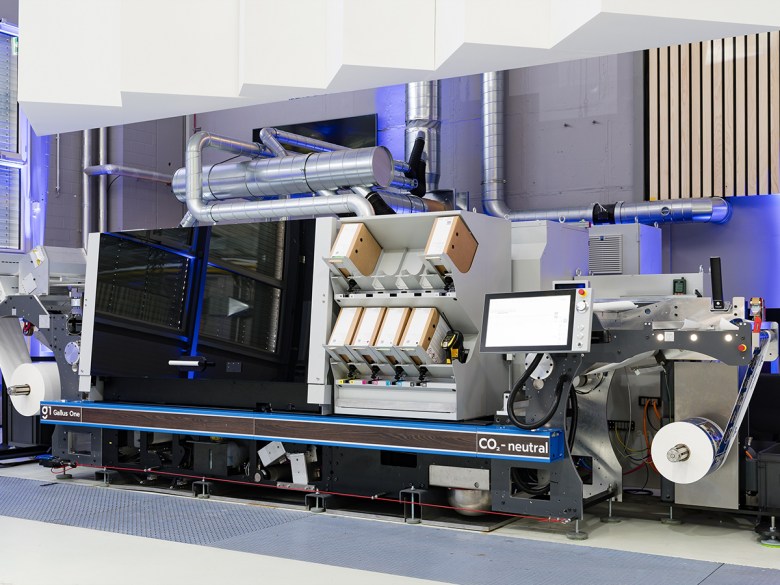 Gallus Group has launched three new products and opened its new Gallus Experience Center, designed to drive market transformation, to celebrate its 100th anniversary.
Gallus has launched its new Gallus One with Converting. It features a digital printer with an in-line flexo station and a semi-rotary die-cutter that can change a job within one minute and process up to 70 metres per minute. It also includes vision inspection systems to ensure quality and minimise waste.
Moreover, the company has announced the option to upgrade an existing Gallus ECS 340 flexo press with a digital printing unit (DPU), transforming it into a Gallus Labelfire 340 hybrid press, but without the additional platform investment.
Customers can now access the flexibility and versatility of digital printing, with the reliability and precision of conventional printing and further processing technology.
The company has also unveiled a new Heidelberg Customer Portal (HCP) that automates customer touchpoints. Claimed as an industry first, future iterations of the solution will also provide predictive capabilities utilising artificial intelligence (AI) to provide recommendations to increase productivity, reduce maintenance, and boost profitability.
The new platform is expected to save customers, on average, up to 35 per cent in both time and money.
Gallus Group CEO Dario Urbinati said, "We are thrilled to welcome so many friends and colleagues this week to help celebrate our centenary in business and to have the opportunity to share our exciting new products and thank the many amazing people within our business who have worked so hard to support us, as well as our incredible portfolio of customers.
"But this week is as much about the next 100 years and what we do next. This is why we're excited to look beyond the graphic arts toward other industries – learning from how they've leveraged new technologies to welcome in the new digital age and cater to the next generation – so that we can modernise the labels and packaging industry and further increase our future success."
To further celebrate its 100th anniversary, the company opened its doors to the Gallus Experience Center, a new industry hub in St. Gallen, Switzerland. It is designed to serve as an industry touchpoint for customers, industry experts, stakeholders and public members to drive market transformation as part of the company's 'Gallus Experience Days'.
Dedicated to the digital transformation of the label and narrow-web industry, the centre aims to foster collaboration to drive innovation and sustainability.
According to the company, digital printing used in label production, for example, offers some of the greatest growth opportunities in the printing industry. One-third of all labels worldwide are already printed digitally today.
Urbinati added, "We are committed to being in touch with the market and forecasting, and then responding to, likely trends that could impact our customers and brands.
"As a result, Gallus and Heidelberg are committed to leading the new digital transformation – driving 'smart, connected printing' to unlock revolutionary levels of production automation and manufacturing efficiencies. Key to solving the labour issues of today, this will enable customers to reduce costs and increase both profitability and sustainability.
"What's more, utilising our new Gallus Experience Center, we have a team devoted to exploring new technologies/processes – such as artificial intelligence and Industry 4.0 – that could be integrated into labels and packaging to better inspire and engage future generations."
Comment below to have your say on this story.
If you have a news story or tip-off, get in touch at editorial@sprinter.com.au.
Sign up to the Sprinter newsletter