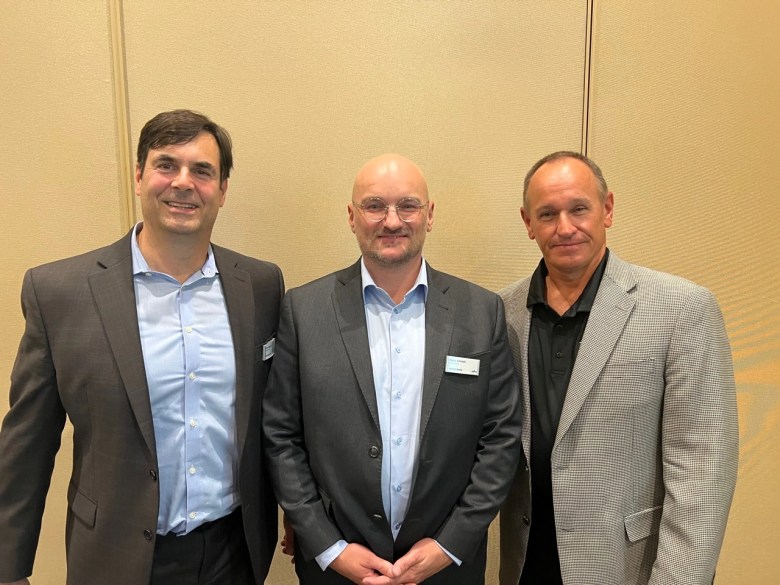 Heidelberg and Gallus have confirmed that the company's first fully-digital label press, the Gallus One, will be released at the beginning of the second quarter of 2023.
The Gallus One machine was not shown at LabelExpo in Chicago. The company told Sprinter it was decided that removing a prototype from the research and development phase could set back the planned release date.
The fully digital Gallus One label printing system is based on the Gallus Labelmaster press platform.
The system is geared toward the cost-efficient and sustainable production of high-quality labels, aiming to deliver a reliable return on investment (ROI) for a wide range of customers. As a reel-to-reel UV inkjet digital inline label press with a width of 340 mm, a resolution of 1,200 dpi, four colours plus white, and a print speed of up to 70 meters per minute, it is suitable for a whole host of applications.
Gallus One can also be fully integrated into the Prinect workflow from Heidelberg. Developed jointly by Heidelberg and Gallus, the system combines the digital printing and software know-how of Heidelberg with the extensive expertise of Gallus in label printing.
Watch a video of Gallus head of product management Thomas Schweizer introducing the machine here:
"Digital printing is and will remain a key technology for Heidelberg. The new Gallus One is further proof of this," Heidelberg CEO Dr. Ludwin Monz said.
"Our innovations in digital printing are targeting the growth markets in our core business, providing our customers with an attractive and futureproof solution, and thus creating the prerequisites for enhanced competitiveness."
While the Gallus One is currently available for pre-order, there has been no sales confirmed currently from the entire Southern Hemisphere including the Asia Pacific region.
Gallus has confirmed that a new Experience Centre previously slated to open at the end of this year will also open in April 2023 at St Gallen in Switzerland.
Gallus chief sales and service director, Dario Urbinati, spoke at Labelexpo in Chicago and told visitors the Gallus One "is not just a new printing machine but the start of a new era for Gallus and Heidelberg".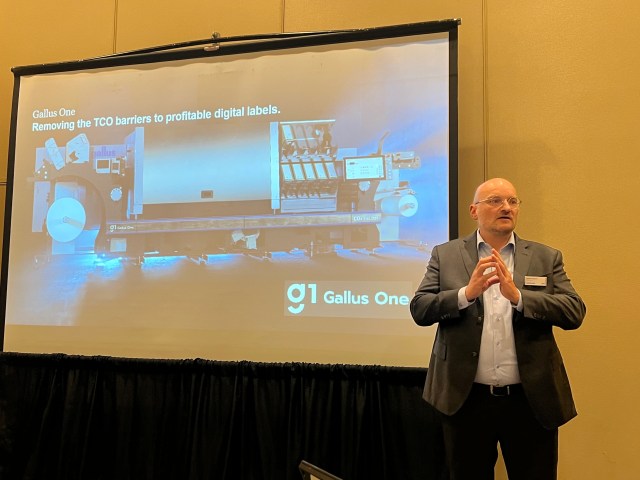 "We have some exciting news. I would like to present to you our newest baby from the Gallus portfolio – it is our youngest child," Urbinati said.
"It is our pleasure to launch this machine to the American market and we will start to sell from Spring next year (April 2023). We are currently in the final development and testing phase of the product."
"We have been positioned with the existing Labelfire product portfolio at the very peak of the price performance pyramid and some call it the Rolls Royce segment.
"We are now approaching the pyramid from the bottom up with a reel to reel machine that is four colour plus white as an option with 1200 dpi state of the art inkjet technology.
"We have learned a lot from the Gallus Labelfire which is considered by many to be the best inkjet press in the market and transported the high-quality technology to the Gallus One and we have equipped the machine with the ability to print at 340mm printing width at 70 metres per minute at 85 per cent white opacity."
The Gallus One has been specifically designed to remove the Total Cost of Ownership (TCO) barrier for the adoption of reel-to-reel digital labels with the highest level of automation and cloud-based technologies.
Gallus hopes the new machine will reinvent the way in which converters approach digital label printing – providing either a standalone digital offering or a complimentary service within a traditional analogue operation.
"With the launch of the Gallus One, we are doing more than just bringing a new press to market – we're providing a unique solution that has the capability to drive the next big opportunity in labels," Urbinati said.
"With cloud capabilities in-built within Gallus One, you can not only enjoy remote set-up, but transparent performance monitoring and standardisation across your press portfolio and manufacturing sites.
"In conjunction with the sophisticated press design the Gallus One offers a complete reel-to-reel digital label solution, including all the software and hardware necessary to produce high quality, profitable digital labels. All this, with the highest level of automation available, and the most competitive TCO.
"Offering all the familiarity benefits of a Labelmaster, Gallus One is a complete solution and not just a standalone print engine. Within the new Gallus One eco system, users have state of the art inkjet technology, a new Gallus One ink set, sophisticated workflow software and a new predictive press monitoring service to ensure minimum press downtime.
"All of these Gallus elements working in harmony, has enabled us to dramatically increase press efficiency and productivity, to unlock this new market opportunity."
Photo: Felix Mueller – president Heidelberg America, Dario Urbinati – chief sales and service of Gallus Group and Dan Maurer – vice president – digital print – Heidelberg USA
Comment below to have your say on this story.
If you have a news story or tip-off, get in touch at editorial@sprinter.com.au.
Sign up to the Sprinter newsletter