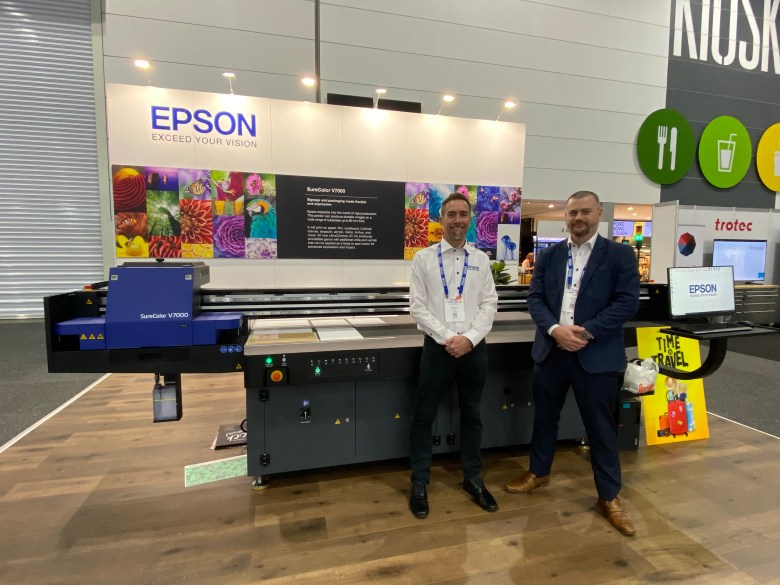 Golden Signs Australia, a Western Sydney based custom sign specialist involved in the design and manufacture of signage, has seen massive improvements in its efficiencies since installing an Epson SureColor V7000 UV flatbed.
Epson Australia marketing communications manager Nathan Fulcher spoke to Sprinter about the sale at the recent PacPrint tradeshow in Melbourne.
Fulcher said when Golden Signs needed to upgrade its printer to a fast, affordable, and reliable solution that can keep up with the business' growth, it turned to the SureColor V7000 UV flatbed.
"The V7000 is perfect for the work that they do. It fits into a very niche space where customers require high quality, wide gamut print with options such as varnish, white, and additional colours such as red and grey. It allows us to provide a full gamut print at quality, with speed," he said.
"Golden Signs' volume of printing was over a thousand square metres in a fortnight since using the SureColor V7000. We were pleasantly surprised to see just how much they were putting through it."
Golden Signs owner Danny Awad said the company didn't set its sights far from Epson when selecting a printer.
"Golden Signs was established in 1980 by my parents. The business has flourished under their watch. My brother Brad and I have taken on the reins and taken the business to new heights. Our business now consists of serving the retail industry and we've been in the business of UV flatbed printing for about five years now," he said.
"Our old printer wasn't able to keep up with our growth. We started having issues with our printer, and not the best support for it. We needed a printer that could keep up with our growth and our demand. We didn't look anywhere else except Epson as it is a world-class company with leading print technology and it is reliable.
"Partnering with Epson puts us at the forefront of technology in our space. With that sort of technology, it will ensure that we carry on into the future for another 40 years and hand on our business to future generations."
Epson Australia had the machine, which is its first-ever flatbed printer, on display at its stand in PacPrint.
For sign makers looking to produce UV output, the SureColor V7000 builds on the success of Epson's SureColor S-Series range of signage printers, delivering flexible production with outstanding image quality and a reduced running cost.
Fulcher said the SureColor V7000 has been designed to meet the needs of today's signage businesses with flexible high-quality production and a reduced total cost of ownership (TCO).
It will print on a wide range of substrates including paper, film, Coreflute, vinyl, canvas, aluminium and acrylic. It produces image quality to suit the most exacting applications including signage, POS/POP, premium packaging, décor, custom cabinetry and fine art.
The printer incorporates eight Epson MicroPiezo printheads. Each head features 1,440 microfine nozzles with variable size dots as small as 4 pl. Working in conjunction with a new 10 colour Ultrachrome UV ink set, it will produce images with a very wide gamut and fine gradation. White and Varnish can even be applied as spot colours for enhanced detail and finish.
The SC-V7000 offers a 1.25m x 2.5m print area that supports media up to 80 mm thick and 50 kg/m2. It features a vacuum system with four independently adjustable zones for flexible operation.
The print heads are mounted in a staggered array that enables up to three layers to be applied in a single pass (White + Colour + Varnish).
Other machines that were on show at the Epson Australia stand include the SurePress L-4733AW printer and P9560.
Comment below to have your say on this story.
If you have a news story or tip-off, get in touch at editorial@sprinter.com.au.
Sign up to the Sprinter newsletter