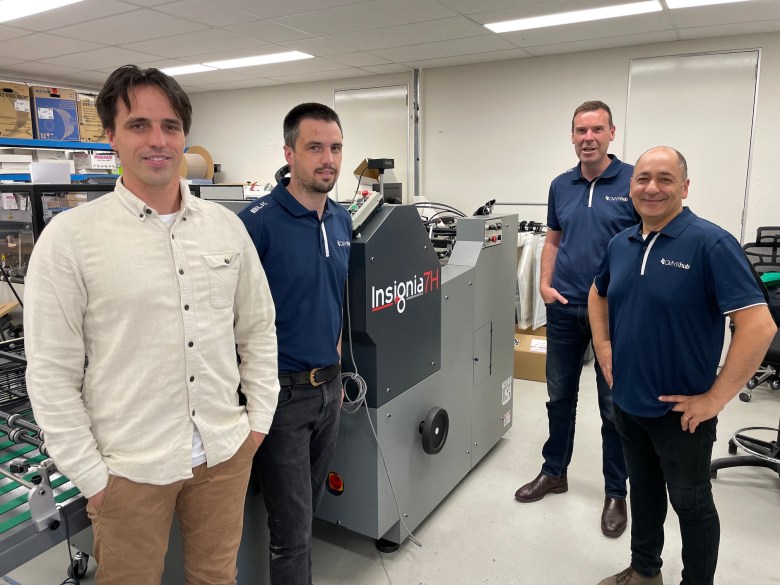 CMYKhub is now the new owner of a hybrid Rollem Insignia, having bought the machine from Graph-Pak.
The company's CEO Dayne Nankervis told Sprinter that it purchased the Rollem Insignia IS7 H as it was looking to improve its service to its customers with better quality and faster turnarounds, decrease the technical skill required for production, and provide a base to allow an increase in its product offerings.
"We're constantly challenged by matching capacity to order volumes. We're running up to 7 cylinders to keep up. Our customers require fast turnaround, and the old cylinders weren't providing the scalability we needed to meet this requirement," Nankervis said.
"The Rollem rotary die cutter will allow CMYKhub to move highly skilled operators to more critical areas in the business, and at the same time improve our turnaround times for our customers.
"Moving forward, we'll start adding and expanding our die cut offering to our customers. If our customers want a particular product, we'll certainly be looking to add it to our offering with this machine. There won't be much hesitation with a machine with this quality."
CMYKhub has been purchasing machines from Graph-Pak since its early days. It has several Graph-Pak installations around the country – from large laminators, small laminators, Digital Ink Jet spot UV machines – and the most recent installation is this rotary die cutter.
Nankervis said CMYKhub was attracted to the simplicity of operation and the flexibility of the Rollem Insignia IS7 H as the model allows the company to maintain a competitive price point when it only needs one flexible die.
"We've been looking at the Rollem for many years and knew of its strengths, but the hybrid model was the clincher for us. It provides the right amount of flexibility," he mentioned.
A leading machine
Graph-Pak managing director Tom Ralph said as CMYKhub has a reputation of leading the way with technology and innovation, it chose the latest model Insignia IS7 Hybrid machine which houses two cutting drums.
The H model dual magnetic Insignia systems offer the ability to utilise a single cutting tool, or a paired set of dies when looking to produce packaging products or other scored work.
When running a single cutting die, a "blank" lower jacket is wrapped around the lower cylinder and acts as the cutting surface for the upper die. This setup allows for cost savings on tooling when producing straight die cut product and/or diecut/kisscut decal work.
If producing boxes or the like, a paired set of dies allow for zero make ready from machine operators as well as enables embossing and/or debossing of substrates in a single pass.
"This twin drum can also just be used as a single counting drum – you have the capabilities to turn it off and on based on demand. The machine is also capable of die cutting, kiss cutting, embossing, perforating and scoring on a huge range of stocks – to 30 PT/650 GSM," Ralph said.
"The machine also has an inline stripping system on it, which means you're getting a finished product out the end. This machine takes only minutes to set up compared to large flatbed cutters, which can take a couple of hours.
"The tooling for this type of machine is a flexible plate that is held on through high power magnetic drums, and it means that make-ready for the operator is in minutes and maintenance is minimal."
Insignia machines weigh between two and five tonnes depending on size of machine (die cutting section only). These machines are built strong with thick solid side-frames measuring between 38 to 64mm to house the cylinder section and support the cutting station.
"With die cutting materials of density, tremendous forces are required to withstand the pressures needed to die cut all the way through the substrate. Therefore, the Insignia machines can apply up to 1500kg of downward force directly to the cutting station to ensure the flexible dies can cut through whatever it is being a sked to do," Ralph said.
Configured to different needs
The Insignia machines are offered in two delivery configurations – with a StackMaster Receding Stacking Unit, which is designed to accept either full sheets of kiss cut labels or die cut product, or with a Shingle Conveyor Table that delivers cut pieces out for continuous offloading.
The StackMaster delivery system is designed for high volume runs, requiring less offloading labour from an operator. This delivery system becomes very important when running die cut product in many lanes as the offloading labour becomes intensive.
"CMYKhub has identified that the role of investment will give them a roughly 400 per cent uptake on previous die cutting technology," Ralph said, adding that CMYKhub is considering buying another unit to meet the demands of its workload.
"The company sees a huge future with Graph-Pak and the Rollem Insignia machines. And having used this they said they could do with another one at their premises," he said.
"We've sold a number of these Rollem Insignia machines and every time we sell one, we're very excited, especially given a tough period with the pandemic. A company like CMYKhub needs the best technology and it shows everything else in its plan is first class."
Comment below to have your say on this story.
If you have a news story or tip-off, get in touch at editorial@sprinter.com.au.
Sign up to the Sprinter newsletter