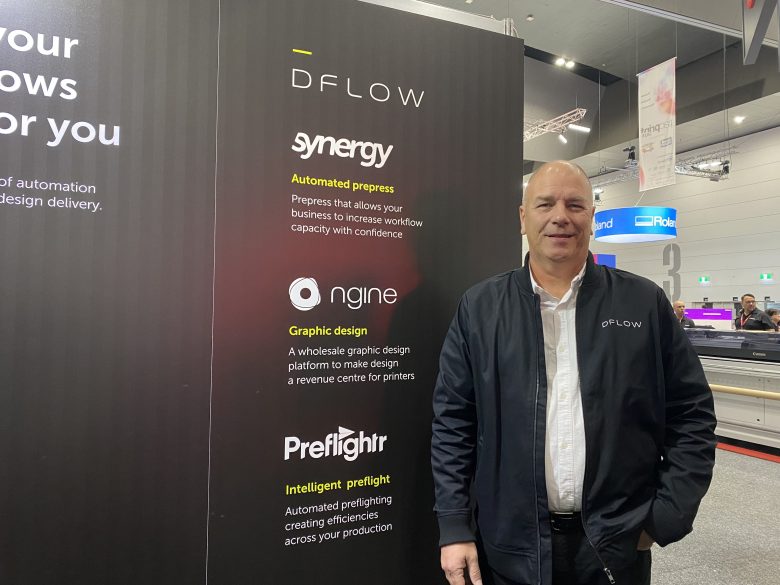 This article first appeared in the September issue of Australian Printer, authored by DFLOW chief executive Doug Robey
Combining a data-rich, modern Management Information System (MIS) and an automated production workflow simply leads to a competitive advantage. When used together, they can drive cost savings, operational efficiencies and improve customer satisfaction.

Every touchpoint in a production workflow should be reviewed for its effectiveness in producing work and streamlining the workflow for maximum throughput and profitability. Using the data contained in a MIS to drive automated processes and reduce the bottleneck caused by legacy high-touch processes is key to keeping up with production demands and business needs.
As such, the goal of any modern print company should be to ensure that production is managed efficiently and as profitably as possible. Without using a MIS and a modern automatised workflow, it is increasingly challenging to control costs and reduce production inefficiencies.
DFLOW alleviates these challenges with its Synergy product – a prepress workflow solution that provides efficiencies across the traditional prepress workflow. Leveraging intelligent process automation to collect jobs and return print-ready files through to a production workflow, Synergy comes full circle in providing an end-to-end cloud based prepress solution.

The solution is cloud-based, meaning an ease of use and adoption for the printer. Essentially, DFLOW is offering Prepress as a Service.
By adapting to printers both large and small, Synergy shifts the prepress technology and resource burden away from the customer. Working within the scope of the printer's workflow, Synergy seamlessly integrates into their existing systems to augment or even completely remove the requirement for onsite prepress.
By implementing a successful technology investment that takes away some of the responsibilities from the printer, they can get back to focusing on production and customer relationships.

DFLOW Synergy can provide the five key processes found in any prepress workflow using:
Preflight – Migrates manual preflighting to automation
Art Fixes – Corrects common artwork issues, quick and easy
Proofing – Provides direct to customer online proofing
Imposition – Enables repeatable precision for every print production method and press
RIPping – Replaces the need for an inhouse RIP, saving money and simplifying operations

DFLOW Synergy also creates scalable production capacity, reducing the burden of staff resourcing and overtime expenses with a predictable 'pay for use' costing model.
Not only does DFLOW provide an outsource solution for prepress automation and workflow, it also has skilled prepress staff for those situations where automation can't be achieved. This allows the company to tailor the perfect mix of technology and staffing to meet the customers' unique workflow requirements.
DFLOW recommends starting with a no-charge trial period (which runs between two to three weeks), where it gets the printer set up to submit files to DFLOW Synergy for testing. With these files, DFLOW learns their production requirements and ensures it can produce their work to a high and repeatable standard. With a point of contact on the printer's side who can submit files, answer questions, and give feedback, DFLOW moves through this stage smoothly with an effective transfer of knowledge.
Because DFLOW Synergy is not just an off-the-shelf software, the company also works in partnership with the printing business, ensuring it achieves the workflow and efficiency goals set out by the printer.
It's also worth noting that it is particularly important to choose a system which has an open and modularised architecture, ideally cloud based, delivered through a web browser and capable of utilising industry standards for data interchange such as JDF, XML or JSON at a minimum.
Connectivity to other production systems and software should also be high on the list, with the ultimate connectivity utilising an Application Programming Interface (API) which allows applications to talk directly to each other.
By asking the MIS or workflow vendor if they have API connectivity, a developer can utilise this to implement data interchange.
Transferring data from one system to another is incredibly efficient when successfully implemented – the MIS or workflow system should have this as a key feature, to allow the fastest transfer of information across the printer's production systems.

CMYKhub, one of Australia's largest trade printers, is benefiting from the scalability of the DFLOW Synergy workflow solution. With over 10,000 orders per month and a product range with 24-hour turnaround, cost, scalability, and efficiency was key to CMYKhub choosing DFLOW Synergy.

DFLOW needed to understand their production scheduling and machine capabilities to align file processing through the network, so print-ready files were always ready as soon as possible for the next stage of imposition or printing.
The goal of any modern print company should be to ensure that production is managed efficiently and as profitably as possibleAs CMYKhub implement new production capabilities and their workload or processes changed, DFLOW worked with CMYKhub on finding the best automation or prepress staffing method to cater to their high-volume business.
DFLOW is a print technology company that believes in continually evolving and improving the solutions offered to customers. Its solution experts work with printers to create the production flow that works best for their current systems and any future efficiency goals.

It's DFLOW's role to keep up with industry changes and always provide effective, modern and the best practice methods and software to help keep printers at the top of their game.
Comment below to have your say on this story.
If you have a news story or tip-off, get in touch at editorial@sprinter.com.au.
Sign up to the Sprinter newsletter