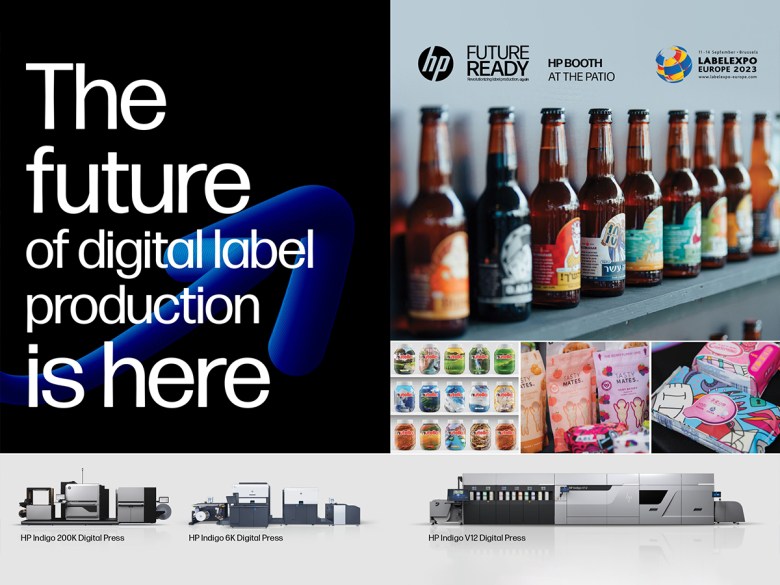 HP has taken to Labelexpo Europe 2023 to demonstrate how to achieve outstanding efficiency and substantial business growth thanks to LEPx-based HP Indigo V12 and HP Indigo 200K digital presses – both showcased for the first time in Europe. 
With these solutions, HP demonstrates its commitment to the market and offers a complete portfolio that allows converters to shift the majority of their label jobs to the HP Indigo 6K, HP Indigo V12, or HP Indigo 200K digital presses.
Completing the main display with the well-established, industry standard HP Indigo 6K Digital Press, the Patio Hall in Brussels Expo is humming with a suite of presses that accommodate every need of converters and brands in the label and flexible packaging industry.
The HP Indigo V12 Digital Press, currently ending a successful beta phase, is now available for early release.
Brook+Whittle vice president of operations and supply chain Jeremy Latterman, who is running a V12 digital press in the company's Hamilton, Ohio print facility, said, "We believe two V12 digital presses can replace eight flexo presses and completely transform our business.
"Converting more pages to digital, the HP Indigo V12 Digital Press brings the agility of digital printing to high volume label jobs currently printed conventionally, and meets brand demands for more personalisation, fast change of art, lower waste, less inventory, and on-demand delivery. "
HP Indigo holds 65 per cent of the worldwide digital label and packaging market value, and more than 2,600 active presses in the field, enabling converters to become Future Ready for the ever-changing market needs.
HP Indigo and Scitex vice president and general manager Noam Zilbershtain said, "Traditionally, flexo had been the label industry's default printing equipment, with digital focus on high value jobs. But with Indigo's new press portfolio, and especially with the HP Indigo V12 Digital Press, converters can shift to an 'Indigo first' mindset, leading to optimal efficiency, sustainability, and ROI across a versatile portfolio of print jobs. Now it's Indigo first, flexo second."
The HP Indigo V12 Digital Press is successfully completing beta sites around the world, including All4Labels, Eshuis, and Brook+Whittle. It reaches unprecedented productivity with the renowned HP Indigo Print Quality.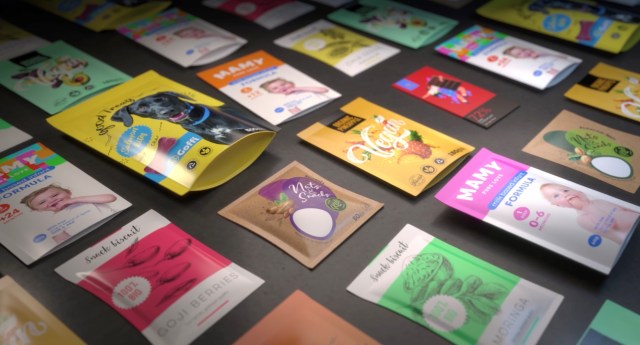 For even greater productivity, ABG's nonstop winding solution – specifically developed to run with the HP Indigo V12 Digital Press, and also demonstrated at the booth, can be added.
All4Labels plant manager and HP Indigo V12 Digital Press beta customer, Roger Gehrke added, "The HP Indigo V12 is a game-changer. Now we have speed, quality and versatility, which is closing the gap with conventional printing."
Completing the portfolio on the booth floor is the HP Indigo 6K Digital Press demonstrating E2E complete order-to-label automation with the Web2Pack e-commerce solutions for small brands, combining the ABG Digicon Series 3 – a fully digital line with no setup; the Storefront solution from Infigo; and digital embellishment and laser die-cutting finishing from ABG.
PrintOS Spot Master is now available on the HP Indigo 6K and 200K digital presses, enabling converters to reach spot colours in minutes, to keep them consistent throughout the run, and to share the results with their brands.
The 200K digital press is now commercially available, after completing a beta phase. The field-proven mid-web solution for flexible packaging print is designed for seasoned industry players, or for label converters who wish to diversify their business to include FP, increase their label productivity or print wider format labels and shrink sleeves.
The HP Indigo 200K Digital Press drives on-demand delivery with no minimum orders, and enables spectacular variable designs, and minimal waste vs conventional printing processes.
It is the heart of the Digital Pouch Factory which along with HP Indigo partners offers a complete lamination, slitting, and pouch-making production line.
Partners at the show will include Karlville Pack Ready for thermal lamination, Karlville Swiss for pouch making, and JetFX for digital embellishment.
Enplater chief operating officer and European beta customer Marti Alaball said, "Enplater is proud to be the first owner of the HP Indigo 200K Digital Press in the EMEA region.
We were impressed to see that software and hardware improvements across the board have made a dramatic difference in the productivity and performance of the new press. We look forward to producing great work with it."
ePac Flaxible Packaging CMO, and HP Indigo 200K beta customer, Carl Joachim, added: "The flexible packaging market is changing, and brands of all sizes are discovering the benefits of digital print. Today, ePac serves thousands of customers across the globe enabling them to go to market faster and more sustainably with great packaging. We offer an unlimited number of SKUs with low minimum order: it's a new ballgame."
Printing live at the booth, HP Indigo and partners demonstrate how to help meet brand sustainability expectations by printing on a full range of HP-recommended sustainable media including compostable, recycled and FSC certified paper , as well as a recyclable paper pouch.
The circular economy approach is demonstrated at the dedicated sustainability station featuring daily Happy Hour events with Tony Beer wash-off labels, which allow easy and complete label removal for smooth recycling, showcased in collaboration with Etivoet of Belgium; and Pouch to Pouch creation – recycling a used pouch into a new one.
HP Indigo also demonstrates a newly designed Carbon Footprint Calculator which helps converters and brands to assess the carbon footprint of a printed job.
Comment below to have your say on this story.
If you have a news story or tip-off, get in touch at editorial@sprinter.com.au.
Sign up to the Sprinter newsletter