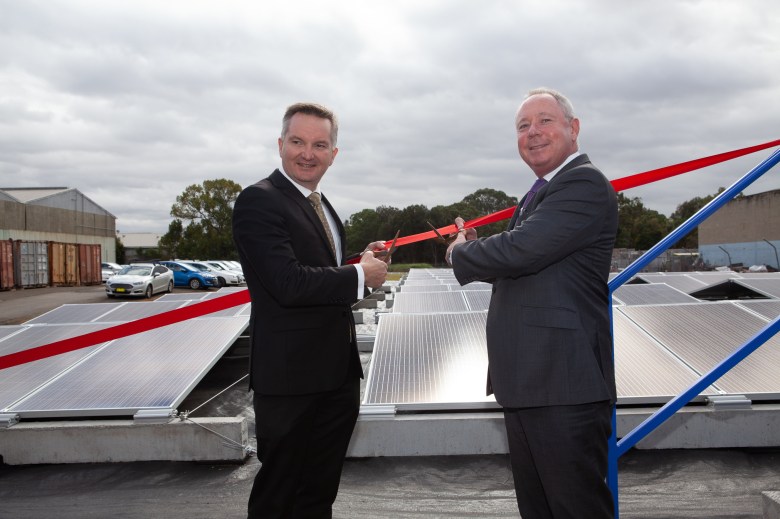 Packaging company Impact International has installed an industrial solar farm at its Smithfield, Sydney manufacturing site, the first of its kind, with Labor MPs Hugh McDermott and Chris Bowen attending the opening.
The company manufactures squeeze tubes for the food, cosmetics, personal care and pharmaceutical industries. Its subsidiary companies also manufacture squeeze tubes in Slovenia (EU) and Indonesia.
Impact International says the ground-mounted solar farm will be able to produce all of Impact's energy needs, also feeding power into the grid on Sunday when the site is closed. The 290kw installation will eliminate 300 tonnes of CO2 emissions annually, generating 395 MWh's of electricity per year, the equivalent power needs of 90 Australian homes.
The process took a year between planning and getting approvals from council, while the installation itself was completed in just under two months including all the wiring, the fastest part of which was setting up the panels, completed in two days.
Aleks Lajovic, managing director, Impact International says, "We wanted to have something our customers could walk through and see, people are familiar with solar panels but do not often get the chance to walk through and see it up close.
"Being ground mounted, it was designed so that the panels can catch the sunshine from better angles to give us a more powerful system.
"We are working towards the panels being able to power 100 per cent of our factory when the sun is shining. We have also updated our motors to more energy efficient models, and our lights to energy efficient LEDs, also changing our production to minimise the energy used between changeovers."
The investment in renewable energy sources also makes the company more attractive for customers. Lajovic says, "A majority of our customers are in organic products, and for them, the environment matters, sustainability matters. Having energy produced from a clean source adds to that story."
Hugh McDermott, NSW Labor MP for Prospect, says, "I think it is a real game changer for industry and NSW. The fact that it is a solar farm as opposed to rooftop setup, leading to a massive reduction in the power cost for the company, is incredible.
"I believe Impact is the first in the area to install a solar farm. Residential properties have taken up solar, but it is the first time I have seen a manufacturer do this. The Smithfield industrial area in Prospect is the largest in the Southern Hemisphere. I'd like to think that many others will follow their lead.
"Renewable energy will make manufacturing in NSW more cost effective, leading to a growth of industry and jobs."
Lajovic says that while the installation is complete, Impact plans on adding additional capacity, taking advantage of remaining space, while adding a battery system.
"Batteries are something we are looking at doing in the next two years. At the moment the payback takes too long. We are power hungry, and do use all the power we generate. There is some room available on the roof, to extend the system, so when we do extend, batteries will be part of that extension."
McDermott says that more can be done from a policy perspective to encourage investment in renewables, and says that currently businesses are leading the charge with investment.
He says, "Government has to stop playing ideologies about climate change. Industry has embraced renewable energy, and is leading, and the Government is playing catch up. They need to be in partnership to keep costs down and power prices down."
As to whether the government should intervene to set higher prices for energy sold back into the grid from those who have installed solar systems, McDermott says, "There is a certain amount of independent pricing, but Government needs to lead and regulate power prices in NSW.
"The impact of these massive costs leads to job losses, while household bills are through the roof. Government can play a massive role in guiding the power industry to deliver better prices for industry and consumers."
Lajovic says the money the company receives from feeding power into the grid is too small to be a part of the business case for the installation, and is more of a cherry on top.
Impact International also has plans to roll out additional solar farms around its sites globally. The Sydney-based company has 350 staff globally, with 95 in Australia.
Lajovic explains, "We are looking at the moment to install solar systems in our plant in Slovenia, then we will look at our Indonesian operation. The price of energy is going up in every country. If we can put this investment in, be more environmentally friendly, with a pay back which is accessible, we think it is the right thing to do. It is a long-term view."
Andrew Macaulay, CEO, PIAA says,"'Energy has been a failure of government policy.
"The cost of Impact's energy like everyone else has been going through the roof, so they were looking at ways of mitigating that.
"They had a rooftop and some land next to the factory, so the capacity to create a solar farm. Now they are getting a fifth of their energy from the installation. Impact is a terrific family business, with Aleks Lajovic being part of the third generation."
Lajovic says, "For us, as a family business we wanted to do something beneficial for the environment. This is our 60th year, we were founded in 1958, and it has been big, aside from the installation, we are happy to have won two bronze medals, and a silver medal at the NSW PICAs in May. We are also looking to add into our printing capacity, with a new offset line. One of our engineers flew out overseas yesterday to check another press close up."
Comment below to have your say on this story.
If you have a news story or tip-off, get in touch at editorial@sprinter.com.au.
Sign up to the Sprinter newsletter