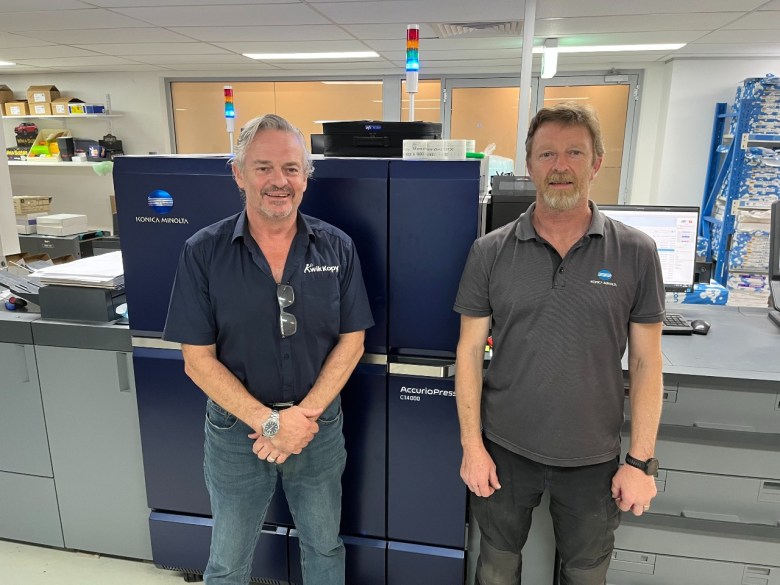 Simon Farahar, the owner of Kwik Kopy in North Ryde, is coming through one of his busiest periods yet which is odd considering Greater Sydney is just emerging from its second COVID lockdown.
A local pathology company which quickly won favour with NSW Health for its fast and accurate COVID testing became one of Farahar's customers just before the pandemic began.
Now after 18 months of printing COVID-related collateral the company is the outlet's largest client by far.
"We picked them up as a client just before COVID with a leaflet they needed designed and produced quickly and then throughout COVID we have become more and more an integral part of their supply chain, so it has worked out really well for us," Farahar told Sprinter.
"In addition to all the COVID testing QR coded leaflets, we also produce associated signage and internal documents. Now, we also do their stock control. We know how many sites there are, and we do stocktake every day, and tell them that we will deliver X number of boxes tomorrow to each of these sites.
"We've been called on a Sunday evening and advised of a new clinic opening at 7am on Monday and have managed to set up and print the collateral required for delivery before the clinic opened. It's been rewarding knowing our efforts have assisted our client and NSW Health to conduct the critical testing required to control this pandemic"
Just in time delivery
Farahar's main production engine has been a Konica Minolta AccurioPress C6085 but on July 12 the new high-speed AccurioPress C14000 was installed – just as this pathology client went into overdrive.
"We took delivery of the C14000 on the 12th of July, and it was impeccable timing because the demand for COVID-related material was just really beginning to increase fairly significantly," Farahar said.
"So, having the capacity that this machine has was great for us. We are now running the C6085 as our backup engine. We did testing on the two machines with the same job and found the C14000 to be around 75% faster which is a significant improvement."
The other added benefit of the new AccurioPress C14000 is the inbuilt Intelligent Quality Optimiser and a media sensor which automatically keeps a close watch on registration accuracy and colour consistency.
"This feature delivers ongoing quality control. We set tolerances for front and back registration tolerance of one millimetre, and it constantly monitors this. If the printing goes beyond the one millimetre, it will try and autocorrect and if it can't, it will stop printing," he said.
"The combined effect of increased throughput speed and ongoing quality control has resulted in significant productivity gains and a reduction in wastage"
Konica Minolta service top class
Farahar purchased the machine through Jim Abouraad from Konica Minolta and said he couldn't speak highly enough of the service, particularly the extra care taken by Konica Minolta service technicians to ensure the new C14000 was installed and fully operational with all staff trained and ready to go.
The installation also happened just before Farahar had to have a double knee replacement and was going to be out of action.
"We are super impressed with the Konica Minolta technicians and support staff. On the weekend before I went into hospital, we had technicians from Konica Minolta in here to help us operate, as the C14000 was still very new to us, and we were just so busy with all the COVID material" he said.
"Our Konica Minolta technician, Mark Bayford, came in twice over the weekend to help us out which was just fantastic. I've been a Konica Minolta supporter since I've had the business. To me what is key is the service proposition – their technicians are fantastic."
Konica Minolta's general manager production and industry print, Sue Threlfo, says, "We are so pleased to hear that the installation at Kwik Kopy North Ryde has provided the opportunity to support their growth in recent months.
"The installation, training and ongoing support is an integral part of the Konica Minolta proposition, so I am particularly pleased to hear that Simon has seen this value."
In addition to digital printing. Kwik Kopy North Ryde also offers graphic design, wide format printing, signage and installation as well as a wide range of finishing services, and promo/marketing collateral.
Also, in response to COVID's impact on corporate events Kwik Kopy is expanding its fulfilment proposition; so rather than printing and delivering to one corporate event/venue, Kwik Kopy is regularly asked by customers to distribute the printed collateral, along with any other inclusions – like bottles of wine or samples – direct to 'work from home' employees.
Comment below to have your say on this story.
If you have a news story or tip-off, get in touch at editorial@sprinter.com.au.
Sign up to the Sprinter newsletter