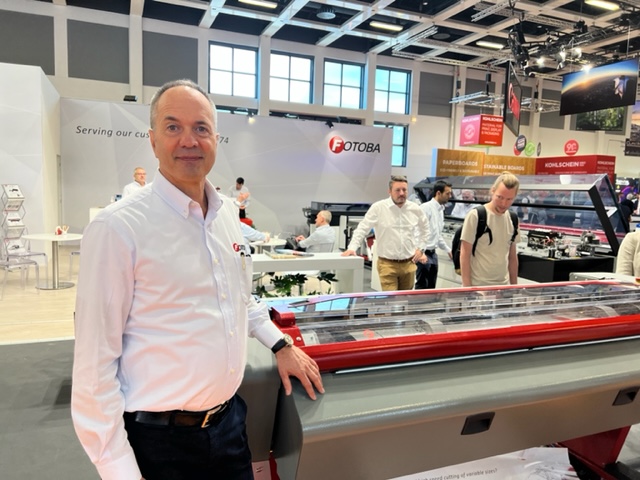 The latest inline digital cutter to be released by Italian manufacturer, Fotoba, has removed the need for manual changes to blade settings due to enhanced automation features.
The new XLA-170 XY digital cutter, distributed in Australia by Smartech, was on display this week at FESPA Global Print Expo with Fotoba managing director Valter Maddalon declaring the new entrant to be a game-changer in the cutting space due to its automation features.
It features six double rotary slitters which can cut up to five equal size prints, side by side. If there are less than five print sizes, side by side, the rotary slitters move out of the way.
The cutter can be attached inline to a variety of printers, including Durst, HP, Canon and Aleph, for an inline production process and can trim 36 linear metres per hour, more than fast enough to keep up with the ever increasing pace set by printing machine manufacturers.
The previous iteration of the Fotoba required an operator to manually change the blade settings for each job as it came through, but this new model has removed that requirement.
Barcodes printed on each job are processed in the RIP phase with that information then communicated to the Fotoba which automatically adjusts the blade settings to accurately trim whatever job is coming through, quickly, easily and efficiently.
"This model has the capability of learning the sizes and changing them for an immediate cut," Maddalon told Sprinter from the floor of the FESPA Global Print Expo in Berlin.
"There is no requirement for manual operation to ensure the cutting is done correctly. The operator is really just watching the system and collecting the prints. This is magic and it is unique to Fotoba.
"Nowadays the runs are always shorter and you need to be very fast in delivery so this device inline with the printer is the ideal production line because you get the file into the system and it goes to the printer and then it comes out from the cutter already trimmed."
Comment below to have your say on this story.
If you have a news story or tip-off, get in touch at editorial@sprinter.com.au.
Sign up to the Sprinter newsletter