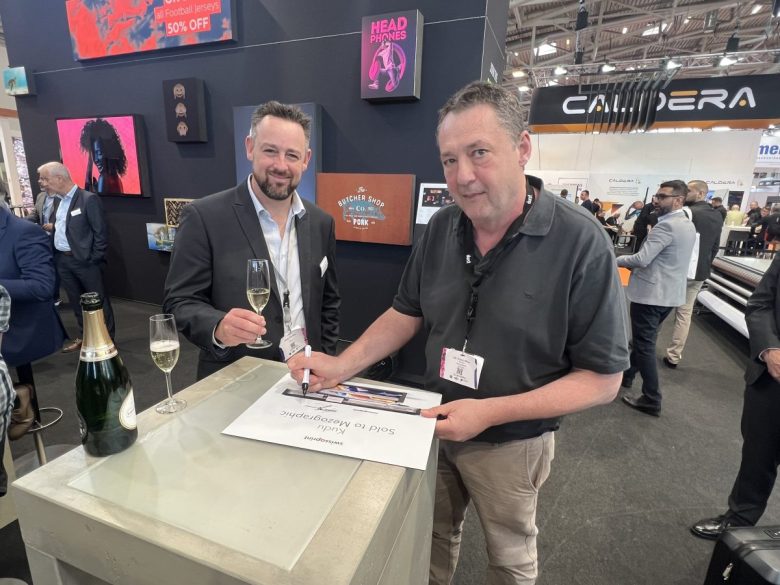 Above: Pozitive's Phil Trumble with Mezographic's Frank Mezo
After 10 years of considering the purchase of a swissQprint machine, Frank Mezo from Mezographic finally took the plunge and bought a Kudu during the recent FESPA exhibition in Munich.
Frank Mezo from Melbourne-based Mezographic said he was pleased to finally close the deal with the team at Pozitive after so many years of following the evolution of the swissQprint machines.
"I have always loved this brand, but over the years it has never quite fitted into where we were at the time as a business," Mezo said.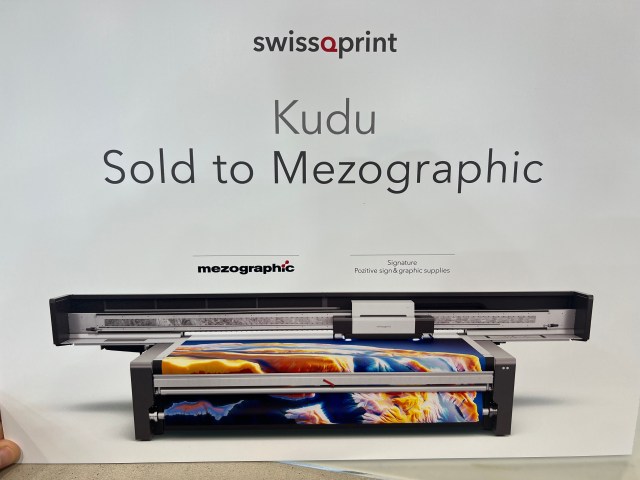 "I first saw this product at a trade show in Berlin. Phil then took me to see a swissQprint client and they were printing solid red for a supermarket customer in two-pass which impressed me straight up, I asked the operator to stop so I could do a nozzle check and the machine at this point was six years old.
"It only had two missing nozzles from the original 18 heads. So I have loved this brand for 10 years and with the introduction of this new kudu machine it has got to the point where the quality and the speed have intersected and the device is now viable for speed while retaining the swissQprint quality.
"In our business a lot of the heavy lifting will be done with other fully automated equipment and all of our finer requirements and specialist work will be done on the swissQ machine, which will be perfect for smaller retail work across 20 or 30 stores for example."
"We have known Frank for a very long time – he is a well known industry figure," said Phil Trumble from Pozitive – the local swissQprint distributor.
"We probably showed him our first swissQprint machine 10 years ago in Berlin. During that trade fair, we took Frank to see a swissQprint client and he saw a machine that impressed him in terms of the quality and reliability. Over the years, as the different models have come along, we have met with Frank at every trade show and we have shown him the machines and had continuing conversations.
"He has always been impressed, and now he has found the kudu that delivers the right combination of speed and quality that is ideal for his business. It is fantastic that someone like Frank has chosen swissQprint – he is a wonderful guy and has a great business and knows exactly what he is talking about when he is choosing his equipment.
"He has chosen a machine based on its reputation of both print quality and build quality – that is what swissQprint is all about – it is about making sure that we don't reduce our print quality just because we need more speed."
"Phil [Trumble] is a very patient man because I pester him at every trade fair I visit and I am glad we have managed to get a deal across the line. I first saw the kudu last year at Fespa and it impressed me then. The fluoros and neons have impressed me in particular as we run a number of campaigns with fluoros," Mezo added.
Comment below to have your say on this story.
If you have a news story or tip-off, get in touch at editorial@sprinter.com.au.
Sign up to the Sprinter newsletter