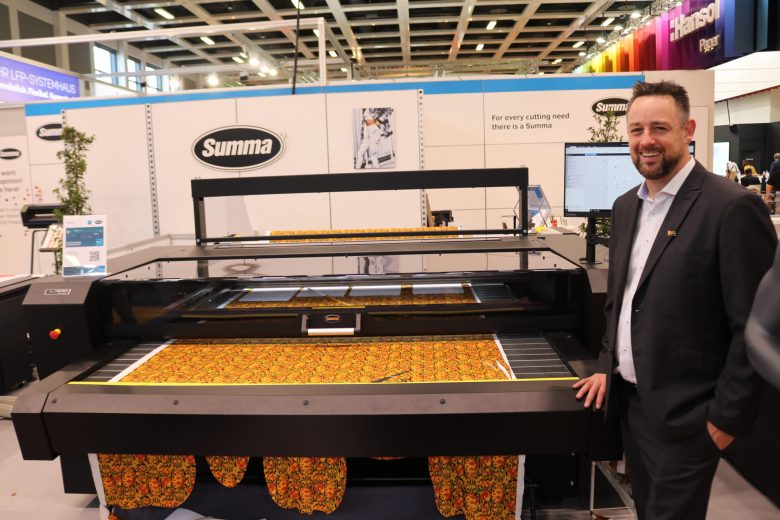 Summa, distributed in Australia by Pozitive, has launched a second generation laser cutter at FESPA Berlin with the Belgium-made L1810 cutter now also sold to Australian sportswear producer, Bravo Print Group.
The L1810 includes new features to increase productivity and accuracy. These include three cameras to check registration on the fly and a new control software system, Go Produce Laser Edition.
Pozitive managing director Phil Trumble was on the stand at FESPA this week and confirmed Bravo will soon have the cutter installed and that it will also double as a reference site for Pozitive.
"We did the deal a couple of days ago with Bravo Print Group, a company which produces sportswear in Melbourne. Bravo will be a reference site for us and we have been able to source the machine in the configuration they are after," Trumble said.
The new laser cutter will not be on display at PacPrint, but Trumble will be showcasing the F Series Summa flatbed cutter, the R Series cutter and a new Tray 1 cutter which has a small footprint and is a handy option for smaller print shops, like franchises.
Speaking about the new laser cutter, Trumble said, "Laser is not new for Summa but this particular machine is new.
"This is the generation 2 machine. We have a few of these machines in the market but they are the generation 1 and now we have a generation 2.
"Summa acquired a company in the UK that worked very closely with Cad Cam Technologies. They were focussed on laser cutting but they used all the Summa control systems to make their machines and they would make laser cutters. Summa acquired that company and together they brought out the first laser cutter for textile but it was all still made in the UK so this is the new machine that has come out of that collaboration.
"It is completely made in Belgium with the rest of the product line and a whole bunch of new features that we didn't have in the previous models."
The new features on the Summa L1810 is it has a whole new set of control software.
Trumble said this laser cutter can read printed registration marks and has three built in cameras which reads everything on the fly to ensure accuracy of the cut.
"Fabric can stretch in production so it is important to register where the graphic is on the textile but if it is being stretched we also don't want to cut it stretched because then it won't fit in the frame so we first of all understand where it is and then reference the original shape so we reference the correct shape," Trumble said.
"So that happens all automatically here. The new laser cutter won't be at PacPrint but we have sold the first machine to Bravo Print Group in Melbourne, which will also double as a reference site for us."
Comment below to have your say on this story.
If you have a news story or tip-off, get in touch at editorial@sprinter.com.au.
Sign up to the Sprinter newsletter