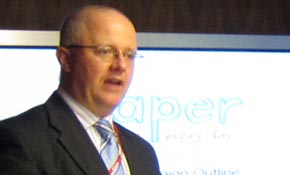 Campaign co-ordinator Tim Woods (pictured) said a meeting with the bank had been "very positive", with both parties seeking to "ensure they get their facts right".
"That bank is working with us to review how they communicate about paper and print. They don't want to be done for greenwashing, which is a good start," Woods said.
"But most important for the industry to know is that the bank's sustainability team contacted us because they had seen the media we had generated and thought they may have some problems. That's a success in our books."
"In the meeting, they made clear that there are instances where they use paper and print instead of electronic communications for sustainability reasons as well as for business effectiveness," he added.
Woods would not identify which bank was working with the campaign, saying that confidentiality was crucial to maintaining a dialogue between the two parties.
"We only expose those companies that refuse to engage with us and who fail to make their communications factual," he said.
"When we met with the ACCC, they were quite clear that they do not want to receive complaints until we have exhausted our own efforts to engage directly with companies. We are honouring that because we don't think most companies deliberately greenwash. We think they are often ignorant, and the solution to ignorance is information and education."
The campaign has also recently held discussions with organisations including Keep Australia Beautiful and 10 Thousand Trees to ensure they "communicate to their stakeholders in an accurate and balanced manner".
"The last couple of months have shown the benefits of consistent communications and providing people with robust and well-supported facts to support your request for them to change how they communicate about paper and print. It's working for us and we are going to continue with it," Woods said.
Meanwhile, UK campaign Two Sides, which has similar aims to 'Paper – part of every day', has also reported success in its efforts to warn major corporations about greenwashing in their marketing communications.
"Out of a total of 33 major corporate companies contacted, including well-known names such as EON Energy, Barclaycard and Vodafone, Two Sides has so far had a positive dialogue with 27 CEOs and staff from their legal departments," the organisation said.
"As a result, those companies have changed their online environmental claims or are engaging with Two Sides to use different wording that doesn't include possibly misleading or factually incorrect environmental claims in online marketing information."
Click here for the latest headlines from across the printing industry.
Comment below to have your say on this story.
If you have a news story or tip-off, get in touch at editorial@sprinter.com.au.
Sign up to the Sprinter newsletter