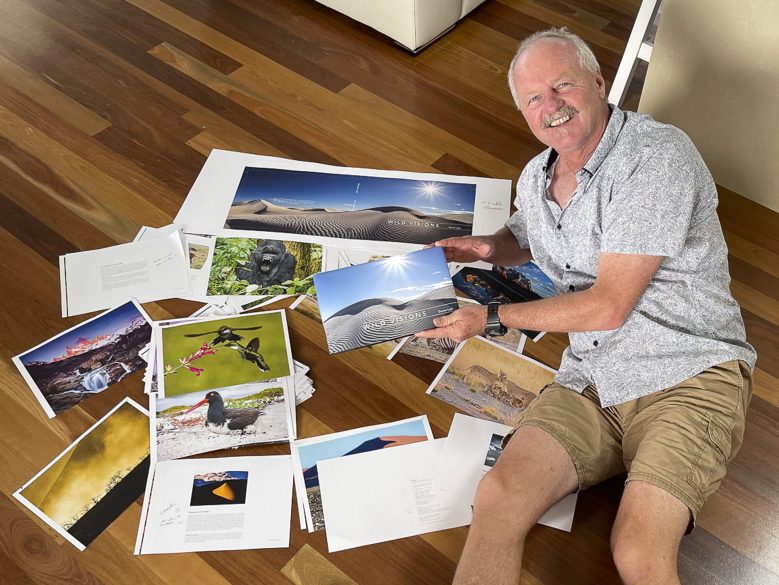 This article first appeared in the September issue of Australian Printer
Veteran professional photographer Darran Leal recently decided to celebrate 40 years as an international wildlife photographer and educator by presenting a selection of his work in a coffee-table style book.
He turned to multi-award winning Sunshine Coast-based printing specialist SunPrint to deliver this project, with the requirements of vibrant colour and clear reproduction. This project went on to win the regional printer of the year – up to 12 employees gold award at the 2022 National Print Awards.
"We supplied several hard copy proofs with varying levels of sharpness to meet the client's exact specifications. Many of these reproduced images date back nearly 40 years – these were scanned some 20 years ago from transparency on a drum scanner," SunPrint owner Steve Hall said.
"The end result was very much in line with what we set out to achieve for the client. This is mainly due to the planning and testing process undertaken prior to commencing the job. We met the client's brief, achieving vibrant colours that display the excellence of his photography, and the beauty of wildlife and nature.
"Quality print, no matter what method, is no accident. It involves careful planning and testing. That way, there are no let downs or compromises at the end of the job."
Hall mentioned that the press used for this project was a "very interesting choice" as the SunPrint team produced two sets of proofs – one on a HP Indigo 7900 and the other on a Fuji Xerox Versant. The client then selected the preferred option.
"The client chose the prints on the Fuji Xerox Versant in preference over the HP Indigo. This doesn't mean that the HP Indigo is of lower quality, it just met his requirements better and goes to show that lower investment equipment, when used by experienced operators, can equal or better equipment costing much more," Hall said.
"The key to getting the most out of any equipment is knowledge of colour, colour management, how to print, and knowledge of image on paper.
"SunPrint came from a background of pre-press and offset printing. So, we harness our experience and knowledge across a range of print devices, from offset to wide format, providing the highest quality possible."
SunPrint has owned the Fuji Xerox Versant for a little over a year. The features of the press that best suited this project was its ability to handle 10-bit information at 1200×1200 dpi resolution. This, combined with the features of the GX Rip (that comes standard with the machine), enabled the operator to fine tune the colour control, sharpness, and accuracy.
The machine also features an air feeder, which gives consistent trouble-free feeding, and is capable of printing sheets of up to 1200mm long. In this case, the cover was printed on an oversized sheet at 700mm long and 330mm wide, with relative ease.
But pushing the equipment to its maximum capacity did result in some challenges, which SunPrint overcame.
"One of the main challenges with this project was to ensure the result looked as good as the proofs. To guarantee this kind of consistency, the machine was calibrated using a photo spectrometer and calibration chart regularly," Hall said.
"All consumable parts, such as drums and transfer belts, are changed within the specified service period by our local dealer. In other words, the machine is always kept in 'as new' condition. This preventative maintenance reduces challenges associated with this level of reproduction."
SunPrint also chose Ball & Doggett Silk HD for the stock because it offered the best reproduction quality on a tone-based machine.
"Its smooth surface and level of whiteness works well on a project such as this. We also used our cello machine to gloss cello the cover," Hall said.
"The binding was contracted to Brisbane company Miniature Print Finishing Australia (MPFA). It provides excellent quality binding on digitally produced projects, such as this. We always discuss each project with them prior to commencing, to ensure correct grain direction of the stock, spine widths, gutters, and 'turn ins'. By working with the binder this way, we achieved this great result."
Hall added that winning a 2022 National Print Award for this project shows the quality of workmanship by SunPrint.
"After 40 years of being in the industry, it is testament to the experience we have gained. We are truly a regional printer that has a passion for print," he said.
"Our 250sqm factory is based on the family property, just a short drive from Noosa. It has 80 solar panels and uses around 60 per cent of the power generated to run the factory. The award-winning book for our client was printed with 100 per cent solar generated power. We are always attempting to improve our sustainability footprint."
Comment below to have your say on this story.
If you have a news story or tip-off, get in touch at editorial@sprinter.com.au.
Sign up to the Sprinter newsletter