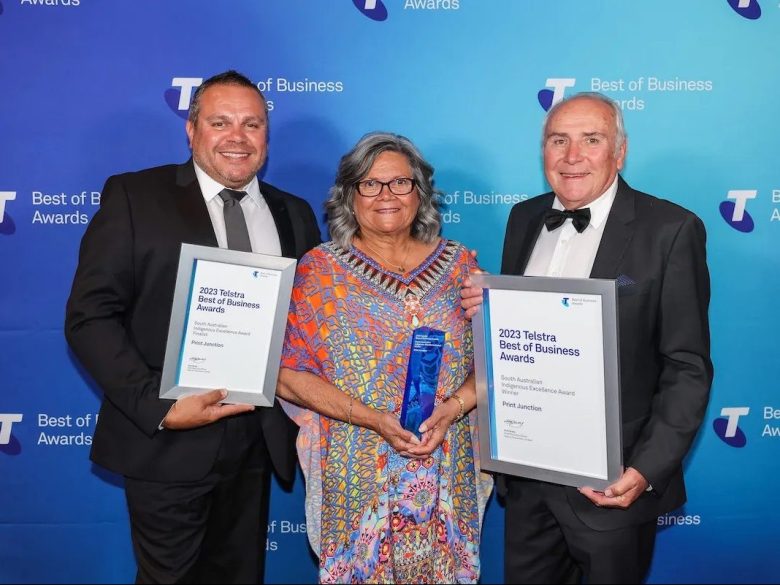 (l-r) Nathan Torzyn with parents and business owners Sheila and Leon Torzyn
Adelaide-based Print Junction is a national finalist in the Telstra Best of Business Awards in the category of Indigenous Excellence, and owners Sheila and Leon Torzyn couldn't be prouder.
"The Telstra Awards are held over several categories, and because our little print shop is indigenous owned, it falls into the category of Indigenous Excellence," Leon said, adding that he is looking forward to attending the Telstra Best of Business Awards where all the winners will be announced at a gala event in Melbourne on 23 March.
"We are honoured to be representing both South Australia and the printing industry at the event, as a printer.
"Let's hope we go a step further and win the top award in our category."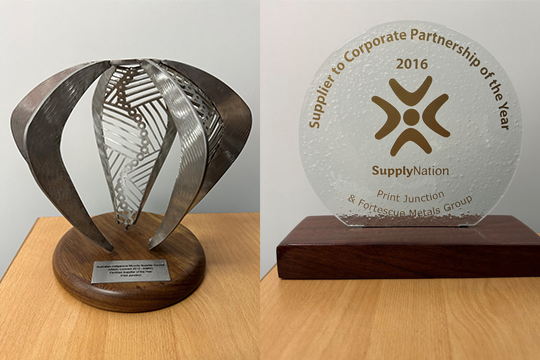 The family-owned indigenous business was established by the husband and wife team in 1997 and is now assisted by their son Nathan, a qualified offset printer and daughter, Leah a qualified graphic designer.
The Torzyns work together with a small and stable team of long-term employees and offer digital, offset and wide format print solutions, along with creative design as well as a wide range of finishing services to their customers.
The company has been a Supply Nation Certified Supplier since 2009, a Supply Nations initiative which connects corporate Australia with small to medium indigenous-owned businesses enterprises.
Leon said there was quite a lengthy process involved in becoming finalist of what he considers a "prestigious award".
"We were initially invited to put in an application for this particular award, which I knew nothing about. I did a bit of research on it, only to find out that it was quite prestigious. So, we embarked on the process, which was very thorough. It encompassed a series of written details about the company, our audited figures, and a Zoom presentation responding to several questions," he said.
"Following on from that there was a question-and-answer session, again via a Zoom meeting, where the judges asked questions about who we and what we are, our direction and philosophies, what have we done both in the community and in the business world, and it went from there."
This, he added, led to Print Junction becoming a state finalist in the category of Indigenous Excellence, and then national finalist, which was announced at a glitzy event in Adelaide.
Leon is clearly proud of his team and their achievements.
"We must be doing something right. Although we're basically a small A3 plus size printer, we know our market well, and don't overstep the mark. We believe we've fallen into quite a bit of a niche area," he said, pointing out that the company serves its customers well and that many of them are interstate.
Print Junction also won the Supply Nation, Certified Supplier of the Year Award in 2012 and the Supplier to Corporate Partnership of the Year Award in 2016 and was a national finalist in Ethnic Business Awards, Indigenous in Business category in 2011.
The company was featured in Sprinter in September 2022 after purchasing a new Horizon BQ-270V variable perfect binder at PacPrint.
Comment below to have your say on this story.
If you have a news story or tip-off, get in touch at editorial@sprinter.com.au.
Sign up to the Sprinter newsletter