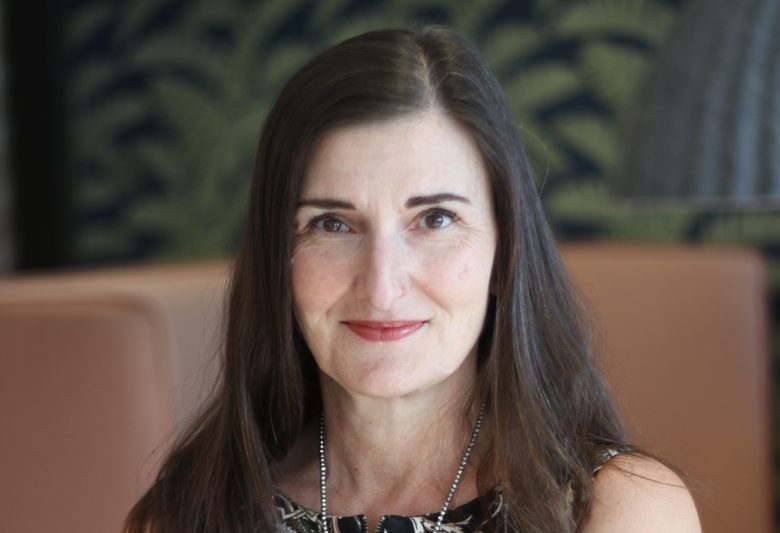 This is an extract about Konica Minolta from the Profitable Presses Technology Focus written by Peter Kohn and published in the February 2022 issue of ProPrint magazine. To read the full story click here.
With print buyers demanding greater customisation and shorter runs, average print runs have been declining over the past few years. As a result, commercial printers are seeking digital printing systems to complement their offset presses.
Offset remains relevant for high-volume print runs due to the cost and time involved in getting a job on the press, notes Tatjana Ferguson, Konica Minolta's product marketing manager, Production and Industrial Print.
"Toner-based digital print systems have long been the go-to technology, however as inkjet technology evolves, we are seeing more printers looking at inkjet," Ferguson said.
"Konica Minolta offers a range of technologies to help printers ignite possibilities including cut-sheet toner digital print systems, a B2+ UV digital inkjet press, a digital label press and the MGI range of digital embellishment systems. The toner range varies by speed with each offering a range of options for input, as well as inline finishing."
The flagship in the cutsheet range is the AccurioPress C14000 series, which prints at speeds up to 140 pages per minute with advanced automation features to eliminate manual processing and improve quality.
"Digital UV inkjet print systems including our AccurioJet KM-1e are now starting to get traction, offering printers larger B2+ sheet sizes, the widest selection of compatible substrates, lower printing costs per sheet, full variable-data print and quality on par with and in some cases better than offset. Based on these parameters, a digital UV inkjet press is fast becoming one of the most versatile tools a printer can have. Whether it be short, medium or long run, direct mail, packaging, web-to-print, photo book or canvas, UV inkjet can do it all," Ferguson said.
"Digital inkjet print systems allow printers to print on demand, eliminating the need for high-volume and minimum-order quantities allowing print companies to achieve efficiency in the production and supply chain. Larger sheet sizes and full variable capability is critical in direct mail, transactional and many applications that require security features. The ability to print a single copy is an enabler for photographic applications and artwork such as canvas prints, together with the rise of online ordering of bespoke products."
Ferguson says that with the increasing e-commerce market, retailers and brand owners can use packaging as a way of communicating with their consumers.
Awareness of sustainability and social responsibility continues to grow among consumers and digital has the potential to bring significant advantages over analogue technologies – with less waste and use of chemicals and materials. Further, through digital, consumers can be educated in terms of the print and packaging their product contains, and how to recycle it and be more responsible.
The AccurioJet KM1-e is the latest generation of the successful KM-1 LED UV inkjet press incorporating the latest in inkjet printhead design with patented Dot Freeze Technology and improved substrate handling and versatility. The KM-1e combines the print materials and stability characteristics of offset presses with the benefits of the latest in digital technology.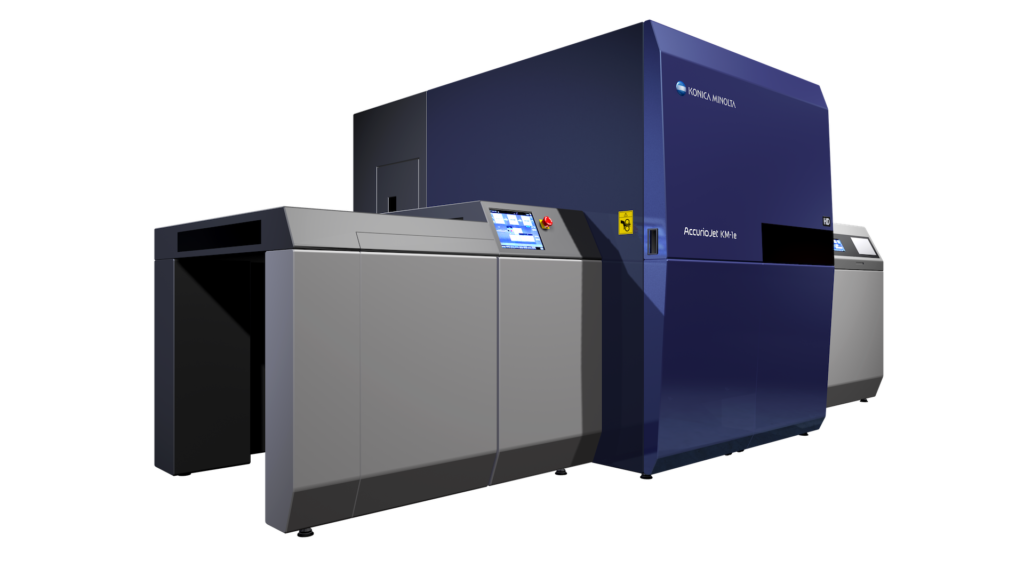 "With the KM-1e, you can take advantage of zero makeready for variable-data printing and production on oversized B2 sheets," says Ferguson.
"The KM-1e features exceptional print quality with 1200 x 1200 dpi print resolution and the largest sheet size in its class 585mm x 750mm. It prints at 3,000 B2 sheets per hour simplex or 1,500 B2 sheets per hour duplex and allows for increased productivity by moving jobs to finishing without waiting for ink to dry. This enables print jobs to be dispatched and invoiced quicker."
Konica Minolta also have the AccurioLabel 230 which offers enhanced productivity, job flexibility, operability and excellent image quality. With over 800 installations globally since launching into digital label technology, Konica Minolta label presses have proven to be perfect for commercial printers to diversify and for label converters to shift to digital.
The MGI range of digital varnishing and foiling technology delivers vibrancy of print and advanced functionality, notes Ferguson.
The latest offering is the MGI 3D One, a cost-effective point-of-entry into MGI's series of sheetfed digital embellishment presses. With a compact footprint, it provides printers, finishers, and converters an inhouse full production and prototyping print embellishment system without the need for screens, dies or plates. The all-purpose, patented varnish formula allows both flat 2D Spot UV highlighting and sculptured 3D raised special effects on a wide range of stocks and media.
Comment below to have your say on this story.
If you have a news story or tip-off, get in touch at editorial@sprinter.com.au.
Sign up to the Sprinter newsletter