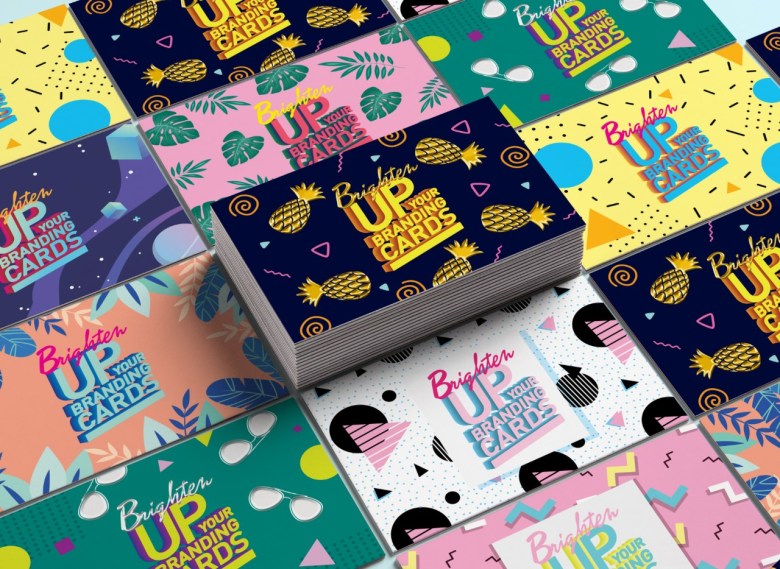 This technology feature on trade printing and finishing by Peter Kohn was first published in the October 2020 edition of ProPrint magazine. To view the magazine online, please click here.
Printing for printers is the ultimate peer-to-peer challenge. After all, you are printing to the technological and marketing requirements of others who understand the game and will quickly call out any shortcomings.
While print provision nowadays is tightly benchmarked and keenly leveraged against competing communications forces, the professionalism required of printing to the trade sits at the apex.
But how do you shine in a shrinking market? And to make it even more interesting – how do you survive when a pandemic not seen in over a century bulldozes the Australian economy?
ProPrint spoke to a number of trade printers and finishers to gauge their views of printing business-to-business in 2020-21.
Trade printers
CMYKhub
This trade printer offers a complete range of services from its five sites around Australia, from commercial offset to specialised embellishment, to HP Indigo digital, roll-to-roll and flatbed wide format. But as pointed out by Dayne Nankervis, chief operating officer, Paul Norton, national sales director and Glen Francis, national communications manager, CMYKhub's services go beyond ink on stock.
"From an operational standpoint, COVID has certainly been a challenge," Nankervis told ProPrint, adding staying ahead of the curve involved daily reviews and changes to supply chains and staff responsibilities.
"Meeting COVID-Safe protocols has been a unique complication but managing reduced volumes as a gang printer and freight delays made things even more difficult.
"We do appreciate the patience of our partners, who continue to support us. We have had to look closely at who we are and what we want to look like on the other side of this pandemic."
For Norton, there is no doubt the B2B space is competitive.
"Every year gets more challenging and we think the current COVID situation will only heighten that. Print capacity is the issue. Printers invest in new technology, thinking that the work will just arrive and clients expect more from a partner than just ink on paper," Norton said.
"Finding a new B2B printer is not hard and never will be. The challenge is often met by heavily discounting the work without truly understanding the cost to manufacture. It encourages a race to the bottom. To make the cut as a B2B printer, especially in the trade space, you need to offer your customers a holistic approach to adding value."
Francis says incursions from B2C printers is something CMYKhub has always contended with and will continue to do so while there is capacity and under-utilisation of equipment across the industry.
"We embrace this as a challenge to keep us innovating and investing in our industry for businesses to sell more, more often, whilst making it as seamless as possible. An example of this is the recent launch of our Design Desk platform, which provides an online subscription prepress and design."
Dataflow Business Systems
Perth's Dataflow Business Systems offers a diverse range of products, notes company director Alan Bamford.
These include short and long-run NCR work in books and continuous forms, barcoding and numbering on the run for consignment notebooks used in the transport industry and long-run laser forms.
It also produces parking permits, integrated membership cards and integrated labels for pathology A4 laser forms.
Bamford believes that once the federal government's JobKeeper scheme ends, many small print shops will struggle to stay open, or retain their own printing equipment.
"In effect, these smaller print shops will become buyers and sellers of print, not so much manufacturing it," Bamford said.
"We have had print companies talk to us about the prospect of closing their factories and utilising our diverse print equipment once JobKeeper ceases to exist, which really does make a lot of sense."
Bamford says the B2B print market has been overcrowded for many years and he believes mergers and acquisitions will gather pace as the pandemic ends.
Heroprint
Heroprint has factories in New South Wales, Western Australia, Victoria and Queensland and offers the full range of print work from small-run digital work, to business cards with premium finishes, brochures, flyers, stationery, up to short or long run stitched, PUR, or wiro-bound booklets.
Heroprint partners with local couriers in Sydney, Melbourne, and Perth with live tracking and experienced regular couriers.
This system has made it possible to provide clear delivery times to customers which has reduced delivery issues significantly.
Senior account manager Wade Brown says Heroprint keeps as much finishing as it can inhouse, including folding, stitching, PUR binding and wiro binding.
"We laminate, UV, and foil inhouse, along with scoring, and die cutting," he said.
"We have longstanding relationships with outside finishers for any custom work that comes up that we can't complete inhouse."
Asked about the impact of the COVID pandemic, Brown said: "Other than the initial downturn in work, we've managed to keep schedules mainly unaffected, and clients' jobs on deadline.
"We've implemented all the necessary safety and health precautions required."
Brown says there has not been much evidence of B2C printers expanding into B2B.
"Competition is healthy," he said.
"We don't believe it's overcrowded, there are a few major players who we focus on, but again, we very much focus on what we can bring to the party."
Horizon Graphics
Horizon Graphics in Sydney's Chatswood has offered screenprinting for over 30 years and specialises in all types of screenprinted coatings for the trade. The company recently added a spot digital UV machine to its finishing services, reports Horizon Graphics owner Adam Mezz.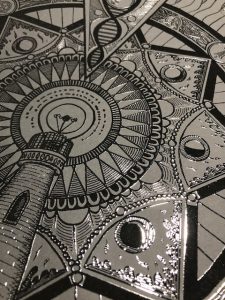 "Spot digital UV is becoming part of postpress and it has its place, that's why we have one," Mezz said.
The impacts of COVID were certainly initially felt at Horizon with Mezz reporting a 30 per cent reduction in business in the first three months of the pandemic.
But since then a slow and steady incline has returned and by late August a steady and consistent workflow was in place, he said.
"Not the same numbers by all means but enough to keep the staff full-time and some regularity," Mezz said.
Asked about incursions from finishing companies whose prime base is B2C, he says: "I haven't seen much action with the business-to-consumer finishers getting amongst our space.
"We deal only with business-to-business. B2C is not in our lane directly, but having said that, I have noticed my trade customers adapting to the current conditions of shopping from home now and online purchasing is expanding tenfold."
Mezz says from his perspective as a print provider, the case for trade finishing is airtight.
"Horizon Graphics know our channel and we have perfected our craft over the last 30 years," he said.
Noting Horizon Graphics is a fully independent, fixed-cost supplier that quotes the same pricing to all clients, he says bringing a complex postpress process inhouse "would leave our customers open to hidden costs, a steep learning curve, high capital investment and requiring more skilled labour".
IBS Cards
This Queensland trade printer offers print and stationery products, traditional signage and displays, fabric signage and displays, signage and display hardware, promotional products, and a trade-only graphic design overflow service from its factory at Nerang.
"We have over 900 product lines and counting," says IBS Cards chief marketing officer Natalie McCauley, adding the company expanded into wide format printing over 18 months ago.
IBS Cards produces over 90 per cent of its work onsite, she notes. "Where we cannot provide the best prices by manufacturing internally, such as PVC cards, we've teamed up with speciality printers and we've used the collective buying power of our customers to negotiate better pricing than our clients could if they went to these suppliers directly."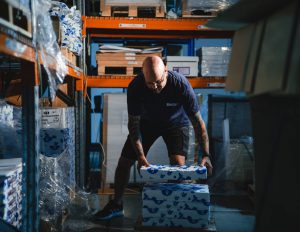 Like most businesses, IBS has seen a decline in sales since COVID hit.
"However, we have been fortunate in that for the most part, we own our own factories and equipment. With an agile business structure in place, we've been well positioned to not only ride out the storm, but use the opportunity to reset, refocus and continue to innovate and improve," she said.
McCauley identifies a trend of B2C expanding into B2B, but working with customers to expand and support their businesses has given IBS the edge.
This includes a trade-only graphic design overflow service for when customers are too busy to take on additional work but don't want to say no or if they have staff off sick or on annual leave.
"We're just about to launch a range of trade-only marketing services to help our customers put together and execute a sales and marketing plan. We've also modified our site with the ability for our customers to connect theirs with an open API integration, or if they're looking for something robust to support their business, a state-of-the-art W2P site and management system."
The Lamson Paragon Group
A vast range of trade-only services is what The Lamson Paragon Group offers its B2B clientele through its brands: Lamson Paragon, Paper Rolls Australia and Cheque-Mates, says group CEO Rodney Frost. These include barcoded documents, books, continuous forms and cheques, CTP certificates, laser forms and cheques, MICR encoding, and security printing in UV, thermochromic ink and micro, to name just a sample. The group has six operating entities, 130 team members and over 50 pieces of equipment.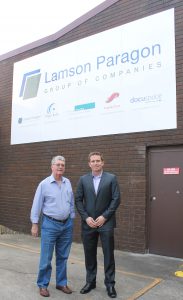 Frost sees the COVID pandemic affecting Lamson Paragon "with varying degrees across the group". But he adds: "The diversity in our services has seen some areas grow and some contract.
"Our view is that the printing space in general has been overcrowded for some time. We've all seen this with the horror stories lately in ProPrint. I just hope that people make the decision early to merge, sell or close and keep their integrity intact," he said.
On whether B2C printers are encroaching the once sovereign turf of trade printing, he says: "Any truly trade-only business could not answer that question. We are not close enough to the market to be able to tell.
"Some trade-only printers are crossing over into B2C sectors and the market isn't picking up on the subtle difference – sadly."
Cheque-Mates moved into wide format about three years ago without over-capitalising.
"The challenge is that there is simply too much equipment in the market for the amount of work that there is. Digital and general printers have moved in to the space with a low cost to entry," Frost said.
Mediapoint
Large format specialist Mediapoint, located at Derrimut in Melbourne's west, offers its cohort of 600 trade partners an array of products in flatbed and roll-to-roll in UV and latex printing.
Sales director Jamie Xuereb says Mediapoint's finishing equipment includes a Zünd cutting table, guillotines and other postpress kit. Most finishing is conducted inhouse for the sake of productivity and meeting tight deadlines.
"We've invested in finishing because that's where we believe the magic is in large format," Xuereb said.
Mediapoint tackled the pandemic head-on, with an attitude encapsulated by Xuereb, "Change brings opportunity. Obviously in the first six weeks of COVID we saw a massive collapse and a lot of our customers saw that, but then it felt as if business was coming back to a degree. In fact, some segments surged, while others dropped off. Customers in the events and retail segments really felt it."
The company used the downturn to introduce new equipment and develop new products to market-ready stage. Xuereb has noticed that during the pandemic a lot of B2C print outfits have not been expanding their capital investments.
"I think the change is going to be in business models. Mediapoint itself was in retail some ten years ago," he says.
"We used to do quoting, design, printing and installation, but what we found was that as a business this was very hard to systemise and make money. We saw that really early and we identified that our top customers were trade customers, so we got out of the retail space and became a trade house."
Trade postpress
Allkotes
Since adding gluing, die cutting and double-side tape services to its range, trade finishing specialist Allkotes has over 50 products on offer, says general manager Darren Delaney. The addition of the gluing and die cutting services has allowed its customers the flexibility of sending their printed work to Allkotes and receiving a finished product.
"The COVID slowdown began in April and it's been a challenge for all of us to remain positive and plan for the rest of 2020 and 2021," notes Delaney.
"Thankfully we have a great team here at Allkotes and we have all pulled together to get through. Sure, there have been some quiet days but then there are some really busy days and that's when you see your staff get back into the groove.
"We still have a long way to go and deep down I do feel that what we used to see as a norm will never be normal again. But we are committed. Allkotes is a company that has been supplying the print industry for close to 40 years and have no plans to stop," he says.
Delaney sees advantages in printers outsourcing postpress work to a trade finishing specialist, but it depends on what is needed.
"It comes down to the level of experience, quality and service the trade printer's customer wants or needs. Some trade printers offer embellishments, however they are limited with the coatings and laminations available to them."
He argues that trade printers are competing in the same environment offering similar products, and the difference in the end will be quality and price. "We know who wins that battle – a company like Allkotes has always been driven by quality, service and speed."
Is the trade finishing sector overcrowded?
"The balance in the Sydney market is about right," assesses Delaney.
"Another player would only be price-driven for market share.
"The Sydney market has already seen companies with that type of philosophy prove unsustainable in the long run. All it does, is destabilise the market. Entering into the market based on the current climate would need to come with deep pockets."
Avon Graphics
Avon Graphics offers foil stamping, embossing, die making, thermal laminating wet glue laminating, flexo UV coating, screen UV coating, forme cutting, glitter application, verko printing, greeting card folding, greeting card packing, large format printing, large format cutting and finishing, canvas and photo product printing.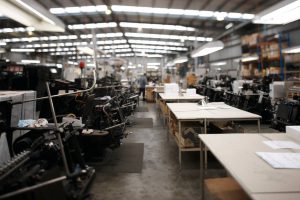 Its Brisbane plant now offers lock, burst, perfect and PUR binding. "We offer most of these services in each of our Melbourne, Sydney and Brisbane plants," says managing director Tate Hone.
"With the recent addition of Auscote in Brisbane, we now have laminating, UV coating, foil stamping, embossing, forme cutting, strutting, large format printing/finishing and book binding all under one roof in our Geebung site."
The COVID crisis has adjusted the way Avon regards its business.
"We went into the start of the pandemic working overtime to place the business into limp mode nationally. We have seen tough times before, but nothing like the slowdown we endured at the start of this. After stripping all manageable costs out of the business, we then were able to turn them back on as the work returned. We have now found efficiencies that will help the company stand the test of time."
Hone states the case for specialised trade finishing.
"Our company invests heavily in the right equipment, staff and materials to be able to produce the best result on any style of work. Most printing companies don't have enough specialty finishing work to justify the large investment and ongoing costs.
"We are set up to cover all the high-end finishes under one roof at a price that could never be realised without volume," he said.
Is Australia's trade finishing sector overcrowded?
"Yes, there are a lot of under-utilised machines in the market. There is too much capacity with not enough specialty work to support all companies. This will play out as government support slows."
The Laminating Company
Melbourne trade finisher The Laminating Company (TLC) has provided postpress services for decades, including laminating for commercial and packaging printers, spot UV varnishing, foiling and embossing, forme cutting, encapsulating, patch and overall magnet application, advises Barry Webster, TLC's director.
"We've been reasonably sheltered during COVID, but we have definitely seen a slowdown of retail printed work coming through, and with the new lockdown in Melbourne [from August], I see that type of work continually decreasing until we open up and confidence grows again," Webster said.
So, what are the upsides of trade printers outsourcing to a specialist post-press service?
"Trade finishers specialise in the services they offer, are liable for spoilt work, hold the materials/products on the floor and have dedicated operators to complete the work. It often doesn't make sense for a printer to purchase finishing equipment when workloads are inconsistent and quality equipment is expensive, with skilled operators very difficult to find," Webster said.
"Looking back on the printing companies that have closed their doors recently, most had a lot of print finishing equipment within their print company, with much of it being under-utilised, which put pressure on their cash flow.
"If they had properly costed the finishing equipment, correctly costed floor space and purchasing and holding the materials, lease payments, training and staffing, maintenance, spoilt work, and so on, there is no way it is paying its way unless it's running at least eight hours every day.
"The successful printers are the ones who are concentrating on printing and aligning themselves with quality finishing suppliers."
Twenty-20 Bindery
Sydney's Twenty-20 Bindery, part of Bright Print Group, offers PUR/perfect binding on a 16-station Acora A5 perfect binding machine, stitching on an eight-station collator/stitcher/trimmer, brochure and section folding, guillotining and collating. It was set up to fill a void when Sydney Binding collapsed in early April.
As a result of the lockdowns, co-directors John Bright and Debbie Burgess say Twenty-20 has taken a considered approach to employment and investment.
"We are running multiple shifts when needed and utilising our resources efficiently, they said, adding the company has sufficient work to keep five ex-Sydney Binding staff fully employed with casuals engaged when necessary.
Burgess and Bright say there are numerous benefits for trade printers to outsource to a specialist postpress service.
"It is not financially viable for many trade printers to invest in equipment and human resources which would enable them to perform the full range of post-print services required by their market," they say.
"Long-run PUR binding as performed by Twenty-20 Bindery is required to be done on a suitable PUR machine.
"Our Acora runs at 4,000-5,000 copies an hour and can bind books to a maximum size of 380x280mm. Compare this to the average Horizon BQ480 PUR Binder, favoured by mid-sized printers which runs between 200 and 700 books per hour and has a maximum book size of not much greater than A4. If printers did not utilise the bindery power and versatility of Twenty-20, they simply would not be able to quote for the larger-run, larger-finished-size work."
Twin Loop Binding
Twin Loop Binding in Sydney's Belmore offers a range of services from PUR and EVA perfect binding, through A2/A3 wire binding, to saddle and loop stitching. Recently introduced services such as drilling, shrink-wrapping and celloglazing, are part of the company's evolution as a one-stop finishing house, says managing director Wayne Rubin. The company also offers binding supplies and consumables.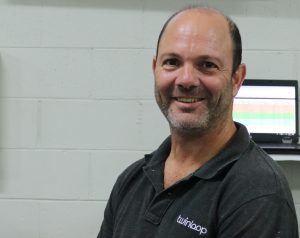 Rubin says the pandemic has been challenging at Twin Loop, as everywhere.
"We initially needed to put some of our staff on reduced hours, but fortunately our production hours are returning to regular levels. We continue to assist our customers wherever possible by absorbing some of our set-up charges and assisting them by passing on special pricing with our binding services and binding supplies," he said.
As Twin Loop increasingly sees printers offering other printers a finishing service, it reminds its customers of its reliable and proven record of quality, meeting deadlines and confidentiality, adds Rubin.
"We recently conducted a survey amongst some of our customers and the overwhelming response was they would prefer to focus on what has traditionally been their core business printing, especially since this is where they have invested in equipment.
"Perhaps now is not the best time for printers to be investing in finishing equipment if it's not going to be fully utilised.
"Another advantage of using a finishing house like Twin Loop Binding is that we have specialised and well maintained equipment to provide timely and well presented jobs."
This technology feature by Peter Kohn was first published in the October 2020 edition of ProPrint magazine.
Comment below to have your say on this story.
If you have a news story or tip-off, get in touch at editorial@sprinter.com.au.
Sign up to the Sprinter newsletter