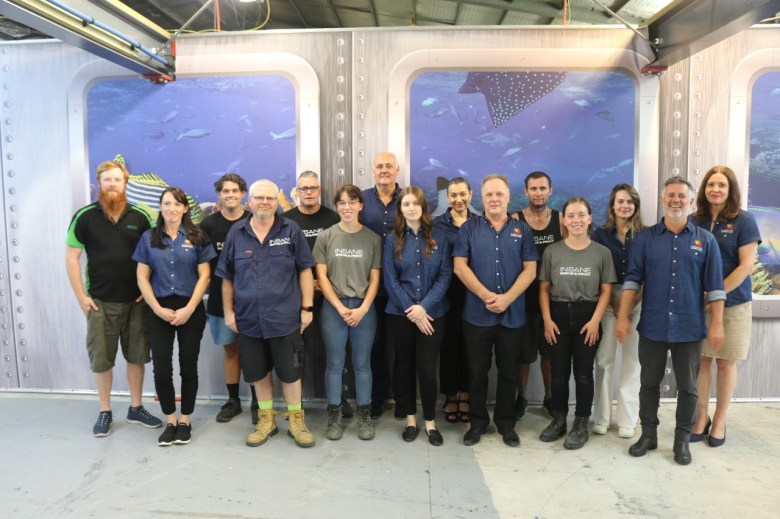 This feature story first appeared in print in the April 2022 issue of ProPrint. To read the magazine online, please click here.
It is often said necessity is the mother of all inventions.
This quote by famous Greek philosopher, Plato, came to me during a recent visit to Insane Signs and Print at Cardiff, near Newcastle in NSW, where I met with business owners Rodney and Sharon James.
Insane Signs and Print has evolved substantially since the James' bought what was a tiny sticker business from a retiring couple in 2007. Since then, it has scaled up and out into the signage space with forays into packaging on the horizon. It also now occupies a spacious and artfully decorated factory with 18 loyal employees.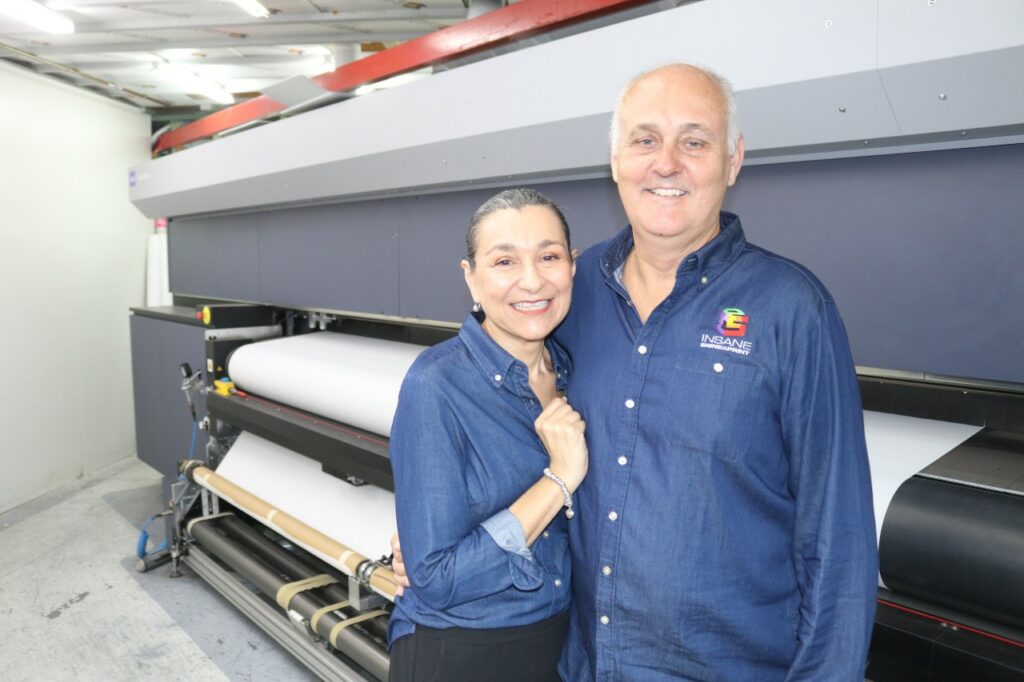 The business has also been fitted out with some serious kit. In a move to get away from solvent printing technologies, two Durst UV roll-to-roll Rho 512R Plus presses were installed in 2017, representing a combined value of $1.7 million.
A HP flatbed handles the rigid work, as well as a significant line up of finishing gear, and in a move to heighten their quality and output they have just installed the latest HP Latex grand format printer and added another high-speed welder to their already existing arsenal.
Traditionally the mesh produced by Insane was considered the highest quality available on the market due to its hand welded edges, but now the business will also be able to supply folded edges for customers who are looking for shorter term and more affordable solutions.
The events sector, particularly large outdoor music festivals, had always been a key segment at Insane Signs, as has the construction industry which requires a constant flow of printed mesh to wrap around building sites.
The shift from solvent to UV was a no-brainer for Rodney, but what he wasn't expecting was the problem he would have in getting ink to adhere to shade cloth – a substrate his clients had come to expect, by the kilometre, on a regular basis.
Not only did the ink scratch off, from what Rodney had been able to ascertain there also didn't seem to be a machine on the market which could pre-treat the shade cloth so the ink would stick.
This is where we get to the invention part.
One thing I learned on my visit, is that when Rodney puts his mind to something, he makes it happen. This goes for just about anything – whether it be buying an around-the-world ticket (hugely popular in the 1980s and 1990s) to give the world pro tennis tour a crack at the age of 24 (he won a national US title in 1996 and was the tennis pro at two elite New York tennis clubs).
In another more print-specific case, 'McGyvering' a plasma treatment machine, otherwise known as a corona machine, so ink would adhere to the shade cloth.
New endeavours are not without their challenges and Rodney learned this in August 2020 when his right hand and almost half of his arm, followed by his left, were consumed between the rollers of the machine he was trying to build as he pulled some string out of the way.
"I was playing around with this static string because I was getting a lot of static electricity and we were having an issue with the print which was another thing I had to fix. So, I'm playing around with the roller and the other roller closes and I was in there," he said, adding he then used his left hand to try and free the right hand.
Not being able to reach the emergency stop button, he knew he was in trouble but thankfully the fast action of his staff and a thin cotton long-sleeved t-shirt meant the rollers couldn't grab and go beyond his elbow.
But the damage that was done was severe and almost cost him his right arm.
Miraculously Rodney suffered no broken bones in the ordeal, but he did sustain significant burns which took over six months to heal. He still hasn't regained full sensation into his right hand and the memories of the accident live on for his family and the team at Insane Signs. But he eventually got back in the saddle and returned to his pet project to see it through to completion.
"Well, here it is, the beast," Rodney says as he proudly shows me the Insane Signs and Print Plasma Machine, which bombards shade cloth with trillions of electrical lightning bolts to change its molecular structure and make it hungry for ink.
"If we don't put the shade cloth through this machine, the ink will scratch off. No matter what ink we tried, we couldn't get it to adhere. We've been to the factory, we looked at how do we change this, and then I was just told to change the substrate I was printing on, but it is shade cloth, and it is sold at a price point my customers like.
"Most guys look at it and go 'I don't want to touch it, it's too hard to deal with' so I just said I've got an old machine, I'm going to try this.
"So, I ended up doing a whole bunch of research on how you would do it because it is plastic, how do you print on plastic like a bread bag? It's printed plastic, so what do they do? They corona treat the plastic."
This decision sent him on the McGyvering journey.
He pulled apart an old solvent printer for the outer rollers which reel the shade cloth in and out of the machine. The internal structure – which produces the electric lightning bolts – was bought from another printer in Melbourne who had the same idea as Rodney, but lost patience in the end.
The result is a working machine which can treat 10,000 square metres of shade cloth per hour and is enabling Rodney to take on signage work he may not have been able to fill otherwise.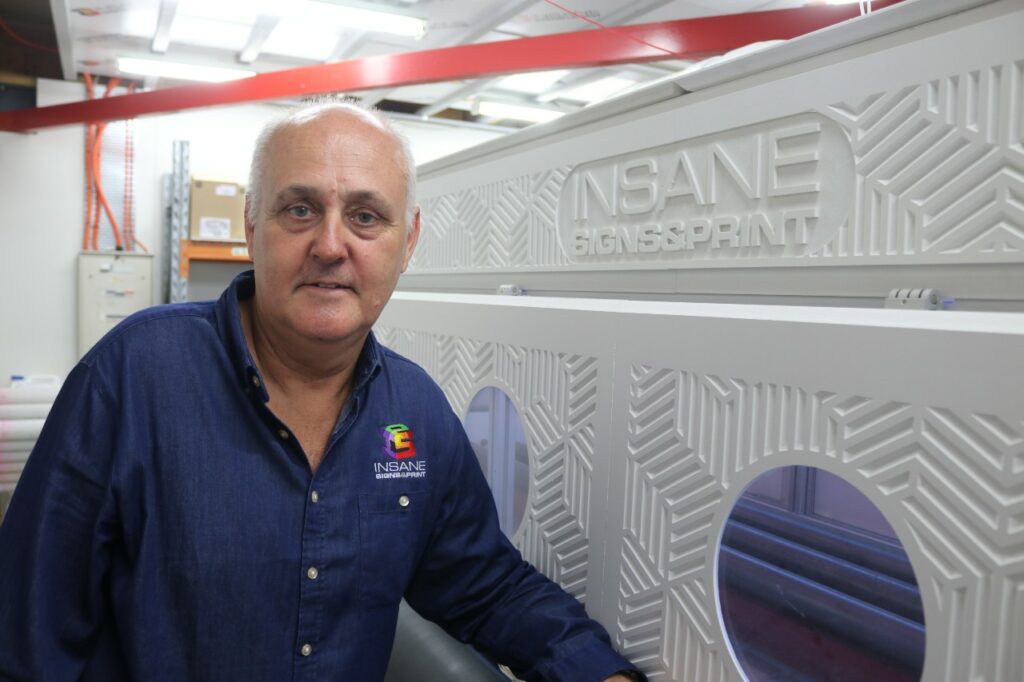 "This machine allows me to use a cheap version of fence fabric. It's never going to appear in Pitt Street in Sydney but if it is on a construction site in the back of Dubbo and they want half a kilometre of it that is where it will get used," he said.
He has also seriously boosted his safety measures in the workplace, including employing a qualified electrician to work onsite a few days each week to make sure everything is as it should be. The emergency off switch for the machine is now in easy arm's reach and there is an automatic laser which can turn the machine off if the rollers are obstructed.
"Had I not been injured, this would have been a complete win, however it was very tough on my family, but we got through it," Rodney said.
Dabbling in software since the 1990s had always been a hobby for Rodney, which he put to good use when he developed his own software program for the sign shop, which he continues to custom design to suit the business' growing needs. From staff attendance to quoting and tracking a job's progress through the factory, Rodney is constantly honing and updating the system.
In addition to this custom-designed software he recently launched his latest project called Art Loader.
This is an online system that checks to ensure customers' artwork is print ready and automatically sends the jobs directly to the appropriate print queue in the factory, shortening turnaround times and reducing the labour involved.
Sharon is relieved the ordeal is over and Rodney is back on track. With the difficulties of COVID also now in the rear-view mirror, she is hoping the business can find its way back to prosperity.
"We have always had a name for being the people that you come to in the concert industry," Sharon said.
"We did the Stereosonic signage and we had to do all of that in 14 days across five locations, kilometres of event fabric, stage drops all around Australia, so that was our forte."
When COVID hit this business quickly dried up, with Insane Signs and Print losing $72,000 in one week as events were cancelled with the jobs on the press.
"It was a bitter pill to swallow but you just suck it up and move forward. Letting staff go was very difficult, but we also learnt a lesson that we need to move into other markets," she said.
"We were reliant on events signage and fencing fabrics, but we can do so much more. Now with the help of our Business Development Manager we are looking at diversifying, we are sampling cardboard boxes and trying to move into the packaging market so if anything ever happens like this again we have a more varied base of industries to fall back on.
"We are building a better business now because what happened was we lost half our base. Hopefully we'll be better prepared and ready for anything that gets thrown at us in the future
Comment below to have your say on this story.
If you have a news story or tip-off, get in touch at editorial@sprinter.com.au.
Sign up to the Sprinter newsletter