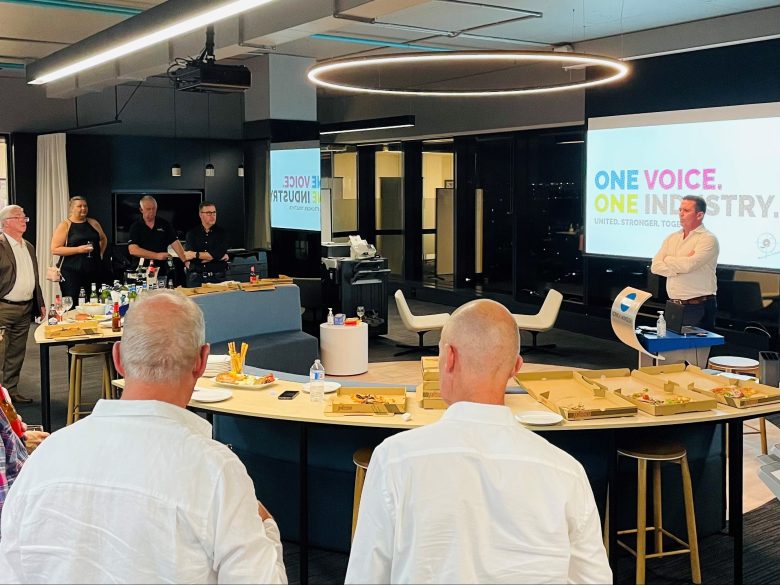 The Print and Visual Communication Association (PVCA) recently held its first member mixer in Brisbane, with the association saying this is the first of many member networking and industry community events to come across the country.
Board officers and members also came together to share insights into the future focus and projects that the association will commit to across the next 12 months.
PVCA treasurer Rodney Frost and CEO Kellie Northwood outlined to members and industry attendees the key pillars that the association will prioritise following six months of member engagement, surveying and industry assessment.
They mentioned that skills and training, environmental social governance and small business success programs are the key areas of focus with more member engaging and knowledge sharing to secure business strength.
In addition, youth mentoring, school leaver and apprentice support programs are being developed, supported by a reinvigorated sustainable green print with carbon mapping focus, well-being programs and governance programs.
To support small businesses, co-operative buying to deliver members operational savings across insurance, certification auditing, energy and more are being implemented for members to utilise association membership to gain access to better buying opportunities.
"The merger process is all but complete and brings together a financially strong Association for our industry," Frost said.
"This financial security, along with good leadership across the team and members committed to outcomes, will be the critical ingredients to building programs that deliver results for member businesses."
With the merge of The Real Media Collective and the PVCA all but finalised, the association said there is a new name pending.
"The PVCA board has come together and invested time to ensure beyond the merger we are implementing programs for the industry that have tangible benefit to their business success," PVCA president Matt Aitken said.
"The strategic sessions were a success in developing a pathway for the future which is important and I thank all the board officers for their support."
The sessions were supported by Konica Minolta who hosted six sessions across key industry needs and a lunch and learn to explore skilled labour and emerging talent support to facilitate retention across the industry.
"I would like to thank Konica Minolta for its support; the team is committed to education and skills across our industry with their long-term investment in Holmesglen TAFE in Victoria and Sydney Institute in New South Wales," Northwood said.
"We want to extend this further than the classroom and build a stronger network for our emerging talent across the industry. Skilled labour remains a key concern across industry with 76 per cent of members communicating they have job vacancies, PVCA must, and will, assist members across this and are preparing to launch programs of support.
"Working with members, board officers and stakeholders across the key pillars, we need to focus on is a wonderful opportunity for the Association to keep the momentum to deliver following the finalisation of the merge."
Comment below to have your say on this story.
If you have a news story or tip-off, get in touch at editorial@sprinter.com.au.
Sign up to the Sprinter newsletter