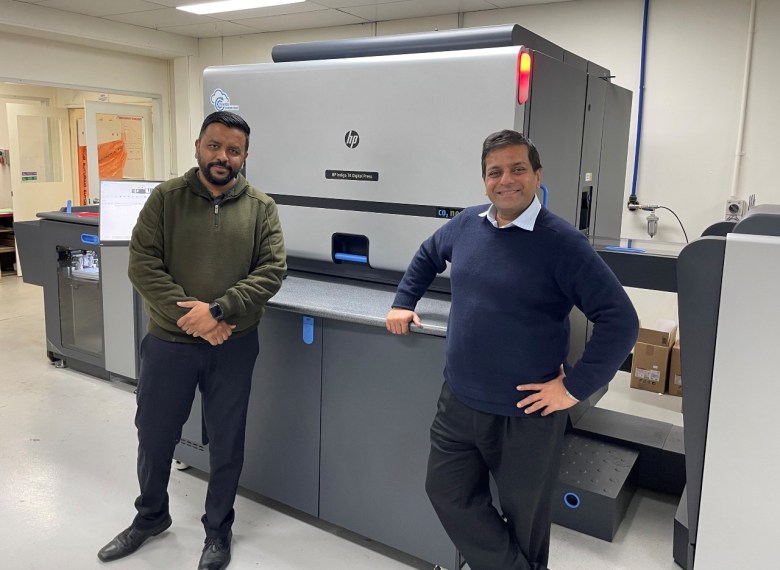 Quality and speed were key considerations when Quality Press managing director Atish Shah decided to upgrade to a new HP Indigo 7K Digital Press, through Currie Group, but so was the ability to print on thicker and more varied substrates.
Quality Press is one of Western Australia's most significant commercial printers. It added wide format to its offer about five years ago and is now looking at deepening its diversification into packaging, with an eye on adding labels in the not-too-distant future.
The business has run a HP Indigo 5500 Digital Press since 2009, but Shah said the time had come for a digital upgrade to ensure Quality Press remains relevant for customers.
After intensive research, the HP Indigo 7K Digital Press, which was first unveiled at virtual.drupa last year, was chosen with the press now the first of its type to be installed in Western Australia.
Shah listed the most attractive features of the press as being its ability to print on more diverse substrates up to 550 microns thick and the new EPM (Enhanced Productivity Mode) which has increased productivity and reduced costs.
He also said the ability to print with a vastly expanded colour gamut featuring 20 specialty inks including silver, premium white, transparent and a range of fluorescent colours also drove the decision.
"Our 5500 was about 12 years old and the technology had moved forward so we looked at several different options for a replacement, but in the end, we chose this machine for productivity and uptime," Shah told Sprinter.
"It also comes with new features and benefits in terms of the thicker substrates so that will help with the packaging side of things.
"Our sales staff are really very happy with the quality and so are our clients. They can see the difference straight away because of the colours and the vibrancy of the prints."
Speed was another factor with the HP Indigo 7K Digital Press able to print 120 four-colour A4 pages per minute with a maximum sheet size of 330mm x 464mm.
Quality Press also operates with a Horizon finishing set-up, also supplied through Currie Group, with the offering including the Horizon Cabs 4000 binder, Horizon StitchLiner 6000, Horizon BQ-270 and HT-30 to eliminate finishing bottlenecks for the business which also has a Komori and KBA offset set-up.
Short run work benefits
Shah said the other key benefit of the new HP Indigo is the ease with which it can turn around short run jobs.
"This new press will really help with the short run work. There are a lot of set up costs with the offset so if a customer wants 500 or 1000 units it will be just cheaper to produce that job on the HP Indigo, rather than running five or six sets of plates and wasting a lot of sheets on the press before having the main run. The digital is just so much more cost effective," Shah said.
He also said the new software in the printer and fast RIP means job changeover is now taking place faster than ever.
"The changeover of the new Indigo is amazing. It is much faster which is about the new software which comes with the Indigo and the new RIP is so much quicker, so our operator is very excited about this," Shah said.
Business in COVID
Shah said the economic climate in Western Australia has been relatively positive with minimal lockdowns impeding trading, boosted by rising domestic travel and mining.
There had also been some silver linings with local companies sourcing goods domestically, rather than go overseas due to COVID-induced shipping delays.
"COVID has helped with this as there has been delays with lead times from shipping and transit times. This has encouraged many customers to look for local suppliers which is helping. We are also seeing some volumes coming across to us," Shah said.
"We are in a lucky situation here with having minimal lockdowns and the local economy is fairly buoyant from the mining perspective. Money is rotating within the local economy, so the market is steady, it is not fantastic, but it is steady, and work keeps coming in."
Currie Group
Adrian Dixon, Senior Account Manager for Currie Group WA, has been servicing Quality Press for over twenty years.
"Quality Press are a terrific business and I fondly remember our first Horizon Perfect Binder being installed back in January 2007," Dixon told Sprinter.
"Our relationship strengthened with more Horizon equipment later that year and then the introduction of the HP Indigo 5500 – a digital press capable of offset quality.
"We are delighted to see Quality Press continue their relationship with Currie Group. The recent installation of the fully configured HP Indigo 7K Digital Press is the next chapter and brings not only improved productivity and quality, but a whole range of substrates and specialty ElectroInks never before available on the earlier Indigo platforms.
"We look forward to supporting Atish and his team in their endeavours to launch new applications that leverage the extra thick stock capabilities."
Comment below to have your say on this story.
If you have a news story or tip-off, get in touch at editorial@sprinter.com.au.
Sign up to the Sprinter newsletter