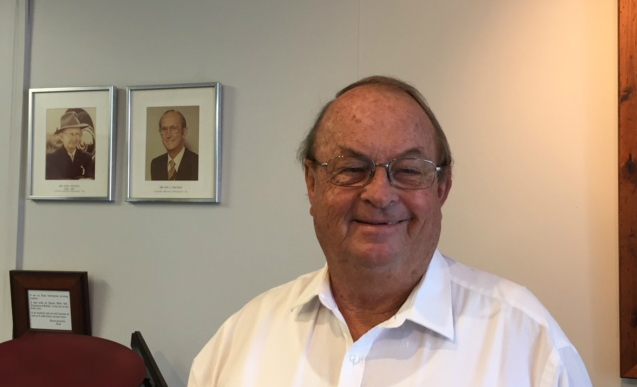 This article was first published in the November 2020 issue of Australian Printer magazine
Having been in the printing industry since he was about 17 years old, Neil Mackay (now aged 72) had large shoes to fill at Clark & Mackay since his grandfather and father both ran the business in their tenure. Mackay not only stood up to the challenge, but also delivered, building Clark & Mackay to the forward-thinking business it is today.

Clark &Mackay has a rich family history of 92 years in print. Starting in 1928 in a premise in the heart of Brisbane, Bert Clark and John Mackay commenced their printing business producing print with wooden type, each word being composed one letter at a time using hand-fed and foot powered printing presses.
After WWII, John Mackay's son Ian joined the firm, along with his brother, Garth, and over the years, changed the process of printing by going from only letterpress machines to offset printing machines.
In the '60s Clark & Mackay moved premises to a larger factory at West End. This era consisted of five letterpress machines and one offset press. It had no bindery equipment except for a stapler and a punch machine.
In 1964, Ian Mackay's son Neil Mackay joined the firm as an apprentice letterpress and offset printing machinest.
Ian's other son Ross Mackay joined the firm in 1969 as an apprentice compositor, which led Clark & Mackay to the transition of hand set type and hot metal composition to computers and digital printing. To accommodate expansion, the West End facility was extended twice between 1969 and 1994.

"I used to help my father out when he was running the business and from young, I thoroughly enjoyed print. I've always wanted to be a printer and that's what I ended up doing. It has been 56 years since and I've loved every moment," Neil said.
"I started off doing an apprenticeship for five years learning letterpress at that time and I then did an extra course in offset printing because it was just being introduced. I worked in the factory and after a few years I became foreman of the factory, running about 20 staff.
"After a few years, I moved into sales and built the business. I moved into estimating once we had more sales representatives and with time, I ended up running the business."
In the '70s, the purchase of Coronation Press produced a rapidly growing firm. In 1994, the business moved to Rocklea, which quadrupled the size of Clark & Mackay.
In 1997, Neil's son Paul Mackay joined the firm as an apprentice machinest, marking the 4th generation of Mackays. During this time, the purchase and integration of Leader Press (the printing arm of the Catholic Church) further developed Clark & Mackay.
"Clark & Mackay used to help Coronation Press with work that it couldn't do. So, when the owner was moving back to Sydney, he approached my father to take over the business," Neil said.
"As for Leader Press, we were approached by the business as well and we put forth the proposition. The owners picked us as they were a Christian organisation and knew that we'd take care of their staff.
"The acquisition of both companies let us gain more clients and equipment, which led to more business – they were a good complement to Clark & Mackay."
New state-of-the-art digital presses were introduced in 2002, which further enhanced the capabilities of Clark & Mackay as digital technology emerged.
2008 brought a change as Ross Mackay retired to take up his vocation as a minister in the Uniting Church.
So, in 2014, Neil relocated the business from Rocklea to a more modern establishment at Acacia Ridge. At these premises, Neil upgraded the company's machinery and technology, keeping Clark & Mackay at the forefront of all facets of print media, including digital printing and variable data also the state of the art in producing self-published books.
"We kept abreast with what was happening in modern times and that kept us successful as a small business over the years. We always listened to what our clients wanted, kept a keen eye on what was happening in the industry, and did our due intelligence on what equipment would be most suitable for us to stay ahead of the game," Neil added.
"We were also always honest with clients, offered good service, and provided quality products. If you do these three things, you'll be successful."
As of November 1 2020, Clark & Mackay has come under the ownership of Queensland independent book publisher, Ocean Reeve Publishing, with no changes to the name of the business or staffing – apart from Neil's retirement from his role.
Neil said he still intends to continue in print in a consultancy role, including the new owners of Clark & Mackay as and when required.
"Ocean Reeve Publishing is continuing the name and legacy of Clark & Mackay. They're staying in the same building, keeping my staff who have been with me for a long time, and their acquisition of Clark & Mackay will be a value-add to what they do. I'm happy it has turned out this way," he said.
"I had no interest in retiring before, but it had to happen sometime. In the new year, I intend to partake in some voluntary charity work – I want to give back to society and give help where it's needed."
Comment below to have your say on this story.
If you have a news story or tip-off, get in touch at editorial@sprinter.com.au.
Sign up to the Sprinter newsletter