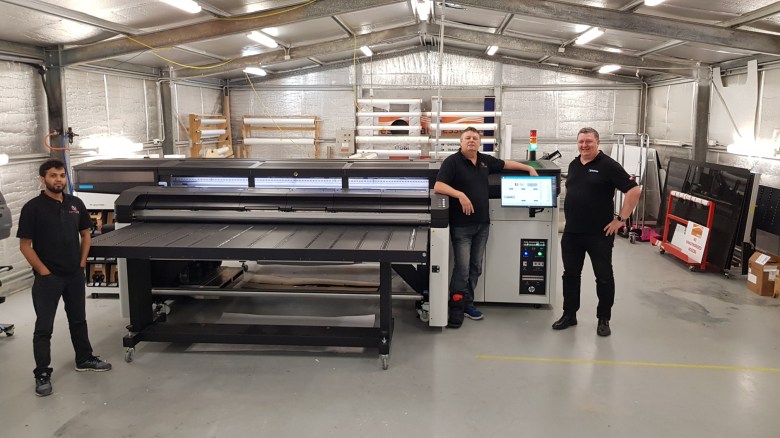 Signage One has purchased new kit from Celmac in a bid to expand its market reach.
Signage One director Craig Maddren said the company purchased a HP R2000 Latex flatbed, as well as an Aristo TL1925 cutting table with conveyor, with both units installed recently.
Signage One is a branding design and manufacturing company based in Goulburn and services the region including Canberra.
The deal with Celmac follows an existing partnership between both companies.
"Over the years, I bought a HP 750 and all my supplies from Celmac for the machine. The company's after sales service has been efficient and I've always carried that with me. That's why I decided to get the equipment from Celmac again," Maddren said.
Celmac NSW state manager Jonny Rumney said Signage One was looking to upgrade its old UV Flatbed, which coincided with the company winning a major job.
"The R2000 gives it much higher productivity than its previous printer, but also much higher colour gamut and vibrancy. Plus, it gets the environmental benefits that HP Latex inks give it with no odour and no VOCs," he said.
"Adhesion onto coreflute is second to none due to the flexible inks, which does not chip when put onto a cutter or bent. The white ink was also a big factor, with the white the best it had seen and much better than the previous machine.
"It currently doesn't have a cutting table, so was impressed by the build of the Aristo. It also gave the business much higher accuracy in the cuts than other cutting tables with the ability to knife cut composite aluminum.
"Overall, Signage One can expect more productivity, faster turnaround times for larger jobs, and no danger to the operator with harmful inks, which is better for its customers and for the environment."
Maddren said the company's purchases are a "major investment in capital" for a regional company, especially as it makes its push into the packaging space.
"We're now focusing more on the packaging space, which is why I've purchased these units. We've traditionally played in the signage space – display signage, corporate signage, billboard signage, directional signage, etc. – but I'd seen an opportunity in the market to provide packaging solutions for small boutiques.
"And no one in the Canberra market, as far as I am aware of, plays in this space. So, that's what I am looking to establish ourselves in. So, we're looking at verticals like microbreweries, companies that are seeking packaging but at a less grand scale.
"The new equipment brings new opportunities for me, a better array of products for my clients, quick turnarounds, less manual intervention required, and opens us up for an online presence, which is where the future is."
Maddren added that the sustainability factor was a key feature for his buys.
"We're trying to have a bigger footprint in the green space, so being environmentally friendly is one of the things that we have gone into. The latex side of the buy ticks those boxes. It aligns well with what we're about in trying to reduce our footprint as well," he said.
Comment below to have your say on this story.
If you have a news story or tip-off, get in touch at editorial@sprinter.com.au.
Sign up to the Sprinter newsletter