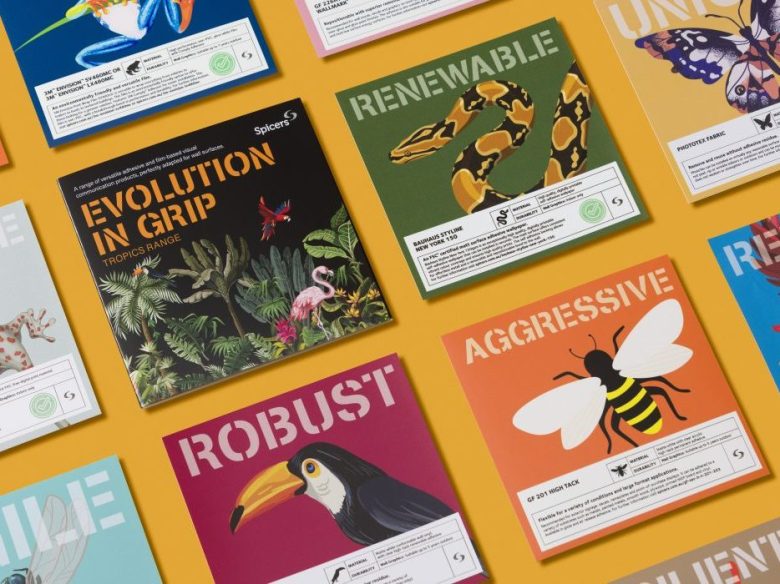 (Above) Evolution in Grip's Tropics Range wall graphic solutions can help enhance ordinary walls and custom wall graphics
Spicers has launched its exquisitely designed and printed new Evolution in Grip promotional series.
The new Evolution in Grip series, which clearly draws inspiration from nature, made its debut at Visual Impact in May, where a portion of the stand was themed around the series.
Created for the company's print/wide format customers and specifiers/designers, the versatile adhesive and film-based visual series, made up of many different brands across Spicers Visual Communications range, is both educational and resourceful.
Spicers marketing and design manager Cyndi Setia said Evolution in Grip not only includes technical specifications geared towards print customers, where they can test products by applying to different surfaces, but is also appealing to designers due to the beautiful illustrations.
"Due to the success of the first edition of Evolution in Grip which was released in 2017 and was based on our Digitac range, we decided to create a new addition that included all the great brands from our Visual Communications portfolio which were suitable for window, wall and floor applications. Just in the last couple of years, our range had expanded and included more sustainable solutions to meet market demand. The packs now include brands such as 3M, General Formulations, Phototex, Kavalan, Bauhaus, Rocal, Yupo and Digitac," she said, pointing out that the concept behind the new series is perfectly adapted for every surface.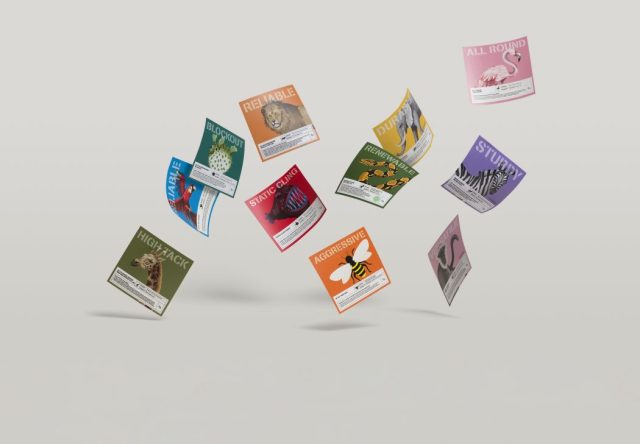 The new Evolution in Grip series includes printed samples of solutions for window, wall and floor applications featuring durability, ink compatibility and sustainable options, as well as product inserts with reference guides which portray the versatility within the Spicers portfolio – all conveniently assembled in a presentation folder.
Spicers can supply media for aqueous, eco-solvent, UV curable, Latex and LED ink technologies and the series highlights this, carrying all print media essentials required as well as a fine collection of specialty products to suit any creative visual communications project.
Three-part series inspired by nature
"Evolution is driven by the demands of the environment – natural selection ensures that creatures develop the best attributes to thrive in their habitat. The second volume of Evolution in Grip is a three-part series, featuring animals from different habitats, Savanna, Oceanic and Tropics, and mimics this evolution with a diverse range of unique visual communications solutions," Setia said.
This includes:
Savanna Range – Floor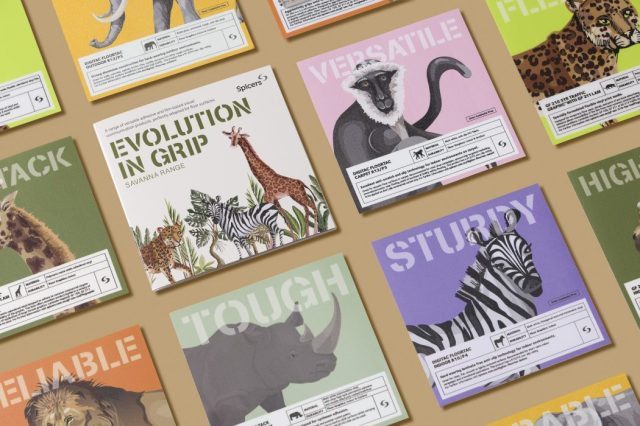 Inspired by the way creatures have developed adaptations for living in harsh environment and the elements of extreme temperatures Spicers has developed this diverse range of unique floor graphic solutions which can be used in many kinds of environments. This range of innovative and durable floor vinyls make application and removal easy and efficient, helps users transform spaces and direct the flow of traffic, and is perfect for both short-term promotions and long-term branding solutions.
Tropics Range – Wall
Taking inspiration from the tropics, which are home to an amazing diversity of animals that can be found moving among the trees, gathering and storing food, and physically adapting and finding shelter in extreme weather, Spicers have developed a wide range of unique wall graphic solutions for many environments. This range can help enhance ordinary walls and custom wall graphics, and allows users to create wayfinding signage, bold branding or murals with the company's print media range. It is suitable for indoor and outdoor applications.
Oceanic Range – Window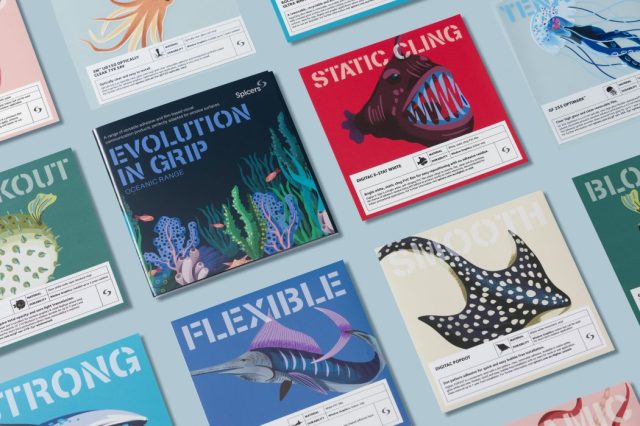 Inspired by the way that different species have adapted to dwelling on different parts the sandy seafloor, depending on the ocean's depth and the strength of the waves that continually sort and reshape this shifting habitat, Spicers have developed a diverse range of unique window graphic solutions for many environments.
Window signage can be the most flexible application, from transparent to opaque, vinyl cut lettering, full coverage options, to highlight seasonal campaigns with ease. It is ideal for expanding brands as well as enhancing privacy.
Creative concept development
Setia said that Evolution in Grip's new creative concept and development continued from the first volume – imagery of specific animals were chosen to reflect stocks qualities based on their natural physical abilities to survive and adapt in different environments.
"Volume two and the three-part series expands on this and explores different animals in their habitats and environments. It is also a reflection on the expansive range from Spicers," she said, explaining that the printed samples and folder include product descriptions, adhesive type, durability, matching overlaminates and recommended applications.
Spicers internal marketing team developed the Evolution in Grip product range and design concept, which started early this year, and managed print production with its customers. The final piece was delivered in late April.
The Spicers team involved in the design and concept of the new Evolution in Grip series consisted of marketing co-ordinator Taylor O'Neill, graphic designer Sarah McMillan and marketing and design manager Cyndi Setia. They worked alongside Spicers visual communications portfolio manager Wayne Hood to form the range for each pack.
The Evolution in Grip series is now available through your local Spicers representative.
Comment below to have your say on this story.
If you have a news story or tip-off, get in touch at editorial@sprinter.com.au.
Sign up to the Sprinter newsletter