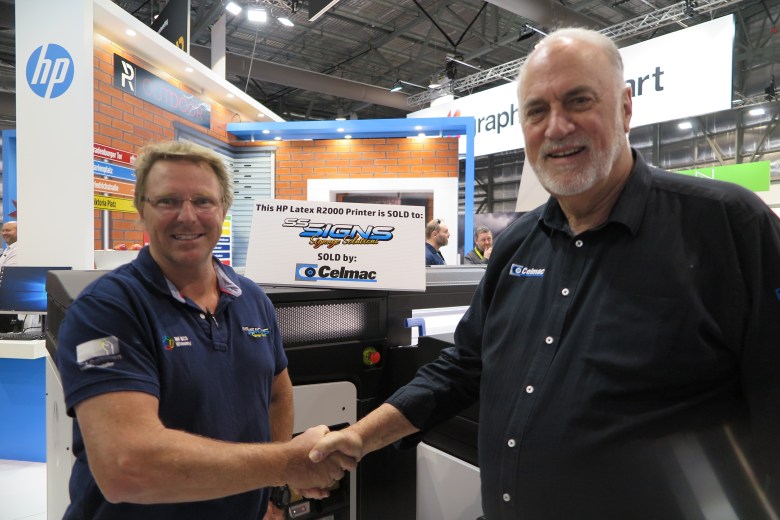 SS Signs has purchased a HP Rigid Latex R-2000 printer at Visual Impact, set to be installed in the Brisbane company's print room next week.
Sold through Celmac, the R-2000 is the 2.5m wide option in the newly launched rigid latex range, and is one of the first major press sales made at the show.
Steve Lambourne, owner, SS Signs, says, "We are primarily a latex based business. We heard about the machine, went over to Germany to see it, and from my point of view it was a must have.
"Our family has been in the sign industry for 47 years, I took over the family business about 18 months ago, and incorporated it into SS Signs. It was predominantly screenprinting, and this is the closest representation to screenprinting we could find in the market. It gets us back to our roots.
"The opacity of the white is something we have never seen in digital before, along with the resolution of the prints, and quality."
Wayne McIntyre, CEO, Celmac, says, "We are pleased to report that the first R-Series sale has been made in Queensland. SS Signs are an extensive sign and vehicle wrapping business, and they have travelled to Germany to view the machine at its initial launch, then travelled to Melbourne to put it through its paces at the technology centre.
"It has ticked all the boxes for them, and they have purchased it off the HP stand at the show, and are excited for the scope it will add to their business, in both flexible and non-flexible stocks.
"The R-Series is an industry changer, and a wonderful piece of equipment with its versatility, and what it will do to expand the opportunities of people like Steve Lambourne of SS Signs.
"He is well known within the Queensland market from screenprinting days, to now vehicle signage, and speedboat graphics."
Comment below to have your say on this story.
If you have a news story or tip-off, get in touch at editorial@sprinter.com.au.
Sign up to the Sprinter newsletter