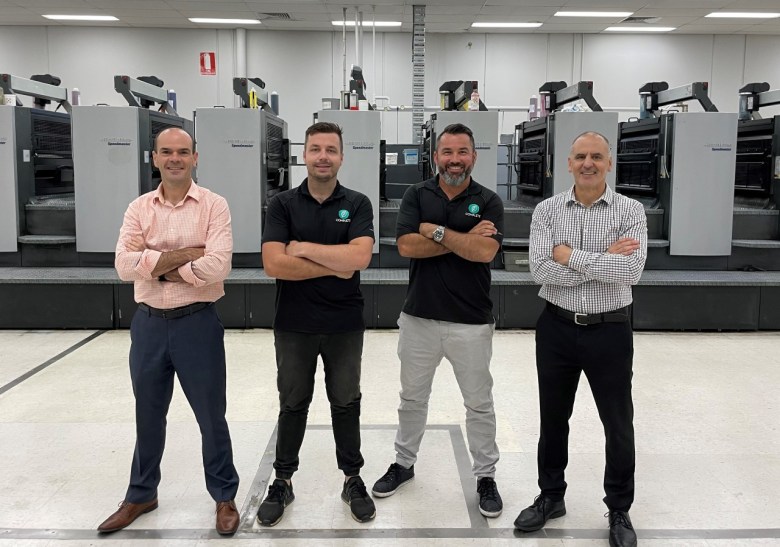 This is an extract about Complete Colour from the Sustainability is Good for Business Technology Focus written by Peter Kohn and published in the April 2022 issue of ProPrint magazine. To read the full story click here.
Complete Colour, a Melbourne-based privately owned printing business provides services to corporate, government and general commercial businesses.
It is also a standard-bearer of environmentally credentialed printing. Services include digital and offset printed products, including variable data and mailing, warehousing, distribution and electronic media.
The 30-year-old company with 25 staff prints brochures, catalogues, POS material and high-end books.
Complete Colour managing director, Tim Michaelides, said the business began its environmental journey as good business practice.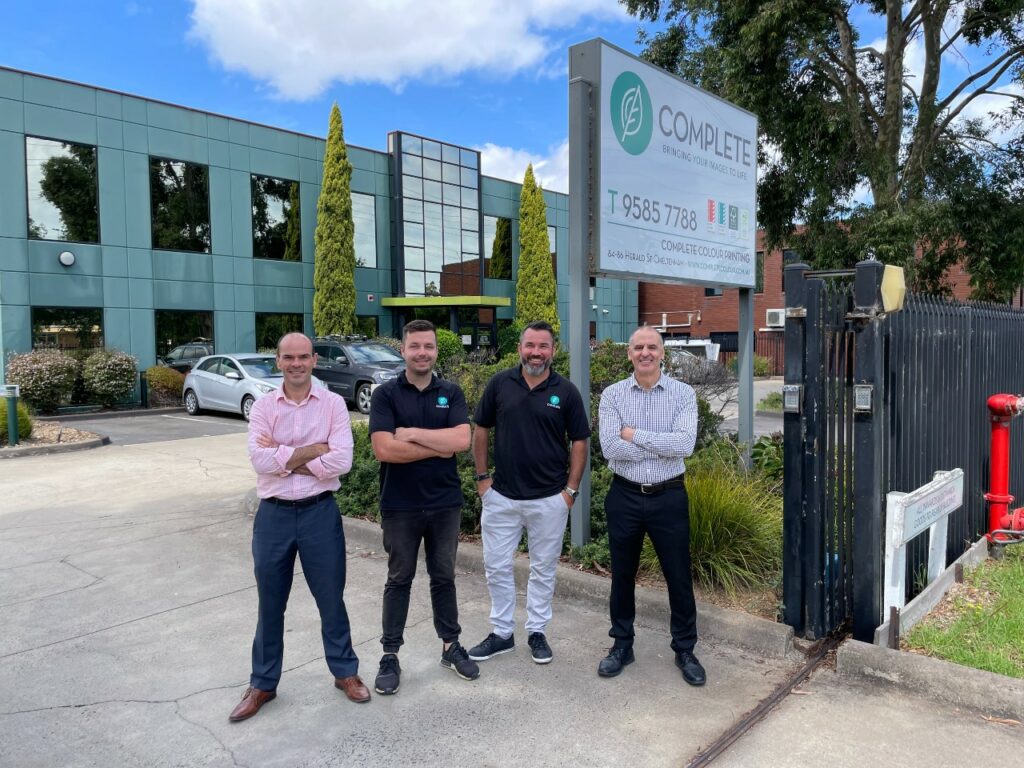 "It's not only about doing the right thing but, just as importantly, about reducing costs," he said, adding some industry players practice greenwashing and state that they use vegetable-based inks and operate diesel trucks as a compelling sustainability offering, but it's not.
At Complete Colour, it's a comprehensive picture.
Since 2007 the company has operated an Integrated Management System (IMS) that is independently audited and certified yearly incorporating ISO 9001:2015 Quality Management and ISO 14001:2015 Environmental Management.
Michaelides says a fully audited and certified IMS provides clients and other stakeholders with surety in the practices in the business and genuine peace of mind.
He adds interested parties are welcome to come on site and view the company's credentials.
Complete Colour is credentialled as an FSC and PEFC (Chain of Custody) certified printer. Power for the entire manufacturing and office site is generated from Complete's own 200kW LGC (Large Generation Certified) onsite solar power station. More than 35 per cent of its power is generated from this system.
All additional power is supplied from Shell Energy under the National GreenPower Programme (Energy, Climate Change and Sustainability).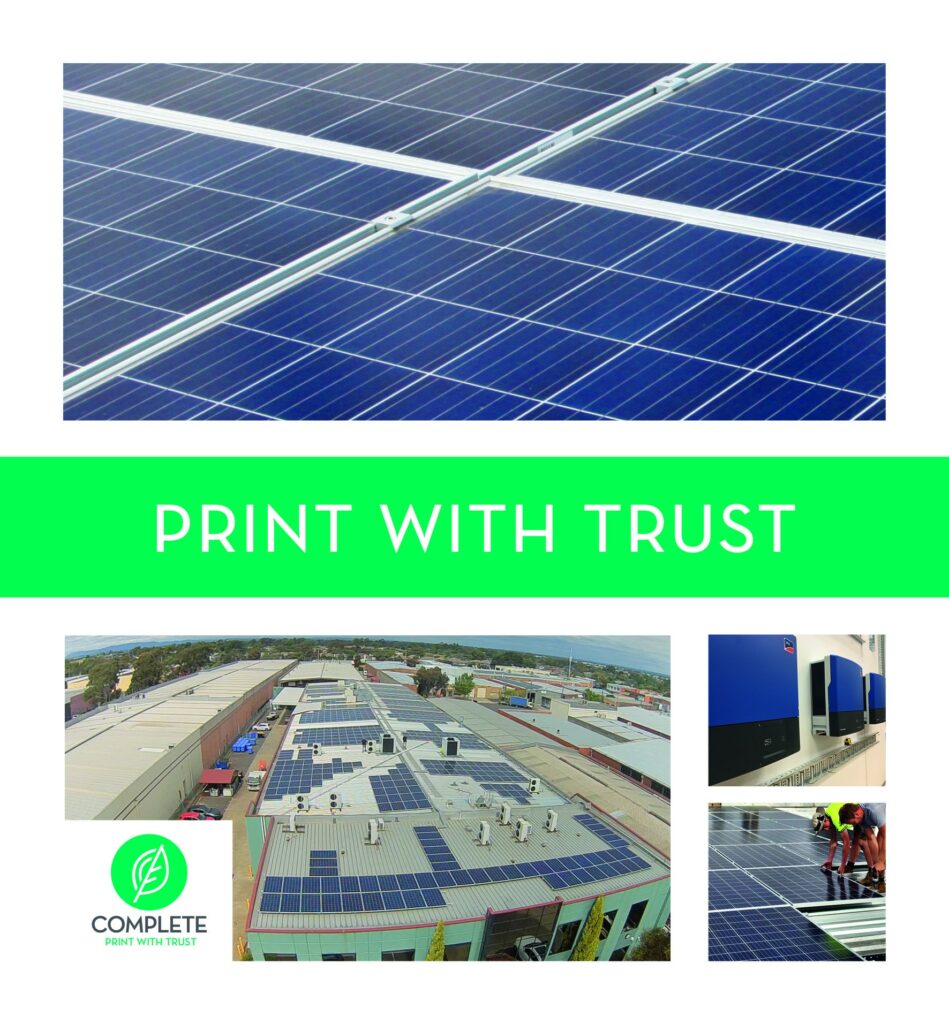 Clients can also carbon offset work on a job to job basis through the Climate Friendly organisation.
Utilising this option means calculated carbon that is heavily reduced due to the practices in place within the business in relation to the manufacture of the finished product, including delivery, can be carbon offset with detailed CO2 statistics published.
In 2007 Complete Colour was awarded Sustainability Victoria Wastewise Gold certification for its recycling initiatives.
At that time 92 per cent of product entering the business was either recycled, reused or delivered as finished product to clients – today that figure is at 98 per cent.
In the pressroom, offset print production uses ecologically rated presses linked to workflow and prepress software, which manages press settings for production and image control for colour, says Michaelides.
Proofing is soft copy unless otherwise required or requested. All hard copy proofing systems have onboard spectrophotometers.
Colour standards are to ISO colour and proof-matching to printing through a highly accurate image control system, resulting in minimal paper and press time wastage.
All inks are low-Volatile Organic Compound (VOC) and are derived from vegetable-based oil. Conventional printing solvent is piped to equipment in a closed-loop solvent recirculation system, with a reuse percentage of up to a continually recurring 90 per cent.
"All solvent is filtered through a multiple unit filtering system separating water and ink particles," Michaelides said.
"Water is cleaned to meet sewerage disposal requirements, ink is broken down to fine particles that are dirt-like, and being vegetable-based, these particles can be included as landfill in the same manner as dirt is sometimes used for landfill."
Since 2019, Complete Colour has been fully operational with process-free printing plates for offset. Alcohol usage on the press is one to five per cent, which in industry terms is alcohol-free, says Michaelides.
The business operates a ten-colour Heidelberg Speedmaster 102, plus multiple pieces of high-speed, high-quality Fujifilm iGen5 and iGen150 digital printing equipment using matte dry toner with inline saddle stitching and PUR binding – where all components are recycled and waste is minimal.
All toner cartridges are collected and refilled by the supplier.
Replaced or damaged machine parts are collected by the supplier and disposed of under appropriate e-waste guidelines.
Further initiatives are also underway including battery recycling and ink cartridge collection. Timber skids are also collected post-use by paper suppliers, soft plastics are baled for recycling, and rubber blankets are transferred to third-party users for responsible reuse.
Michaelides says, "As a leading company within the industry in the area of sustainability, it is encouraging to see other companies take the initiative and realise the benefit in incorporating sustainability into their business."
Comment below to have your say on this story.
If you have a news story or tip-off, get in touch at editorial@sprinter.com.au.
Sign up to the Sprinter newsletter