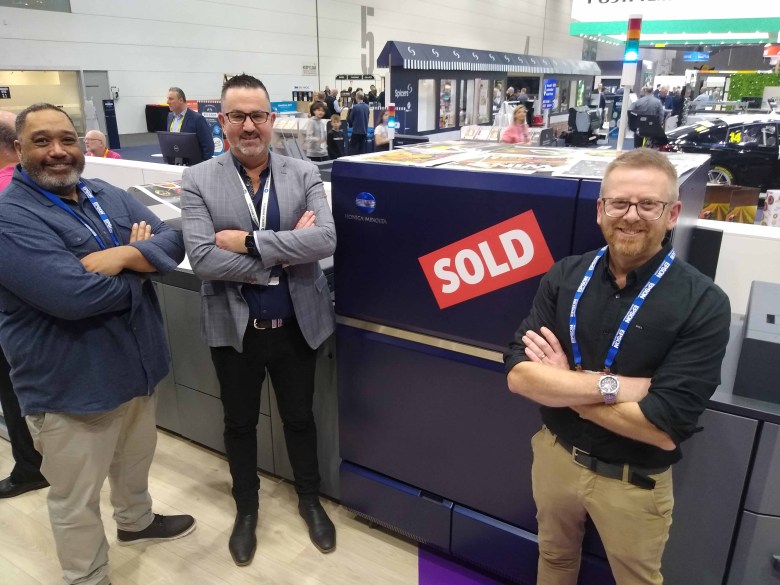 Hobart's Monotone Print invested in a new Konica Minolta AccurioPress C14000 at PacPrint as the historic Tasmanian business further complements its offset offering with fast, high quality digital print.
Stu White, general manager at Monotone Print, said there are several benefits for Monotone buying the Konica Minolta AccurioPress C14000, with the first being productivity and the second being flexibility around media types.
Monotone Print has been in operation for 109 years and is a traditional offset and digital printer.
White said the features of the new investment, including the inbuilt Intelligent Quality Optimiser and Media Sensor, will be instrumental in helping the business complement the offset production handled by its two existing four-colour offset presses.
Media flexibility was another key attraction. The AccurioPress C14000 can handle a large range of media types and weights, as well as the ability to print on long sheets up to 1300mm simplex and up to 900m auto duplex.
"We are a long-term Konica Minolta customer. At the moment we have two Konica Minolta machines which we are pulling out for this bad boy," White said from the PacPrint floor.
"It is going to be a game changer for us. We will merge it into the area of short run offset. We are a digital and offset printer, currently running two four-colour offset presses and this will complement that. We are looking at getting out of the small format offset and the AccurioPress C14000 will more than fill that space."
The new AccurioPress was sold through Ben Machin, sales manager at Konica Minolta's dealer in Tasmania, Winc.
"Monotone Print were extremely early adopters of digital print technology because they recognised its benefits and how it can really complement the offset side of their business," Machin told Sprinter.
"Monotone Print has been a valued partner of Winc in Tasmania for two decades and we look forward to witnessing their continued growth. We expect to have this machine installed in September."
White commended the service and support offered by Winc.
"In Tasmania, the service and support through Winc is sensational. The technicians are very knowledgeable and always happy to help. In Tassie, where we sometimes feel a little bit removed from everywhere else, that is integral to us being able to operate our business efficiently," White said.
"They get us; they understand what we do and why we do it."
White said the new press will triple the productivity rate at Monotone Print, a feature that was highly desirable given the speed with which customers want their jobs done.
"The AccurioPress C14000 is a fantastic machine, and the quality is amazing. You can see the results. The thing for us is that with the machinery we already have, we've established a print quality level in Hobart that our customers really like, and this acquisition is going to not only enhance what we already have; it is going to treble our productivity rate. That is a big deal for us because we are really pushing into the digital market, which is growing," White said.
"People don't want to wait for their work, and this gives us an opportunity to burn through multiple jobs in quick time. It also gives us versatility. These new 900mm trays, for example, they open up the spectrum for what we can do."
Comment below to have your say on this story.
If you have a news story or tip-off, get in touch at editorial@sprinter.com.au.
Sign up to the Sprinter newsletter