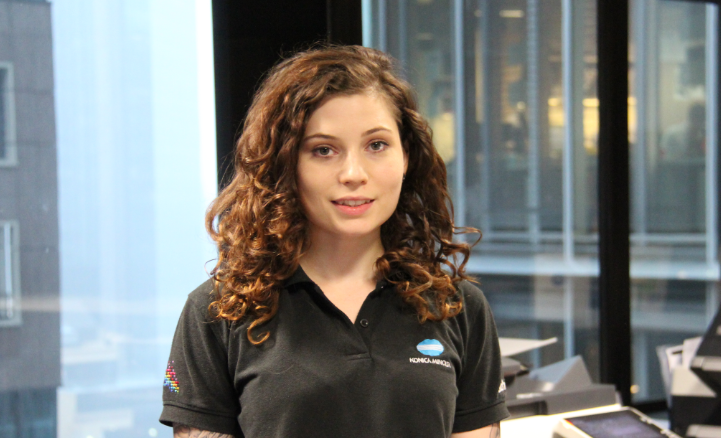 Bronwyn Lear is a Konica Minolta technician working in Sydney's CBD, and the only female technician on its team. To her it is no big deal, although to others it can be.
"With certain groups of people it comes up a lot, and I do not like that," she says. "At the same time, I understand how important it is that the women who come up after me and the women around me have the same opportunities that I have.
"I was lucky enough to be brought up by parents who are so ridiculously open-minded and accepting and intelligent" she says. "My mum is a chemical engineer, and she was the only woman studying engineering at the time. Not just chemical engineering, and not just her year. Both my parents went to Sydney Uni.
"I grew up close to the city and I grew up playing with Lego and Meccano, and science and maths, and I love science, and I love maths.
"I also really love dressing up, and doing my hair and makeup and wearing dresses and stuff. It is just really important to me that we understand that should be an option for everybody. Everybody should be allowed to make themselves feel pretty and everybody should be allowed to get in the mud and get dirty.
"I feel really privileged to have had these opportunities from the day that I was born, and the thought that other people might not have makes me hurt."
Lear says she has never felt as though she was second guessed due to her gender, and tells other females to never second-guess themselves.
"There is an increase of women in mechanics and engineering, but it needs to be more widely known as an option for a technical career.
"You never hear a kindergarten kid saying I want to be a printer technician when I grow up."
She says she gets fairly consistent positive remarks from customers surprised when a female shows up to fix big, bulky office printers.
"It is mostly with the older generation, particularly women. It goes to show that when they were my age they would not have had that opportunity. So they are the ones that are most surprised by me.
"As bad as it sounds, I do get a little bit more attention because I stand out from the male technicians that come in. They do not expect to see a women, so they remember me easier than they remember one of the guys that walks in.
"But the pressure is definitely on. Knowing that customers can easily call Konica and say 'it was the girl that broke it' and Konica would know exactly who they were talking about."
She has a carefree laugh at this, with all the confidence of someone that would not be breaking a machine.
When asked if more should be done to encourage young women into science and maths, she makes the question about all kids.
"From a young age every child should have basic life skills. Science, maths, English, learning how to present yourself, learning how to pay bills and taxes, learning how to talk to people, and network.
"We need to focus on what is going to move the next generations forward, and how we are going to teach our children to do it in the best possible way.
"And everybody should have troubleshooting abilities, no matter where you are, you should have those skills.
"After all, if you judge a fish by its ability to climb a tree it will spend its life thinking it is an idiot."
So how does a day start for a Konica Minolta print technician?
For Lear, it starts on the train.
"While I am on the train I will open our portal and see what jobs I have for the day. Usually we start off with any breakdowns, as we do not want our customers to be waiting with machines that are not working. Then we take it from there."
Lear has worked as a technician since September, after completing two years of training.
With a passion for cars and mechanics, Lear has been taking things apart and putting them back together since childhood.
"I have put the cars on the backburner for now. I have decided to focus on more adult activities such as saving for a house. Unfortunately having project cars does not really work out with that."
Working as a print technician has also given Lear a new appreciation into the evils of staples and the beauty of fresh paper.
"Please keep staples away from printers. We do not like them, they are not friends. And fresh paper, always, please.
"I love hearing the paper exit the finisher, knowing the problem is solved. If you have been called out for something tricky, it is the best sound to hear.
"If you asked me six months ago what my favourite part of the job is, I would say the hands on work. Now, I definitely have to say it is the team."
Lear says she sees herself staying with Konica Minolta for some years to come.
Comment below to have your say on this story.
If you have a news story or tip-off, get in touch at editorial@sprinter.com.au.
Sign up to the Sprinter newsletter