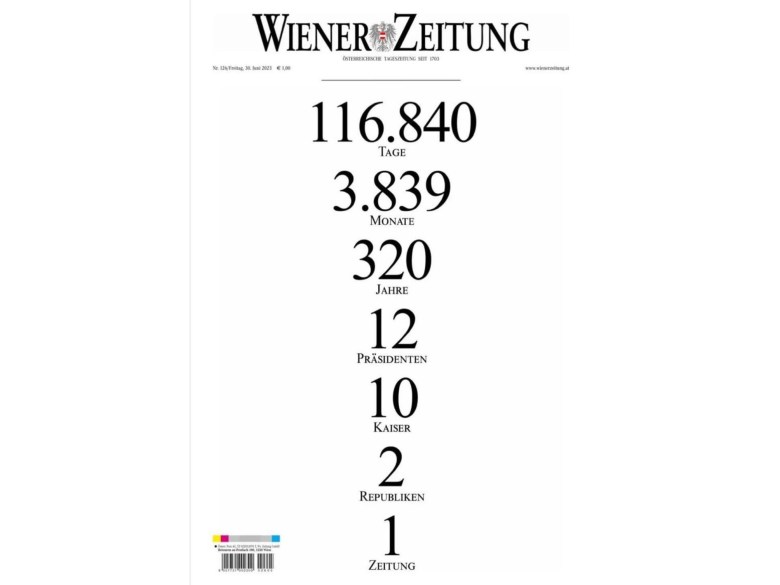 Wiener Zeitung, the world's oldest newspaper, will cease to print any more daily editions as a result of the ÖVP governing Vienna passing a law that supports only a digital future for the publication.
The newspaper was in operation for 320 years – since its first run on 8 August 1703 – but published its last daily edition on 30 June.
The publication said the decision to stop its daily printed product was because the ÖVP had the coalition agreement stipulate the abolition of the compulsory advertisements in the newspaper, with a report by Spiegel Culture saying it has resulted in an annual impact of €18 million (almost $29.6 million) on the publisher's income.
According to the directive, the advertisements can be made digitally. This has resulted in the newspaper becoming online-only, with plans to possibly run a monthly print edition instead.
The Spiegel Culture report also mentioned that around 20 staff now remain in the editorial office, with 63 contract terminations in place.
"116,840 days, 3,839 months, 320 years, 12 presidents, 10 Kaisers, 2 republics, 1 newspaper," was what the publication printed on its last daily front page, in large black text, showing that it has been around for 300-plus years and seen out 12 presidents, 10 kaisers and two republics.
Some of its most notable news pieces to date include a report on an "extremely talented" Mozart in 1768 – who was then only 12 years of age – and a special edition abdication letter of Kaiser Karl when Austria was defeated in World War I.
Comment below to have your say on this story.
If you have a news story or tip-off, get in touch at editorial@sprinter.com.au.
Sign up to the Sprinter newsletter