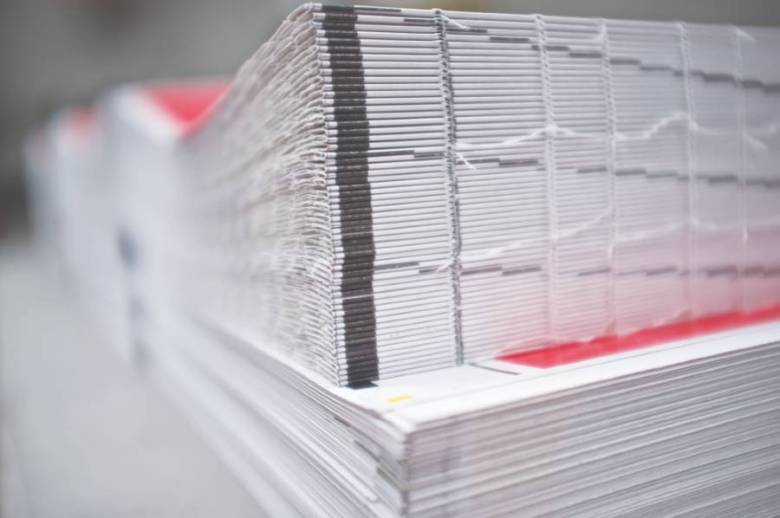 In prepress, the principle of avoiding double handling of files bound for either computer-to-plate processing for lithographic printing, or more directly – "computer-to-print" – for digital applications, has been addressed with hybrid workflows that conduct traffic to the technology chosen for that particular job.
Now in the bindery, similar streamlining is taking place. But how much of what is printed digitally can now be fulfilled to final product stage with technology that suits a variety of printing technologies?
For sure, there is a lot of onboard finishing on the larger digital document lines – trimming, folding, stapling and binding to name some – but what about the finishing requirements for more complex exercises, such as packaging, where die cutting comes into the equation? Even today, is that not better accomplished offline?
Currie Group
Currie Group offers bindery equipment that straddles the offset/digital divide. For example, its Horizon booklet makers are aimed at short-to-medium run length, heavy-duty production areas in either offset, digital or hybrid finishing environments.
But for Currie Group's managing director Bernie Robinson, a critical issue is how to balance inline and offline finishing solutions. For example, you can connect a Horizon SPF-200L booklet maker online to an HP Indigo 7000-series Digital Press or you can add a HOF-400 high-speed offline feeder. You can take a pre-printed cover and merge it with the book-block.
Robinson prefers offline finishing, because the core strength of digital presses is printing, not finishing, he says. "But it's horses for courses, and we can provide the best of both worlds."
In addition, barcode set-up enables unique configurations within a single print run, lessening the need for separate set-ups in a variable job lot.
Robinson says Horizon's SmartSlitter, a perforator-creaser-cutter specifically targeted at finishing A3 digital print, uses the same dies as Horizon's CRF-362 creaser and folder but can do a lot more.
"It can do a ticket on a tee, with stop-start perforating in the direction of the sheet. It also performs scoring and provides for manual perforating, for four-to-six perfs on an A3 sheet."
Meanwhile, the CRF-362 creaser-folder will take pre-printed digital work, crease the spine, with two creases and two perfs on an A3 sheet, top to bottom, and also has two buckle plates.
The Horizon SmartStacker works in B2 format, integrating with a HP Indigo 12000 Digital Press for scoring, perforating and slitting – computerised and able to finish a job on the run, says Robinson.
And a StitchLiner 6000 – connected to a Hunkeler system for sheeting and creation of book blocks – can do smart stitching of digital rollform.
Cyber
Bernard Cheong, managing director of Cyber Australia, says it is not necessarily the case that binderies still need to maintain separate sets of finishing kit for litho and digital.
"There are many systems, such as the Hohner Digi FS-8 all-in-one digital finisher, folder/stitcher and traditional saddle binder, that are capable of processing sheets that have been printed by either method," Cheong said.
"The Digi FS-8 was designed from scratch to handle both conventional and digital prints," Cheong notes, adding that issues with spine cracking have been addressed in the Digi FS-8 design.
Cheong says the relative cost of digital-specific gear when compared with conventional bindery technology "depends at what level of equipment you are concentrating. In our experience, at our level of equipment, it has not proved to be the case".
The Hohner Digifinisher is capable of processing sheets from continuous reels as well as stacks of digitally printed paper as well as conventional folded sections.
Graph-Pak
Tom Ralph, managing director of Graph-Pak, states, "I don't believe that every piece of equipment can't be shared between litho and digital, however, litho is normally built to a much larger spec and delivers higher outputs than the lightweight digital equipment, which is designed for shorter runs and fewer investments.
"Laminating over the top of digital printing can often be a struggle for those who have lightweight laminating machines. Those customers who took the cheap road may find they pay twice or three times the price for laminating consumables – as distinct from customers who purchased high-end laminating machines, such as Autobond, which produces six-to-nine metric tonnes of pressure and reliable heat to 140 degrees.
"These owners will have the luxury of using the cheaper and lower grade films to produce a high-quality result," he says.
Ralph offers Autobond's combined machine, which is an inline laminator with an inline digital inkjet spot UV system, comprising a digital embellishing and foiling unit that delivers the final product all in one pass. Able to be run by a single operator, it offers great return on investment for a machine that laminates spot-UV print with digital embossing and foiling.
Heidelberg
We asked Richard Timson, Heidelberg Australia New Zealand managing director, whether binderies still need to maintain separate sets of finishing kit for litho and digital. "Simply put, no," was his reply.
"Companies do not necessarily need to separate the digital finishing, however, a lot of companies use the digital press operators to do finishing whilst the digital press runs the jobs. That way, they save on labour costs. This is appropriate for simple finishing. Many companies realise the current quality of a digital finish is quite poor and prefer to utilise the heavier-duty existing bindery equipment and expertise to finish work."
Asked about some of the instances in which digital printing may need a technology-specific finishing approach, Timson said that cracking of toner may require a pre-creasing process to assist with the binding process.
In terms of cost, he says the pricing of digital-specific gear can be significant, while the quality and reliability is less than optimal – and often equipment that constitutes as much as a third of the kit on a production floor needs to be replaced after a 12-month duty cycle.
When it comes to hybrid finishing equipment, Timson says: "It's one-way traffic on that point. Industrial equipment can do digital finishing as well as industrial, whereas digital equipment fails to do industrial work."
Heidelberg's Polar 66 cutter is designed for one shift operation
Konica Minolta
"Many offline finishing systems can work with either digital or offset prints," says Grant Thomas, product marketing manager, Production Print, at Konica Minolta.
"Some finishing systems may be more suited to heavy weights while others may be more suited to lightweight media. This is primarily the major difference – apart from specification functionality."
"Inline finishing has come on in leaps and bounds over the last two years with capabilities. One major advancement has been the inclusion of a creasing capability in some inline finishing equipment.
"This functionality provides creasing at the fold line and resolves toner cracking that can happen when four layers of colour have been added to the sheet.
"This function has been added to high-end booklet finishers to provide a fully professional finish," notes Thomas.
He argues that digital print engine manufacturers are either developing their own inline finishing systems to integrate advanced features – or are working with partners that specialise in finishing systems to develop an inline finisher that works with their print systems. These finishing systems were initially developed for the high end where volumes are high and professional look and feel is a necessary to get higher returns.
"Offline finishers are trying more and more to accommodate both digital and offset printed work. Many printers need to cover both as part of their operations, and lack space to accommodate two separate machines," says Thomas.
Muller Martini
Roman Beeler, sales manager at Muller Martini Australia, believes today's binderies do not necessarily need to maintain separate sets of finishing technology for litho and digital.
For example, all of Muller Martini's recent saddle-stitching and perfect-binding equipment can be used for both offset and digital, he points out, adding that many printers have purchased a small perfect binder specifically for their digital department.
When it comes to using conventional finishing gear on digital, there can be occasional issues.
"I am sure there are some challenges, like ink build-up, but nothing our finishing equipment cannot handle."
Print & Pack
Nathan Broughton of Print & Pack Australia suggests that cracking during the finishing process is common across offset and digital print. The question is more about quality at speed, basically the standard high speed MBO equipment can be used for all kinds of printed sheets, either digital or offset. For applications using conventional finishing on digital print, MBO provides special tools which can be added to the standard equipment to prevent print cracking and other incompatibility issues, whereas Morgana design machines to specifically target the issue of cracking during folding.
Whether the digital printing is webfed or sheetfed can also have an impact on the cost effectiveness of hybrid offset/digital finishing equipment, Broughton explains.
"In a lot of cases in digital printed sheets, our customers are using their standard equipment. If they decide for new equipment, they think more and more about automation," Brougton said.
Renz
"All our Renz finishing options are hybrid and span the offset/digital divide," explains Renz Australia managing director Paul Cohen.
"It is only those brands of automatic punches and auto-fed laminating equipment incorporating older feeding technology developed in the offset era that have difficulty with digital work.
"All Renz semi-automatic and automatic punching and binding equipment can process both offset and digital.
"Renz's GMP laminating equipment also processes both digital and offset easily and the only consideration is different types of laminating film are used for either offset or digital with an additional variation sometimes required, depending on the print engine.
"The digital-friendly film is approximately 12 to 15 per cent costlier than offset film, depending on the type of print engine. By using the appropriate films, issues such as poor adhesion and cracking can be avoided."
Perfect binding is another example of the gap closing between offset and digital, Cohen says.
"Up until recently, most digitally produced content had to be perfect-bound using PUR glue for the best results.
"Recent technological advances in glue production have meant now there are digital-compatible EVA glues available that provide a similar end result to PUR.
"PUR perfect-binding systems are more costly than standard EVA systems and their operation is more problematic and clean-up more time consuming compared to an EVA system.
"This new development in glues delivers cost savings to small-to-medium sized printers and binderies that previously were outsourcing PUR binding because they could not justify the cost of installing their own equipment.
"Now these users with medium-sized volumes can install a low-cost single-clamp standard EVA system to bind digital work using these new glues, or if they already have an EVA system, using these glues to bind the work on them."
Seriously Digital
Marc Schmitz, director of digital finishing specialist supplier Seriously Digital, believes binderies need to specialise along discrete analogue and digital finishing lines.
He says feeding of digitally printed matter can be difficult, especially on glossy substrates, while toner cracking on conventional folding machines is a hazard when creasing and folding heavier-weight substrates in one pass.
On the other hand, he says, "Digital finishing machines are designed to accommodate this issue.
"Some digital print output requires laminating films with a more aggressive glue, as normal BOPP film doesn't bond well with some digital print output.
"All laminating machines can use the digital film, but often litho printers have a small laminator just for digital," he says.
"EVA glue on perfect binding machines has a similar issue as the laminating film, it doesn't stick well to toner. Many digital printers are therefore looking at PUR binding machines, which are much more
expensive.
"The adhesive manufacturers have reacted to this, and there are now some adhesives available that work well with toner, but they also come at a higher price."
Schmitz says that most digital finishing equipment is designed to run SRA3 size substrates (up to 330mm wide, and some now up to 700mm long).
"The cost is not much different to litho finishing gear, it is just more designed to cater for digital output.
"Digital creasing and folding machines were never designed for litho print, but can be used for both outputs," he says.
The Uchida AeroCut One, supplied by Seriously Digital, can crease, cut and slit from SRA3 to 45mm and any size in between
Trimatt Systems
Matt Johnson, managing director of Trimatt Systems, says, "With the digital age upon us, our ValidForm software and cameras can match sections with variable data printed. This can ensure your production is error-free. At Trimatt, we believe binderies can benefit from inline quality control.
By adding a Trimatt inline inspection system to your bindery line, we can check and ensure the correct sections are being collated to produce the perfect book every time.
"Trimatt Systems is an Australian company that specialises in adding value to printed media. This can involve feeding, variable-data printing and inspection of printed material for both quality control and document matching. We build standard and custom solutions for users to capture new business opportunities, reduce material and labour. We supply VDP print engines and software, gluing and attaching machinery, gluing and folding machinery, envelope printers, plastic card manufacturing machines and more," says Johnson.
Refreshing the Bindery
Currie Group
Currie Group offers the comprehensive Horizon line-up with binders, such as the BQ-280 PUR/EVA perfect binder, the SB-07 seven-clamp perfect binder and the BQ-160 single-clamp binder; CRB creasers, and the HCM-1 casemaking machine; Horizon computer-aided binding; Horizon buckle folders, the VAC-100 10-bin rotary feed, air-suction collating tower; Horizon stitcher trimmers, such as the StitchLiner 6000 saddle-stitching system and the Horizon HT-80 three- knife trimmer. Additionally there is Itotec's range of ERC guillotines.
Cyber Australia
Cyber has the Digi FS-8 and Digi FS-9 all-in-one digital finisher, folder/stitcher and traditional saddle binder.
Graph-Pak
Graph-Pak sells laminating films, Autobond laminators, Autobond digital 3D Spot UV embellishing and foiling, rotary die cutters, SBL Rollem Insignia flatbed die cutters, SBL folder box gluers, B.Matic counting machinery, COL-TEC collating machinery, Robotics, Rima System bindery and web-press finishing equipment, stackers, D&K Laminators, Thermotype Hot Foil Stamping, Glue Tech paper-to-board mounting machinery and Transpak strapping machinery.
Heidelberg A/NZ
Heidelberg supplies the industry with Polar cutters and Stahl folders, and its line-up can cater for both segments of printing. The cutters include the Polar 55, 66, 78 and 92, and the cutters range from the Stahl CH56, to the TI36 and TI52.
Konica Minolta
Konica Minolta offers a range of post press finishing options. The SD-513 is their inline booklet finisher. It can handle up to 50 sheets (200 pages), can add four staples to the booklet bind, offers square corner forming for a 'lay flat' look and three-sided trimming. The PB-503 perfect binder finishing system offers a binding solution for up to 300 A4 sheets, with a cover tray that can have pre-printed sheets inserted. The FS-532 all-in-one finisher has been designed to do all of the staple combinations that are expected for a large range of print applications, and is able to perfectly staple up to 100 sheets in many combinations.
Muller Martini
Muller Martini supplies perfect-binding for both digital and offset: Vareo – for book of one ultra-short runs and short runs with production speeds up to 1350 c/h; Pantera, for short-to-midsized runs and a maximum production speed of 4000 c/h; KM200 for short-to-midsized runs and a maximum production speed of 5000 c/h. For saddle-stitching of both offset and digital, the Presto II can produce digital sections – in addition a digital infeed for rolls or sheets can be fitted, with speeds up to 9000c/h, and the Primera MC can produce digital sections – in addition a digital infeed for rolls or sheets can be fitted, with speeds up to 14,000 c/h.
Print & Pack Australia
Print & Pack offers bindery equipment from well known brands such as Morgana (creaser folders); MBO (folders, digital web finishing); Palamides (automated deliveries); Wohlenberg (perfect-binding, three-knife trimming); Osako (automated saddle-stitching) and Herzog & Heymann (mailing, folding).
Renz
Renz Australia offers a series of hybrid offset/digital finishing solutions for all parts of the bindery. For example, Renz DTP 340 M heavy-duty punch with interchangeable punch dies for all loose-leaf binding systems; Renz ECL 360 semi-automatic electric wire closer for all diameters from 5.5mm to 38mm, processing up to 400 bound books per hour; and GMP QTopic 380 F semi-automatic laminating/celloglazing and digital sleeking machine with automatic sheet overlay and sheet separation after lamination.
Seriously Digital
Seriously Digital's products include the AccuCrease combo suction-feed creasing/knife-folding machine; Uchida AeroCut creaser/cutter/ slitter from SRA3 to 45mm and any size in between; JBI DocuPunch automatic punching machine for all different binding methods; Rigo Megabind PUR and EVA perfect binder; Rigo HydroCut programmable hydraulic and electric guillotines; and SD LAM 52 laminating machines.
Trimatt Systems
Among the offerings from Trimatt are the K600i single-colour inkjet printer for imprinting to personalise a template and printing complete documents such as forms, vouchers or single-colour labels; the Domino N610i, with industry standard 333mm print width, and up to seven colours, including opaque white; a range of HP 45-based inkjet heads for addressing, postal barcoding, back numbering and personalising inline with folder gluers; the Trimatt CardLine series, developed to deliver high-performance standalone finishing solutions for a variety of card processing; and ValidForm, a PC-based data capture and matching system that uses the latest camera reading techniques and custom designed software for data setup and reporting.
Comment below to have your say on this story.
If you have a news story or tip-off, get in touch at editorial@sprinter.com.au.
Sign up to the Sprinter newsletter