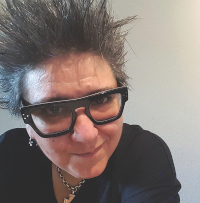 As the Intergalactic ambassador to the Printerverse, Deborah Corn has given back to the printing industry on more than one occasion and is one of the few women to take charge of connecting print people on a global scale.
Corn started off her career as a print buyer in advertising agencies, a role she was in for more than 25 years. But after losing a job in 2008, she fell into what she currently does.
"I had lost a job as a print buyer in advertising and during that time, LinkedIn had just started opening up groups. So, I created a group after I ran out of people to network with to find work," Corn said.
"I opened up a LinkedIn group called Print Production Professionals and I invited people I believed I could network with to find work onto the group. When printing customers and printers started joining the group, press manufacturers and equipment manufacturers and suppliers started streaming in."
As the group grew, Corn realised that she was sitting in the position of being the connection point for them.
"So, I declared myself the Intergalactic ambassador to the Printerverse and when that all started, Print Media Centr was born. I wasn't there to be the supreme leader – I was there to be an ambassador and help people connect with each other."
The Print Production Professionals group was only the starting point for Corn. She further built an empire of initiatives, such as her printspiration platform, #ProjectPeacock, and partnered with the Printing Industries of America to help catapult a network for women in print, Girls Who Print.
From the many conversations that Corn had in the industry, she said that women in print is a grassroots situation, and that they need a pathway to help them in their careers.
"There is not enough visibility of women that are doing amazing things in the printing industry and that is something that they should take control of," she said.
"They should be stepping up to volunteer at events and speak at panels and lead thought leadership conversations. I want to grassroots this thing and build their confidence to be able to do that.
"It's not about getting a seat at a man's table, it's about creating our own table. We have to be our own power source," she said.
Girls Who Print is a mentorship program, with an option to join as a mentor or mentee before getting matched.
"The program allows women to talk about things like the right time to ask for a raise or how to do it, or how to fight for a raise. Women don't fight for what they deserve," she said.
"They tend to cave early and be 'grateful'. They need to take more credit and promote themselves more. Girls Who Print supports women empowerment. It helps them be the best that they can be, to understand situations, and how to react and navigate these situations."
Corn mentioned that there is still a power struggle in the printing industry, with not as many women in senior management roles as there should be.
"You are seeing more women in the printing industry these days, but are they in senior management roles?" she questioned.
"There are still cultural obstacles in some companies that women don't rise past a certain title. That's something women should be aware of if they are in such a company. They need to have an exit plan for when they can't get past that level."
Corn provided some tips that women can use in such situations.
"Speaking from my own experience, it's important to know yourself and your strengths and weaknesses. Then navigate yourself to where conversations are happening and where you're an expert in," she said.
Corn also suggested that women step up not only in supportive roles, but also those that show more leadership.
"Have a plan, go in there and keep visible as much as possible," she added.
Corn looks forward to the newer batch of leaders entering management roles within print and revolutionising the way the traditional industry has been run.
"The newer leaders are not young people, but have lived with devices at least half of their lives. They're more open minded, have new ideas, and are on social media and are reading bogs," she said.
"The printing industry is stuck in its own traditional ways, so these people taking up more senior roles will change things."
Comment below to have your say on this story.
If you have a news story or tip-off, get in touch at editorial@sprinter.com.au.
Sign up to the Sprinter newsletter