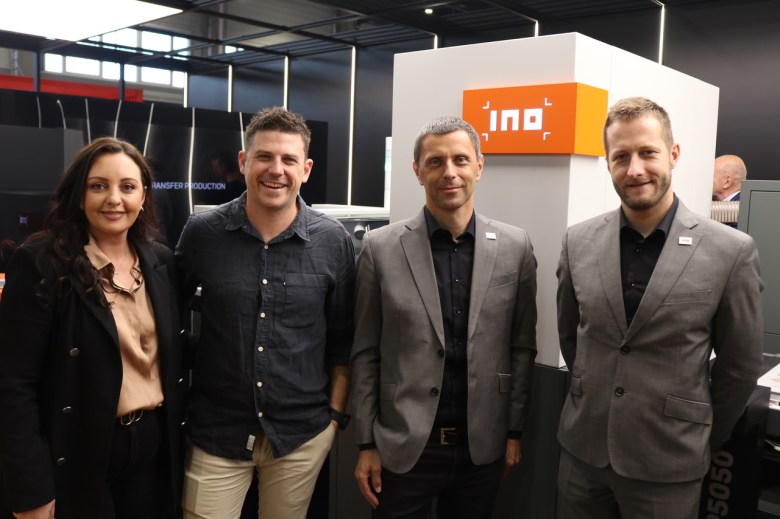 Ultra Colour, which previously operated under Vicon Transfers, is seriously upping its game and recently added a third Ino screen printing line with a view to adding a fourth in the future as the business continues to grow.
The Brisbane-based trade printer supplies transfers for sportswear, uniforms and other forms of apparel and was this week visiting FESPA Global Print Expo to catch up with the team at Ino and other suppliers in this space.
"We recently installed our third Ino. It is the latest in innovation of the traditional screen print process so it uses the latest in laser and optical registration to innovate a real traditional screen printing process to get the best result for today's market," Carroll said.
"By using a system like this where they have innovated the technology in this way allows us to use screen print for short run custom work in a much more efficient and effective way. Screen printing traditionally was good for long runs where the set up time takes a long time.
"This sort of technology minimises that set up time down to a smaller possible moment and allows a maximum uptime which matches against the market's demand for short, customised runs."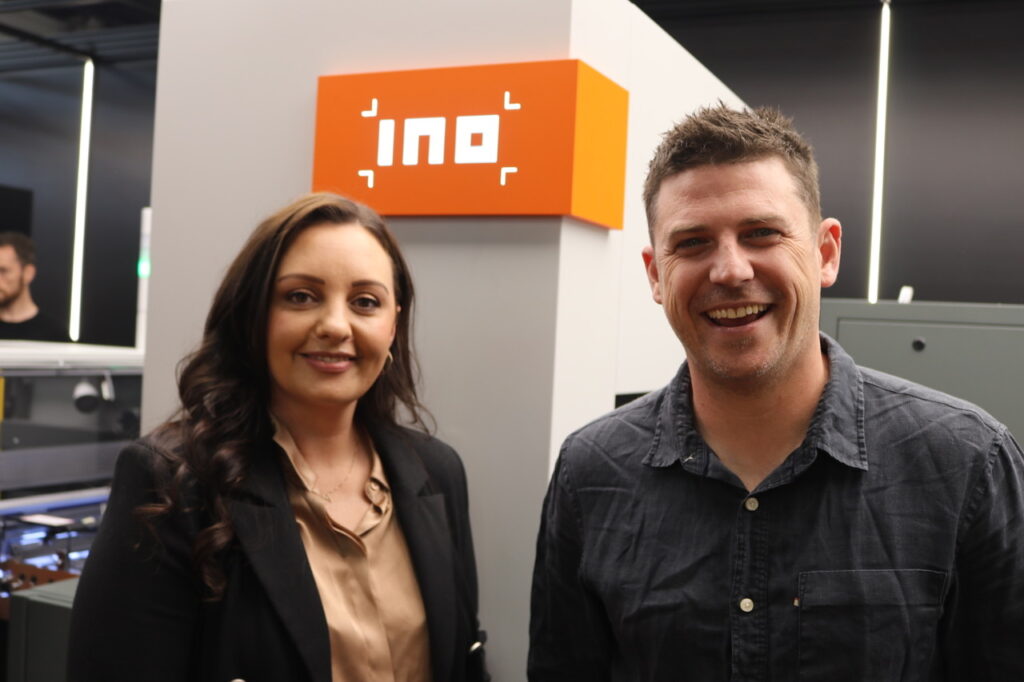 Carroll is pairing the Ino screen printers with a newly acquired HP Indigo 7600 Digital Press, with all of these investments marking a serious commitment to manufacturing in Australia.
Ultra Colour handles tens of thousands of transfer orders every day with the minimum quantity being 20 so a set up that could quickly handle new designs and print simultaneously was key for the business.
The Ino takes the printed digital sheets from the HP Indigo and runs a white ink over the back of them so the final product is bright against any colour of clothing. It then drops a power glue over the back, goes through a drying process and is ready for guillotining and despatch.
The entire process runs smoothly, Carroll says, as the digital registration marks match up against the Ino process for efficient, accurate production.
"The magic for us is creating a transfer that is both digital print so CMYK but then has the benefits of the traditional screen print process which gives you the opacity of the white vinyl and the strength on the shirt that you couldn't get through a digital print," Carroll said.
"We are merging the best of both worlds – the best of digital print with the HP Indigo and the Ino.
"This is very exciting. It is a massive investment into Australian manufacturing."
Comment below to have your say on this story.
If you have a news story or tip-off, get in touch at editorial@sprinter.com.au.
Sign up to the Sprinter newsletter