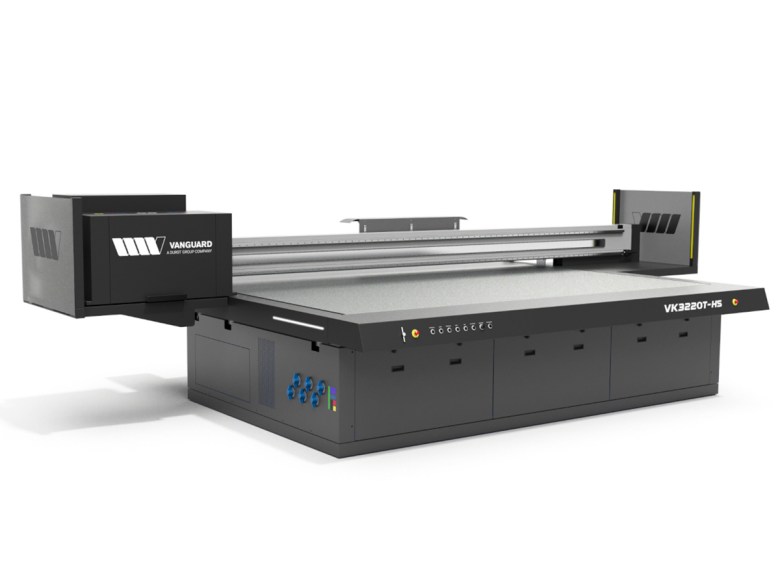 Vanguard Digital Printing Systems, a Durst Group Company, has launched Vanguard VK3220T-HS, an ultra-high production UV-LED flatbed printer at Printing United 2023.
The Vanguard VK3220T-HS ultra-high production UV-LED flatbed redefines productivity and promises unparalleled quality at incredible speeds with phenomenal productivity.
The apex of Vanguard Digital's evolution, this printer offers a larger bed size, up to three rows of industrial printheads for maximum productivity, an electromagnetic carriage drive system for speed and precise drop placement delivering exceptionally high print quality, as well as field-upgradeability for peace of mind, making this printer the ultimate option for any print service provider.
The new compact, user-friendly 3.2 x 2 metres (126 x 80 inches) size for further throughput potential enables the printer to operate on an industrial scale.
Kyocera KJ4A printheads are equipped with variable drop technology and four picoliter drop sizes for remarkable print quality with better colour gradients and smoothing capability.
The printer has been engineered to grow with any business, offering options for single, dual and triple-row print heads, with optional white ink and varnish channels that can be added after installation.
The new machine can produce 1,800 dpi print resolution and speeds of up to 3,875 square feet per hour.
Vanguard Digital North America Vanguard Digital North America Jim Peterson said, "The VK3220T-HS is the culmination of years of technological advancements and our response to the demands of the market.
"We are dedicated to delivering the best printers available, and through our innovation and commitment to our customers, we have created the new benchmark for speed and quality, with a focus on productivity and efficiency. The VK3220T-HS symbolises the start of a new chapter for Vanguard Digital, and we are so proud to share it with the North American market."
The VK3220T-HS can print on nearly any substrate up to 4 inches (10cm) thick and is driven by an electromagnetic drive, ensuring tight dot placement for remarkable print quality and speeds.
Combined with a seven-zone, user-selectable vacuum system, this printer ensures efficient hold-down for no unintended media movement and easy transitions between jobs.
Other strategic features include auto height detection, one-touch pin registration, front-to-back and back-to-front printing, water-cooled LED curing technology, and ionization bars.
Comment below to have your say on this story.
If you have a news story or tip-off, get in touch at editorial@sprinter.com.au.
Sign up to the Sprinter newsletter