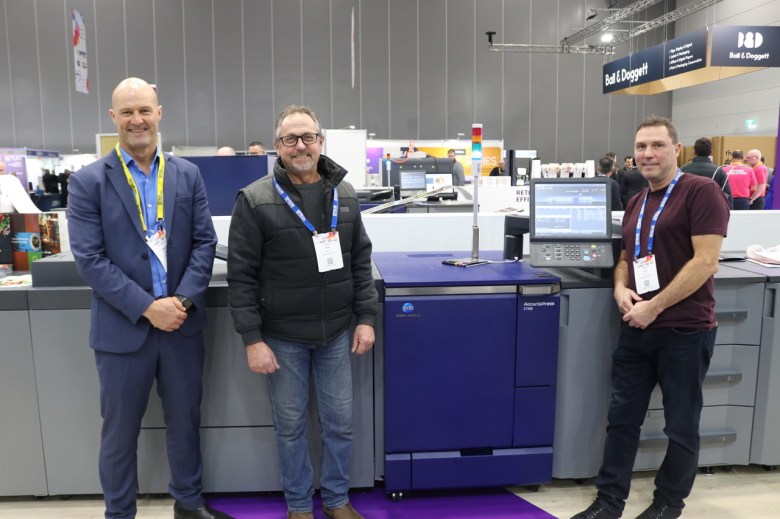 Victorian family-owned printer, Highway Press, signed up for its fifth Konica Minolta press at PacPrint 2022, this time a new AccurioPress C7100 which it says offers flexibility and production efficiency benefits.
Highway Press is a family-owned business that specialises in a range of commercial offset, digital, large format, and point-of-sale printing across industries including local councils, retail, and logistics.
Highway Press general manager Rick Alsop visited the Konica Minolta stand at PacPrint to discuss a digital printer upgrade due to the company's longstanding, reliable and trusted relationship with Konica Minolta.
"The renewal was coming up on the existing digital printer. To meet the demands of a more competitive market, the business needed a machine with new technology and more customisable features," Alsop said.
"Konica Minolta is a long-time supplier for Highway Press, suppling four previous machines, and providing excellent service and support. Highway Press approached the Konica Minolta team to find a better solution for the business to meet changing customer needs, which it found in the versatility and flexibility of the AccurioPress C7100."
The AccurioPress C7100 series is a digital colour press with a high-speed print engine that runs at 100 colour pages per minute. It provides a customisable option to run larger sheet sizes up to 400gsm and the flexibility to handle embossed and textured media.
Highway Press also opted to include the IQ-501 Intelligent Quality Optimiser to ensure perfect colour consistency and front-to-back registration on every print with real-time adjustments.
"It's tough in the printing market at the moment, so businesses need to do everything they can to remain competitive. The C7100 will help Highway Press enhance its offerings with customised packaging due to the larger sheet size. The C7100 will also help improve productivity, through enhanced efficiency, with the machine able to print 15 pages per minute faster than the previous machine," Alsop said.
Konica Minolta production print specialist, David Paterson, said the new AccurioPress C7100 will help Highway Press expand its offer and bring certain projects in-house.
"With the C7100, Highway Press has the potential to expand its print offerings and bring select projects in-house. It provides the business with a faster digital print platform, enhanced customisation for packaging runs, as well as improved colour quality from the IQ-501 Intelligent Quality Optimiser.

"The new technologies and features within the C7100 allow advanced capability to handle embossed and textured media, including the ability to process print jobs with the least amount of resources, making the C7100 the optimal choice for the future of Highway Press."

About Konica Minolta Australia   
Konica Minolta Business Solutions Australia Pty Ltd is a market-leading provider of trusted technology solutions for enterprise, government, small business, education, and manufacturing.   
  
Konica Minolta Australia helps Australian organisations keep pace with the needs of the changing workplace to start leveraging the technology of tomorrow today.    
  
Through innovation and investment in building a portfolio of technology solutions that will help organisations shape their future workplace, Konica Minolta Australia has key partnerships that extend its offering into future products such as data capture; business process automation; content management; business security; artificial intelligence (AI), machine learning (ML); robotics; robotic process automation (RPA); data analytics; and 3D, now.   
  
Part of the future workplace includes creating businesses, and working with businesses, that are responsible for their impact on and contribution to employees, key stakeholders, and the wider community. Konica Minolta Australia actively promotes and innovates in these areas through diversity and inclusion, ethical supply chain, and climate change action strategies. Konica Minolta Australia recently released its first Reconciliation Action Plan to demonstrate its public commitment to reconciliation between Aboriginal and Torres Strait Islander peoples and all other people in the community to help improve life outcomes and opportunities and to create a better future for society at large.   


Comment below to have your say on this story.
If you have a news story or tip-off, get in touch at editorial@sprinter.com.au.
Sign up to the Sprinter newsletter